Whether you're just starting a farm operation or have been farming and are looking at adding acreage or livestock, one of the most important considerations is your investment in equipment.
Your local farm equipment dealership may be one of the best places to approach this important decision.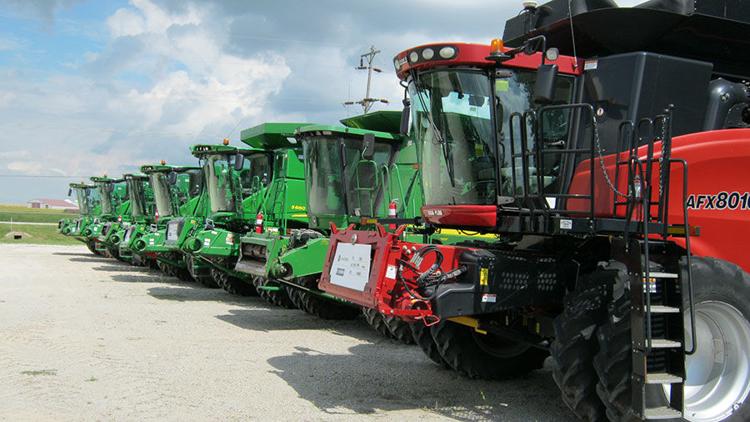 I recently had the privilege of talking about this with Mike Milstead and Casey Gibbs of AGCO.
Milstead is the senior marketing manager for used equipment in North America for AGCO. He spent the past 11 years as an owner and general sales manager at Ag Power Enterprises in south central Minnesota.
Casey Gibbs is the marketing manager for used equipment in North America, and he's been a senior marketing product specialist, focusing on hay tools and high-horsepower tractors. Gibbs also has retail experience, having worked for Butler Machinery out of Fargo, North Dakota, as their ag used equipment manager.
Milstead and Gibbs offered some insight into how today's farm equipment dealerships factor in, helping their customers select and optimize their farm equipment.
"Right-sizing the equipment to the operation is one of the most important parts of this," notes Milstead. "And that's where the dealership value comes into play."
According to Milstead and Gibbs, equipment dealers have become more than just retailers offering products, service and parts support.
"Both new and long-time farmers are looking to their dealers for guidance as to what is right for their operations," says Gibbs. "Traditionally, it was always to go 'bigger,' which may not be the case anymore, since producers are now looking more at efficiency, instead of just having the biggest tractor in the county."
"It's less transactional and more consultative," adds Milstead. "Dealers are looking at what could be the most efficient approach for their customer now and in the future. More and more dealers are now working with producers on the agronomic benefits of the equipment and can play a role in how this equipment can help the overall productivity of the farm.
"In the past, most sales professionals were trained on the features and benefits of the equipment itself, such as a comfortable cab and controls, the engine horsepower and so forth. Now with all the data that's coming in from the equipment, producers need help translating that data to actionable items. Working hand-in-hand with agronomic advisors, dealerships now have become a key part of the producer's farm business."
Of course, certain buyers lean towards pre-owned equipment, based on need, budget, operational requirements and, perhaps, familiarity.
"Generally, buyers of new equipment are looking for the latest technology," says Milstead. "That comes with some issues, though. For example, trying to learn new technology can be difficult with such a short prep and planting window we've had in the Midwest this year."
Looking for used equipment has become easier over the years, thanks to a variety of internet resources, as well as traditional classified ads, auctions and, of course, dealership locations. According to Milstead and Gibbs, the used market is strong right now.
There's plenty of good equipment out there. And you can reach out farther to find exactly what you want, they said.
AGCOused.com is one resource for many brands and types of equipment on dealers' lots.
If you're buying a piece of used equipment — or trading in — knowing the general value of that tool can be of great help.
When you're looking for the value of a used car or truck, you have plenty of resources to delve into, including Edmunds, CarFax, Kelley Blue Book and NADA Guides from J.D. Power, to name a few.
Ag equipment has these types of resources, as well, including Iron Solutions which offers the IronGuides Buyer's Guide for Tractors and the IronSearch Buyer's Guide that provides a quick valuation for a long list of farm equipment.
For more detailed valuations, you can use the IronAppraiser web tool. IronAppraiser calculates the current market value of your used equipment. It looks at the prices of actual sales transactions in light of your equipment's base specifications and options, and adjusts for condition and hours of use.
According to the company, Iron Solutions covers most brands, including AGCO, Buhler Versatile, Case & Case IH, Caterpillar, Challenger, Fendt, John Deere, Kubota, Komatsu, Massey Ferguson, McCormick and New Holland.
New or used, the farm equipment business has become more transparent than ever, with pricing and values readily available. Dealership support has become more than simply parts and service, as well, offering agronomic assistance and recommendations.
For a new farmer or experienced producer, partnering with an equipment dealership makes a lot of sense.
---
Michael Gustafson has written for and about farm equipment companies, their products and dealerships for more than 40 years, including 25 years with John Deere. He lives on a small acreage in Dennison, Ill.