As corn and soybean harvest wraps up around here in eastern Illinois, I'm seeing our neighbors heading back into their fields to work the soil. Some have even been rolling in tillage equipment right behind the combine passes.
Why is there such a rush to fall tillage? Years ago, research from the likes of Purdue and Iowa State University seemed to indicate that there was little advantage to fall tillage, and it might lead to yield reduction. One researcher even called fall tillage "expensive entertainment."
However, with the advancements in tillage tools and soil management practices, fall tillage might well give you a jump on an increasingly narrow window of opportunity for spring planting.
In fact, according to Justin Render, product specialist with Kinze Manufacturing, harvest and tillage practices this fall will set the stage for crop performance next spring. Render recently offered five recommendations to help farmers set themselves up for success in 2019.
Five recommendations
First, work to minimize compaction. Wet weather and saturated soils increase the risk of compaction during harvest, creating problems that can last for many years.
"Waiting for the soil to dry is the best option, but not always possible," Render says. "Tillage is one way to manage surface compaction by taking care of ruts or tracks in the field."
Secondly, distribute residue evenly. Make sure your combine is properly set up to handle crop residue.
"Strive for even distribution of residue coming out of the combine," Render advises. "Pay attention to your head, chopping and spreading systems for proper adjustment and operation, especially as harvest conditions change."
Crushing, breaking and shredding the stalks and spreading them out evenly will help with stalk decay by exposing them to nature, speeding the decomposition process.
Third, manage crop residue with tillage. Render says the faster farmers can get residue near microbial life when temperatures are warmer, the faster residue will start decomposing.
"Residue that is not incorporated or put into contact with the soil in the fall will typically take longer to decompose," he notes.
Fourth, consider a winter cover crop. Keep carbon and nitrogen cycles in mind when selecting and managing cover crops.
"Legumes capture nitrogen from the air and transform it into soil. Other crops, such as grasses or brassicas, hunt nutrients in the soil and immobilize them in the root zone, saving them to mineralize at a later time when crops can use them," says Render.
And lastly, consider optimal tillage methods. Render notes that hybrid horizontal tillage is an emerging practice that offers more residue incorporation, land leveling and full weed take-out compared to vertical tillage.
"It also offers similar benefits of conventional tillage, but farmers get higher speed and capacity, no smear/stratification layers, and a better soil finish than other residue incorporation tools," he states.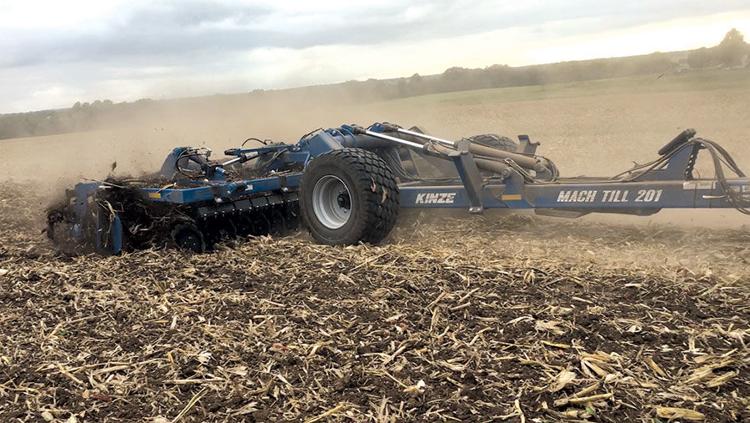 New models
If you're not familiar with the term "hybrid horizontal tillage," Kinze has been using it to describe the company's four new Mach Till tillage models that combine the benefits of vertical tillage, conventional tillage and soil-finishing tools into one machine.
Kinze entered the hybrid horizontal tillage segment just this season. The company says combining high speed (8-12 mph) and high capacity, Mach Till is a multi-purpose tool that can replace several types of implements, integrating features of speed, good soil finish and uniform residue management in various soil types for fall tillage or spring seedbed preparation.
Of course, Kinze isn't the only company introducing new tillage equipment and upgrades.
Case IH has expanded its AFS Soil Command agronomic control technology to the Tiger-Mate 255 field cultivator, single-fold True-Tandem disk harrows and vertical tillage tools, and the
Ecolo-Tiger 875 disk ripper. Building on its existing seedbed sensing technology capabilities, Case IH says AFS Soil Command can now help producers precisely coordinate control of their tillage equipment from the tractor cab.
HORSCH LLC has introduced EDC electronic control technology, now available on its line of Joker RT tillage tools. Horsch says the new option allows for simpler, more precise electronic adjustments of the Joker RT and also includes various tracking capabilities.
The Joker EDC is an ISO-based technology, which works with nearly all ISO-compatible monitors. You'll be able to easily and precisely set the tillage depth, as well as the hitch height and caster height (RT40 model only), via the monitor without leaving the cab, the company says.
Additionally, the Joker EDC includes GPS pucks for tracking speed and acres per hour. It has a lifetime acre counter and a resettable acre counter for recording the area covered. Other features include alarm diagnostics to alert you of any potentially damaging settings and situations.
Also, John Deere recently introduced its 2660VT Variable-Intensity Tillage Tool and 2680H High-Performance Disk for model year 2019.
According to the company, the 2660VT with its adjustable gang angle is a true multi-season machine that can handle a wide range of soil, crop residue and field conditions at operating speeds up to 10 mph.
A true spring and fall tillage tool, the 2680H is capable of field speeds of 10-14 mph to effectively till more than twice as many acres per day compared to traditional disks of similar size.
Done right, today's fall tillage practices can provide some real benefits to next year's crop. And there are many choices for tillage tools to fit your particular soil types and crop residue management approaches.
---
Michael Gustafson has written for and about farm equipment companies, their products and dealerships for more than 40 years, including 25 years with John Deere. He lives on a small acreage in Dennison, Ill.