In the run-up to spring, Mother Nature has been a bit contrary this year. Rain, cool weather and even early April snow showers may have dampened some spirits, but they have also provided more time to get ready for the spring planting push.
I'm sure that equipment companies and dealers appreciate the extra time, as well.
Despite their rather hectic schedules, AGCO and Precision Planting representatives took a little time to give me some last-minute tips on prepping planters.
Moving parts
On the hard iron, mechanical side of your planter, it's all about inspect, repair and replace.
Larry Kuster, senior product specialist for seeding and tillage at AGCO, says producers should start at the beginning.
"Make sure to check the planter structure for cracked, bent or bowed frame components," he says. "And make sure that the row units are square to the frame and not rotated slightly left or right from true vertical. If they're not, it's likely the parallel linkage arms are bent.
He recommends checking for side-to-side movement.
"Any movement should not exceed one-half inch to the left or right, or one inch total. If so, bushings and/or parallel arms may need to be replaced," Kuster says.
He says "inspect, repair, replace" also applies to tires, driveline components, hydraulics and metering systems, and the seed delivery system.
"Inspect the condition of hopper boxes, lids and seed tubes," says Kuster. "The seed delivery hoses of a central fill system should be inspected, making sure they are free of obstructions such as over-winter homesteading by unwanted furry tenants. This would be true of the air passages of both positive air and vacuum meter systems too."
You also should check meter accuracy on test stands and replace components as required to maximize the meter's performance.
"Each 1 percent singulation deficiency from 100 percent can impact yield by 2 to 2.5 bushels per acre," Kuster says.
Moving on to the gauge wheels, Kuster suggests inspecting for cuts, wear or deterioration, and replacing as necessary.
"Make sure to remove the gauge wheel assemblies and inspect the opener blade scrapers if present," he says. "Replace if worn more than one-half inch."
For double disc opener blades, he recommended replacing 16-inch or 15-inch disc blades worn to 14 inches or less.
"As the blades wear, the blade-to-blade contact area, or pinch point, should be 1 inch for 16-inch blades and 1 to 1.5 inches for 15-inch blades, which are thinner," he says. "Moving the blade shims inside to the outside affects this adjustment. Rotate the blades to feel any roughness in the blade bearings. Replace if necessary."
Kuster also recommends inspecting the closing wheels for proper alignment with the double disc openers.
"They should be centered on the furrow," he says. "Rotate the closing wheels to check the bearings for roughness and replace the bearings if necessary."
Tech specs
Of course, just like the nuts-and-bolts mechanical parts, planter control systems have a direct impact on your productivity and bottom line.
Bryce Baker, integrated marketing manager at Precision Planting, offers some thoughts on getting the electronics ready.
"The first thing to check would be the monitor in the cab," he says. "For any system that has a preseason health check, perform those checks to make sure the electronics are working properly, making sure everything is detected such as seed sensors and all the modules.
"After you're ready to roll, go to the data management area. Make sure the variable rate prescriptions are loaded into the display. If you're keeping boundaries, make sure the boundaries are loaded. Another thing would be updating the variety/hybrid list in the display."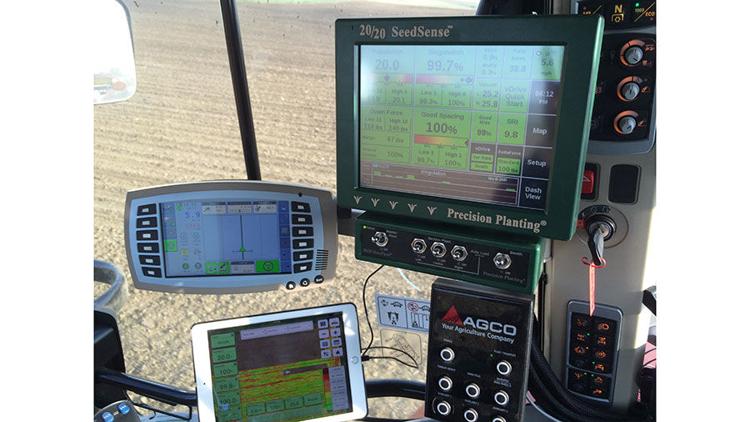 Baker says you also should find the previous year's guidance information and controls and make sure they're set up and ready to go.
"Once you get to the field, some systems check the swath control timing to make sure that the rows are shutting off when you want them to in order to avoid overlaps at end rows."
Baker notes that when you first pull into the field, make sure you change the "active field" in the display.
"You'll also want to make sure that you have the correct hybrid/variety selected and active. If you've added or changed seed, you really need to make sure that is done," he says.
"Lastly, make sure that the population rate prescription is set, ready and correct."
Baker mentions Precision Planting systems have a master switch that basically kills the entire planter. Other brands also may have master, transport and swath switches that need to be turned off or on to be in plant position.
While most of what has been mentioned here can positively affect your yields, most of the electronics preparation is really about gathering and storing proper data that you can use in the future to determine future hybrid selections, crop care and soil management.
---
Michael Gustafson has written for and about farm equipment companies, their products and dealerships for more than 40 years, including 25 years with John Deere. He lives on a small acreage in Dennison, Ill.