At the end of every winter season, I call the folks at Conine & Sons, a local family-owned outdoor power equipment dealership where I bought my Scag zero-turn mower. They take the unit to their shop, make sure the belts and hydraulics are good, change the engine oil and filter, sharpen or replace the blades, grease as required, change out the dust filter and generally make sure I'm ready to mow when spring comes.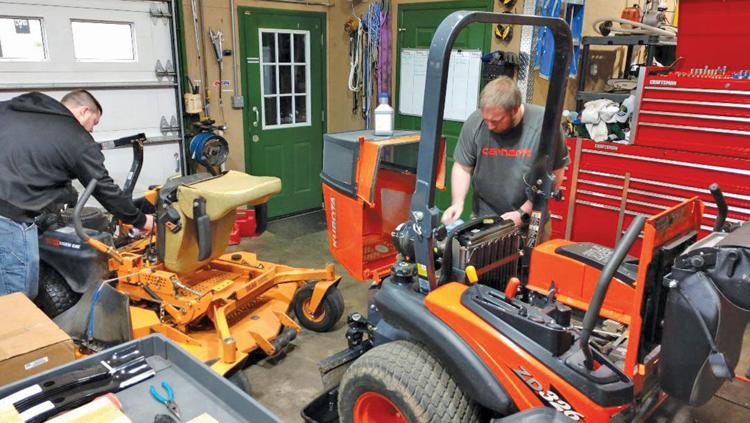 "When you think about how much this equipment costs, our maintenance program just makes sense," says Dan Conine. "We really stress proactive maintenance versus reactive repair."
I spent some time talking with Dan, along with his sons, Lucas and Brian, and daughter-in-law, Heidi. All are deeply involved in the business.
"This is truly a family effort," notes Heidi. "I might be first in line to handle scheduling and the parts counter, but everyone pitches in when needed."
She notes that she also works on 2-cycle engines.
"The key is all the schooling each of us goes through every year," notes Dan. "If you're not attending the schools, you're not going to stay up-to-date on all the changes and new products that come out each season."
This focus on great service and support after the sale reaches back to the company's beginning.
Conine & Sons now offers new zero-turn mower models from Scag and Exmark, as well as Echo hand-held equipment and Kohler generators.
"When we choose products to sell, performance is key, of course," Brian says. "But machine longevity and warranties are just as important."
"We also make sure we take time to communicate with our customers about product features, maintenance requirements, and how best to use those products in a safe way," adds Dan. "Operator safety is really important to us. Not just safe operation of the unit, but also how the operator prepares to work by wearing safety glasses, gloves and ear protection."
I'm certain there's a family- owned-and-operated outdoor power equipment business near you. I'm also certain you'll find a variety of brands sold and serviced by these independent operations.
Once such brand is Lastec which concentrates on the commercial mower business with zero-turns, pull-behinds, and front-mount mowers. Lastec recently introduced the world's biggest zero turn mower with a 120-inch cutting width. Yes, that's a 10-foot cut.
The Lastec WZ1000 Commercial Zero Turn Mower features five 25-inch flex decks, electric quick-lift deck with 94-inch transport width, and a 49-hp Kubota turbo-charged tier 4 diesel engine. You'd have to have a lot of grass to justify this machine.
You might justify more comfort while mowing or handling other outdoor chores, though. If so, check out Curtis Industries, which offers full-featured cabs engineered for safety, comfort and versatility. There are cabs that fit John Deere, Kubota, Club Car, Kawasaki, Polaris and Massey Ferguson products including tractors, utility vehicles and mowers.
Curtis Industries recently announced the release of its cab air conditioning for the Kubota F3990 Front-Mount Mower. The air conditioning unit features a low-profile design incorporated into the roof. Housing and cover are powder-coated, corrosion-resistant, lightweight aluminum alloy. The overhead AC unit features a 3-speed fan control, illuminated on/off switch, and four adjustable louvers to circulate air throughout the cab.
Installation takes about two hours and doesn't require specialized knowledge or training in air conditioning installation or maintenance.
If you're looking to get out of the lawn mowing chore altogether and really don't have the amount of grass required for a 120-inch cutting width, there's a good selection of battery powered robotic mowers on the market today, including the WORX Landroid, with four models that can handle quarter to half acres, and Husqvarna's Automower that comes equipped with either Automower Connect or Automower Connect@HOME. With a free app on your smartphone, you can monitor and control the Automower from nearby or anywhere in the world.
While these robotic mowers are becoming more popular, I still prefer to maintain my property from the seat of my zero-turn mower. And I still prefer to get the best equipment maintenance from knowledgeable, well-trained local service techs.
---
Michael Gustafson has written for and about farm equipment companies, their products and dealerships for more than 40 years, including 25 years with John Deere. He lives on a small acreage in Dennison, Ill.