You may know Unverferth by its separate brands and products: Blue-Jet, Brent, Killbros, Parker, Top Air, and UM. Overall, Unverferth manufactures and markets tillage equipment, pull-type sprayers, fertilizer applicators, hay and grain handling equipment, and agricultural dual and specialty wheels.
This past January, Unverferth added another brand to their stable, acquiring Force Unlimited of Oelwein, Iowa, a manufacturer of the Pro-Force pull-type and truck-mounted spreaders.
Force Unlimited founder Stan Duncalf, says, "As an established, highly regarded company, Unverferth Manufacturing has demonstrated their sincere desire to grow the Pro-Force line with expanded distribution and continued new product development. They also will provide added high-quality manufacturing capabilities and aftermarket support for the products I have nurtured for the last 17 years."
The product line includes single- and multi-bin models with user-friendly, adjustable spinners that provide uniform, prescription rate application of granular fertilizers, cover crops, poultry litter and compost on croplands.
The announcement shows that there's a continued interest in sprayers and crop care applicators by manufacturers, including John Deere, AGCO, Case IH, and others.
Last year, John Deere introduced the LS475 Liquid System option for its F4365 High-Capacity Nutrient Applicator. According to the company, the liquid application system allows operators to cover more acres, with fewer refilling stops, while providing capacity, speed, comfort and reliability. In addition, the PowrSpray Solution System makes it easier for the operator to perform a number of functions from the load station, including nozzle check, air purge and system cleanout, and field cleaning with an on-board pressure washer.
Joel Basinger, production step marketing manager for John Deere says, "The F4365 is the highest capacity, most durable and versatile nutrient applicator in the field. With a 46 mph road transport speed, operators can get from field to field more quickly to more accurately apply fertilizer and other inputs, while making their applications more productive."
AGCO offers TerraGator C Series High-Flotation Applicators from Challenger. All can be equipped with AGCO's liquid system and one of six dry application systems which can be switched quickly since the electrical connectors are on the side of the chassis for easy access.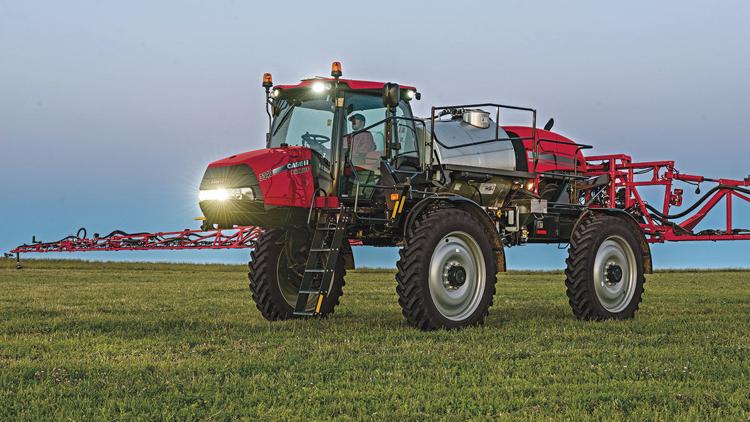 Case IH has released two new boom styles and a new tank option available on the Patriot 4440 sprayer. Made of aluminum, the new factory-installed boom options are lightweight, yet durable, and come in 132- and 135-foot sizes. These are the widest booms available on the Patriot 4440 sprayer. The 1,600-gallon tank option gives you the capacity to spend more time in the field.
"We consistently hear how producers are looking for ways to cover more acres per pass," says Mark Burns, Case IH application equipment marketing manager. "When application windows narrow and every minute in the field counts, these new designs give operators the capacity they need to achieve high-efficiency application."
In addition, Case IH has expanded its portfolio of high-efficiency spraying options with the new AutoBoom XRT automatic boom height control, available on Patriot and Trident series sprayers. The technology automatically adjusts the booms by using a combination of chassis monitoring and sensors to function as a "look ahead" and detect changes in terrain. The radar sensors can be configured to detect the location of the ground or crop canopy, maintain a level spray platform, and maximize boom life.
Over the years, producers and ag service providers have offered their input, and often, designs, for new machinery, efficiency-improving attachments, and advancements in technology.
For example, EZ Drops offers a nitrogen system designed by farmers. The quick-attach pivot-mount EZ Drops nitrogen delivery system is available for all row widths (15, 20, 22, 30, and twin row), for both pull-behind sprayers and sidedress bars. Available in high- and low-clearance models, they are lightweight, flexible, and designed so you can apply over multiple planter passes using your entire boom.
EZ Drop nitrogen system installation is easy. Initial set up should take one person a few hours and after that no tools are required to pull the entire system. One person can easily remove the entire sub boom from the receiver mounts that stay out of the way on the boom without any tools in minutes.
Praxidyn's products also grew out of a farming operation. The company recently released its Mixmate portable chemical blending system that streamlines the mixing process or completely automates chemical mixing with the bonus of automatic records.
Designed to be portable, Mixmate modules connect to scales, flowmeters, valves, and pumps. Jobs can be set up in minutes and assigned to Mixmate. Accurate work records are generated during the mixing process and synced with Praxidyn's Intersect program. Reporting can be done from the tablet or from the Intersect cloud service. Intersect also can be the connection to other recordkeeping services.
The next chapter for fertilizer and crop care application equipment is still being written. Brand acquisitions, new products and services, and producer inputs will continue to improve efficiencies and control costs.
---
Michael Gustafson has written for and about farm equipment companies, their products and dealerships for more than 40 years, including 25 years with John Deere. He lives on a small acreage in Dennison, Ill.