As I'm writing this in late February, I'm watching the sky spit out little bits of snow. Still, the forecast is for warming temperatures here in eastern Illinois, with spring just around the corner.
My neighbors are hustling to get equipment ready for another crop year. And while the focus is on their fields, other areas, such as gardens, lawns, flowerbeds, fencerows, ditches and tree lines, will be greening up and requiring attention before long.
Fortunately, there's a wide range of landscaping equipment that can help us finish these chores easier and faster.
I recently attended the National Farm Machinery Show in Louisville, Kentucky, and came across quite a few new and innovative ways to manage lawns.
Zero-turn mower brands seemed almost endless. There were models from John Deere, Kubota, Husqvarna, Country Clipper, Bad Boy, Big Dog, Scag, Toro, KIOTI, Exmark and quite a few more.
All those brands have specific features that might set them apart, making one or another a better choice for your operation. Exmark, however, seems to have cornered the market for collegiate supporters. The company has partnered with over 30 universities to offer full-suspension seats with college logos on Exmark Radius and Lazer Z mowers. If you're proud to be an Iowa State Cyclone, Missouri Tiger or Illini fan, Exmark has the seat for you for an extra $299.
I also looked over the upgraded HD models from Bush Hog. Jule Booker, customer service manager, walked me through some of the changes.
First introduced in 2017, the HDE, HDZ and HDC Series now include 7-gauge steel cutting decks, the same steel that's used on Bush Hog's flex-wing cutters. An electronic control module gives you keyless start, system monitoring and Soft Start PTO engagement to protect the drive train. Power comes from a choice of Briggs & Stratton, Kohler and Kawasaki engines. There's even a USB power port.
While my zero-turn mower does offer fast cutting speeds and close-in maneuverability, I find that I'm still walking the grounds with a hand-held string trimmer. A mower deck-mounted string trimmer from PECO would sure come in handy. Their Z-Trimmer Model ZT-3000 mounts to any 48-inch or larger deck and runs off the mower's battery. At $369, it's worth a look at www.lawnvac.com. The company also offers tow-behind and mounted lawn vacuums, brush cutters, sprayers and generators.
Of course, there's more to grounds maintenance than simply cutting grass. Seems that our ditches, fencerows and timber areas always have plenty of tough weeds, underbrush and downed limbs to remove.
Here's where some new tractor loader attachments can help.
I was particularly interested in the Worksaver grapple rake, a 5-foot-wide attachment for compact tractors with loaders. Perfect for removing and moving unwanted brush and undergrowth. Bush Hog offers their own version, as well.
I've also wished I could attach a front-mounted mower to my loader, one that would pivot and cut brush and limbs from the top of fences, away from roadways and within ditches. A fairly new company, TrailBlazer Attachments, has come out with just that: the TB-One.
This unit offers 11 cutting positions, a 44-inch cutting width, and up to a 3-inch cut capacity. While it might not match the work done by road crews with industrial equipment, this cutter brings some additional versatility to the compact tractor market.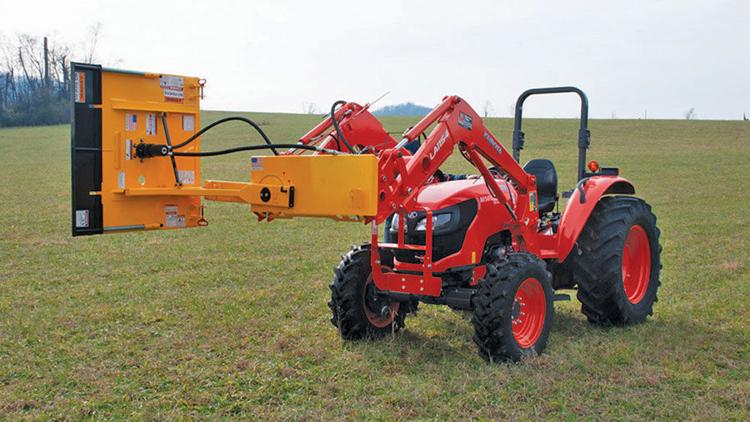 Finally, there was another new product being introduced at NFMS that caught my eye. Equipment distributor Show Me Shortline out of Centralia, Missouri, is better known for grain bagging equipment, silage balers, bale wrappers, tillage, TMR mixers and manure spreaders. But at the show, they were displaying new Schäffer compact telescopic wheel loaders.
The smallest model 2028 features hydrostatic four-wheel drive, a Kubota 3-cylinder diesel engine, a 3,300-pound lifting capacity, and an inside turning radius of only 26 inches. Five additional models increase in size and capabilities, and all can be fitted with a wide range of front-end attachments including buckets, grapples, brushes, scrapers, augers, rotary tillers and much more.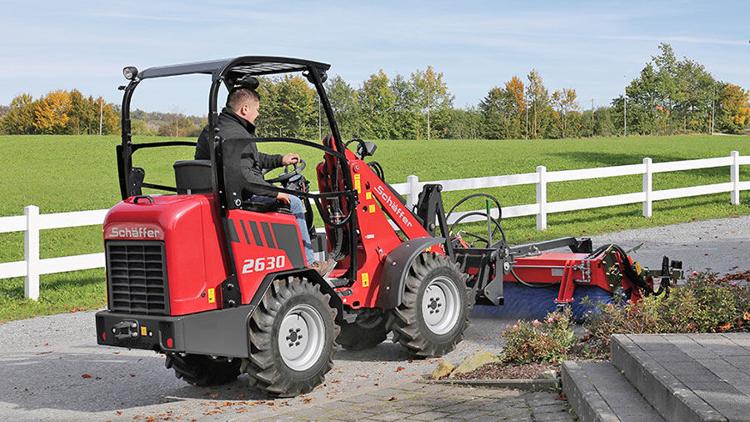 Whatever your landscaping chores might be, there's a selection of proven farm-tough tools that will make your life easier.
---
Michael Gustafson has written for and about farm equipment companies, their products and dealerships for more than 40 years, including 25 years with John Deere. He lives on a small acreage in Dennison, Ill.