Of all the equipment I have stored around our place, there are two machines I rely on the most: my side-by-side UTV and, more so, my John Deere compact tractor with loader.
I'm sure you would agree your loader tractor, skid steer and telehandler lead your list of most-useful equipment. Newly introduced models and a host of new attachments offer even more power, performance and versatility.
New Holland has been especially active in releasing new material-handling equipment, recently introducing a new large-frame telehandler and new 300 Series skid steer and compact track loaders.
The TH7.42 Elite telehandler is the first in a series of TH models coming from New Holland. It builds on previous models with a new 6x3 PowerShift transmission designed to provide smoother shuttling and gear changes. This model features a 4.5L engine producing 129 horsepower, a 22.9-foot reach, and 9,259-pound lift capacity. Consecutive models in the TH Series of telehandlers will begin releasing in late 2020.
New Holland 300 Series skid steer and compact track loaders have been re-engineered. Advanced technology includes the Super Boom vertical lift linkage, a new 8-inch multifunction LCD display with reverse camera, straight-line tracking improvements and fully upgraded electrical harness.
The 300 Series comes in 11 new models in radial lift or Super Boom vertical lift. These models range from 60 to 90 gross horsepower, rated operating capacity from 1,600 to 4,500 pounds, and dump reach from 18.5 to 35.5 inches.
Bobcat has been busy as well, with the introduction of the new R-Series T76 and S76 compact track loaders. These loaders come standard with LED lights for improved visibility in low-light situations.
Another noteworthy option available on new R-Series is the 5-Link torsion suspension undercarriage. It dramatically reduces stress and vibration from the undercarriage, making operation more comfortable.
The new cab design is a one-piece, sealed and pressurized design offering better comfort and improved service access. The near-seamless interior repels dust and dirt in the cab, helps isolate engine and hydraulic noise, and enhances the efficiency of optional heating and air conditioning.
It's been 50 years since John Deere offered its first skid steer, the JD24 Loader. Since then, we've seen the introduction of 11 different series of industrial and agricultural models.
Along with the machines, John Deere has come out with work-saving attachments including forks, bale huggers and spears, silage defacers, scrapers, buckets, grapples, augers and trenchers, brooms, blades and much more.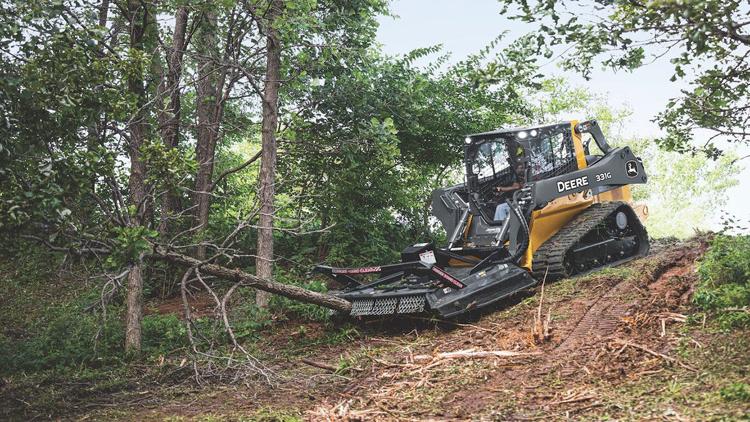 Recently Deere updated its line of rotary cutter attachments with the new RX72 and RX84. These attachments are designed for heavy-duty vegetation management, including property maintenance and right-of-way clearing. The models are compatible on large-frame skid steer and compact track loaders, such as the 330G through the 333G, and are equipped with high-flow hydraulics and a severe-duty door.
If you rely on a loader tractor, as I do, you now have a broader range of choices in sizes, horsepower and colors.
According to New Holland, their new Workmaster models are ideal for haying, pasture maintenance, and loader work. The flat-deck ROPS platform features a large frame and long 83.7-inch wheelbase, and 12x12 power shuttle with column-mounted shuttle lever.
Available in 95, 105 and 120 horsepower, Workmaster tractors are powered by 207-cubic-inch (3.4L), 4-cylinder engines built by Fiat Powertrain Technologies (FPT). These engines are Tier 4B emission compliant, and deliver clean, fuel-efficient power.
Case IH is adding three new models to its Farmall family of tractors: Farmall utility 95A, 105A and 115A. The new models feature an efficient yet powerful 4-cylinder engine that provides high torque for handling a variety of implements, including loaders. In fact, these models, which include 12x12 clutchless power shuttle transmissions, are designed to match the capacity of the Case IH L575 loader.
New John Deere 4M Heavy Duty tractors are available in two output ratings, the 52 horsepower (37.9 kW) 4052M HD and the 66 horsepower (48.5 kW) 4066M HD. Both units feature Deere's three range eHydro transmission with Twin Touch pedals, allowing for easy direction changes — great for loader work.
So many chores. So little time. Fortunately, so many ways to get the jobs done quickly and efficiently.
---
Michael Gustafson has written for and about farm equipment companies, their products and dealerships for more than 40 years, including 25 years with John Deere. He lives on a small acreage in Dennison, Ill.