I came across a recent report from Scott Irwin and Todd Hubbs at the University of Illinois stating that "bigger but fewer planters today plant about the same acres per day in aggregate as more numerous but smaller planters did in the past."
If you're working with a planter that's more than, say, five to 10 years old, you might want to consider trading up to a more efficient model for the 2021 season.
A new planter's efficiency might go beyond in-field performance, including less time for setup and storage.
Recently, I had the opportunity to talk with a few design and engineering professionals at AGCO. They've been traveling the country introducing the new Fendt Momentum planter.
Although their focus is on the planter's success in the field, they did tell me how this particular planter makes clean-out and storage simpler and faster.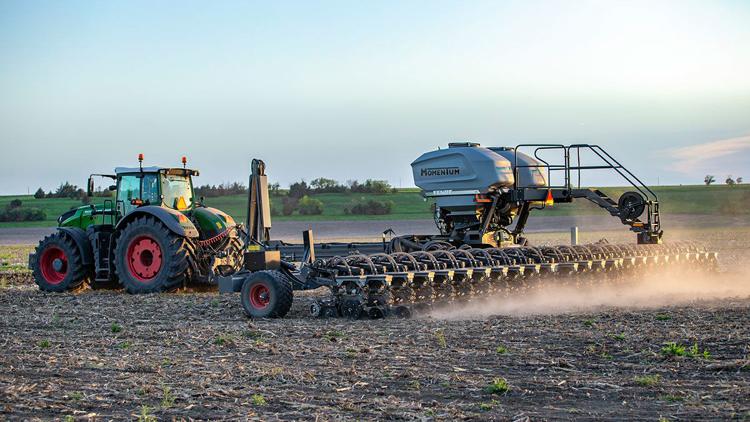 "As with all planters, getting the Momentum planter ready for storage just takes some common things such as getting all the seed out, washing all the liquid fertilizer out with RV anti­freeze, and things like that," notes product engineer BenFanshier.
As for the electronics, especially wires that can be especially inviting to mice and other rodents, Fashier says new planters have harnesses wrapped in conduit that should offer a great deal of protection.
Monitors and hoses don't really need to be disconnected or removed, either.
"We've automated a lot of those processes," said Fanshier. "You plug in your hydraulics, and you're basically set."
"Another thing to consider with this machine is how low maintenance it is," adds Senior Design Engineer Robert Figger. The Momentum has only one grease point, along with fully-sealed air ducts to keep birds from nesting in there.
"I see this planter being stored in one of three ways.," Fanshier said. One way is to keep the planter all unfolded with the row units down. Another is to fold the wings up with the row units down.
Being able to raise and lower the row units at the touch of a button gives you easy access for row unit repair and maintenance, as well.
As you're finishing up this year's planting season, take stock of your current machine. Make sure it's working accurately and at a speed that will take advantage of tighter planting windows.
Just as important, though, is the time you spend prepping your planter to go into — and out of — storage.
Today's planter manufacturers are offering new models that might just make your planting season more efficient, start to finish.
---
Michael Gustafson has written for and about farm equipment companies, their products and dealerships for more than 40 years, including 25 years with John Deere. He lives on a small acreage in Dennison, Ill.