This past August, I attended an AGCO Crop Tour event near Arthur, Ill. Now in its third year, the goal of the AGCO crop tour is to show farmers how various decisions on planting and tillage can impact yields and return on investment.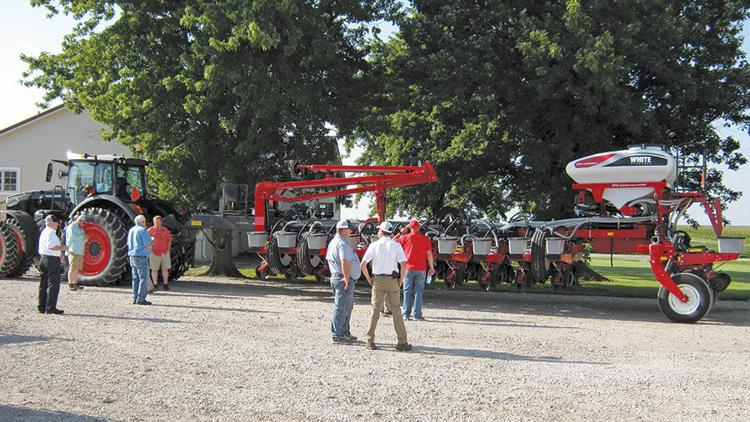 According to Brian Celli, AGCO tactical marketing manager, "We want to ensure more of our product specialists and dealers, as well as producers, really understand the agronomics behind planting practices."
That's the key here. Your ag equipment dealership is no longer just about selling hard iron. Now, it's about how the development and use of that iron can affect your yields and, ultimately, your bottom line.
For example, for the AGCO Crop Tour this year, the company put in new technology and tested several factors in planting:
Speed trials
"We did speed trials last year but formalized our data-gathering in 2018," said Celli.
So far, plot data has shown that the White 9800VE Series planters achieved the same singulation of 99 percent-plus, along with 99 percent-plus spacing accuracy.
Corn performance in varying conditions
As in the first two years of the program, each crop tour location studied corn hybrid performance and ROI with varying planting depths, singulation and down-force settings.
"These plots demonstrate how variation in soil, equipment and technology impact plant emergence, health, productivity and yield," said Darren Goebel, AGCO director of global agronomy and farm services.
Impacts of SmartFirmer
This is a seed-firmer sensor that measures organic matter, moisture, residue and temperature, allowing you to optimize hybrid selection, population, depth and fertility in real time. During the crop tour, attendees were able to see the results of varying seed depth and soil firming, as well as the impact of soil compaction.
Tillage practices
Many of the crop tour locations compared multiple tillage practices. The idea was to provide an understanding of what works best in different parts of the country. Studies involved conventional till, strip-till, vertical till and no-till. Part of the analysis this year also looked at best production-system practices, such as matching tillage and seeding practices with varying soil, residue and moisture conditions to optimize a grower's ROI.
As I went from station to station at the crop tour, I was impressed with how much agronomic and economic information was being provided by AGCO company and dealership representatives.
AGCO, though, is not the only manufacturer stressing the end results of properly using its particular brands of planters, tillage tools and other equipment.
John Deere, for example, offers information about ongoing agronomic research, soil preparation, planting and seeding, precision ag technology and crop nutrition and protection. The company outlines specific ways to prepare planters for best returns. It says planting must be timely; seed metering must be accurate; seed spacing must be uniform; and emergence must be rapid and uniform.
Shorter planting windows require that all these factors be completed using faster speeds, says John Deere. The company's MaxEmerge planters are designed to provide planting accuracy along with higher planting speeds.
Another company that's providing much more than hard iron is Case IH. Recently, the company expanded its 2000 series Early Riser planter lineup with the 2130 model. With its mounted design that eliminates draft, the planter more precisely follows guidance lines, making the 2130 planter a good choice for high-tech strip-till operations.
That introduction is part of the Case IH Agronomic Design focus that keys in on seven agronomic areas: crop residue management, soil tilth, seed bed conditions, seed placement accuracy, plant food availability, crop protection and harvest quality.
Farm equipment providers, from manufacturers right through to local dealerships, have taken more of an agronomic benefits approach to selling and supporting planters, tillage equipment and other tools. Since we're all looking for better ways to improve ROI, this approach is very welcome.
---
Michael Gustafson has written for and about farm equipment companies, their products and dealerships for more than 40 years, including 25 years with John Deere. He lives on a small acreage in Dennison, Ill.