Equipment manufacturers and their dealers have become much more concerned over agronomics these days. To be sure, the mechanical aspects of equipment still matter. However, how equipment can improve agronomic results through technology, for example, has come to the forefront.
Take planters, for instance.
It all starts with the planter, prepped and set properly for the best seed placement.
A new entry in the planter market, the Fendt Momentum, offers technology that, according to the company, makes great strides in reducing customer concerns about where their corn or bean seed ends up in the field.
"Row crop producers know an evenly emerged, picket-fence stand planted during the 'ideal planting window' is a critical first step for optimum yields," says Alex Lundgren, product manager global crop care, seeding and tillage at AGCO. "However, at planting there are many agronomic and operational challenges that can be beyond their control. That's why it's important to control what we can, when we can."
"Providing producers greater control at planting is why AGCO has developed the Fendt Momentum planter delivered with AGCO-exclusive SmartFrame technology," says Rex Schertz, engineering manager seeding and tillage at AGCO.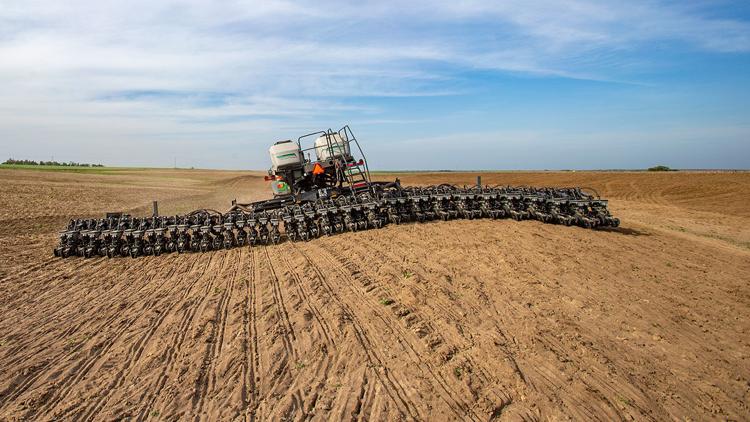 According to the company, Momentum is designed to consistently place every seed at the optimum depth and spacing regardless of variations in soil moisture, soil type, residue levels, terrain or operating speed.
It's built to help minimize compaction and eliminate pinch rows, as well as reduce the frequency of downtime for refills or configuration changes and cleanout when switching crops.
Momentum features a SmartFrame setup: three independent, intelligent sections that operate automatically, making sure that row units on each section maintain the ideal seeding depth. The planter's patented sensor-controlled hydraulic system monitors the angle of the row-unit parallel arms to automatically adjust toolbar height, keeping the arms level and the row units properly engaged with the soil as ground conditions and terrain change.
But that's not all.
While high-capacity central-fill seed and fertilizer systems on many planters are true time-savers, the added weight can contribute to issues such as pinch rows and soil compaction. So, instead of side-by-side duals for center transport, wide in-line tandem wheels travel in front of the row units, eliminating pinch rows.
The wheels are positioned in the same paths as the tractor tires, limiting compaction.
Another piece of available technology on the Fendt planter is the optional weight management system. The Momentum planter can be equipped with a central tire inflation system that automatically adjusts tire pressures from the roadway to the field, deflating the tires as the wings unfold.
To reduce soil compaction during planting, the system will automatically adjust tire pressures up or down, compensating for the fluctuating weight of the planter as seed and fertilizer are used or replenished. The system reduces each tire's pressure to the lowest field setting as suggested by the tire manufacturer for the weight present at any given time, down to the pre-set low of 15 psi.
Kinze's new planters for the 2021 planting season are featuring a slightly different focus — reducing the overall cost of planter ownership.
The new 05 Series planters offer a number of enhancements that will increase the wear life of many components, simplify maintenance and improve performance. Changes include:
Row unit double parallel arm bushing with impregnated lubrication and double row bearing disc openers for extended wear life;
High-efficiency vacuum fans that run quieter with less hydraulic demand, utilizing 1.5-inch diameter vacuum hoses;
Redesigned bulk-fill seed delivery system that works with more crop types and at higher planting rates;
Large-frame planter models 4905 and 4705 feature a variable displacement piston PTO pump, which provides a simpler planter operation and higher efficiency to reduce tractor HP demands;
Simplified hydraulics on the model 4905 planter improves serviceability and decreases planter lift times; and
Firestone IVF radial tires on planter model 4905 for reduced compaction.
To be sure, there are many planter models available from a variety of manufacturers. Going forward, though, you'll find that those manufacturers, along with their selling and servicing dealers, are spending more time and effort on the agronomy side of machinery performance.
---
Michael Gustafson has written for and about farm equipment companies, their products and dealerships for more than 40 years, including 25 years with John Deere. He lives on a small acreage in Dennison, Ill.