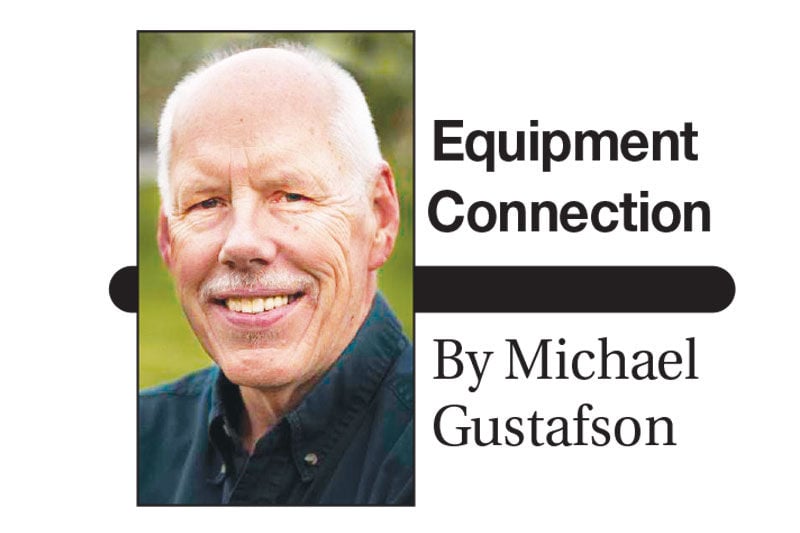 Let's talk tires, track systems and compaction.
When we buy a tractor, we're buying horsepower — horsepower that determines, in part, the overall potential performance of the tractor. To be sure, there are many other factors that weigh in as well, including power-to-weight ratios, transmission types, and yes, even the selection of tires and track systems.
To paraphrase, it's all about where the rubber meets the soil.
This is especially true as farmers around the Midwest balance reducing compaction with bigger, heavier equipment while maintaining full machine performance, sometimes in wetter fields. It's an ongoing issue throughout the season, from large tractor/planter combinations to high-capacity combines and grain carts.
According to the University of Minnesota, heavy axle loads and wet soil conditions increase the depth of compaction in the soil profile. As loads increase beyond 10 tons per axle, the potential to compact the soil past the tillage layer also increases.
Large 500 hp tractors, combines, slurry tankers and grain carts can weigh between 18 and 40 tons per axle. They can create compaction down to 2 to 3 feet, regardless of whether they're equipped with tracks or tires.
Tire manufacturers and suppliers such as NTS, Michelin, Titan, Continental and Goodyear have been working on solutions.
Matt Schroepfer, marketing team lead at NTS Tire Supply notes, "We've been working hard to find and test tire technologies that can help farmers reduce soil compaction, which we find impacting every farmer's fields. Interestingly, sometimes the machine causing the most compaction is the least expected. We've seen 60 hp loader tractors with bias tires used for rock picking leave behind more compaction than the 500 hp tractor used to work over the field.
"Choosing the right tires can make a huge impact on the amount of soil compaction your farm equipment causes, and with tire technology evolving very rapidly, it's easy for growers to become overwhelmed by the number of options on the market. This is why we focus on helping farmers identify the tires that will perform best on their unique farm.
According to Schroepfer, there's no question that tracks can help a machine float through stubbornly wet fields.
"As tires rotate, they create a wave of soil in front of the tire in wet conditions," he says. "As the tire turns, it's constantly climbing out of the rut. On the other hand, a track system's lugs are 'planted' in the soil and push the tractor forward. That means no ruts and, generally, better traction in wet soils when compared to standard farm radials.
"When farmers list their reasons for running tracks, wet soil traction is usually No. 1. After all, there are times, such as fall harvest, when you need to get in the field at all costs. Plus, track tractors give you a maneuverability edge. They are often narrower overall than dual setups, which may reduce white-knuckle moments when traveling narrow township roads."
However, tracks come with some notable drawbacks.
"The first is weight," says Schroepfer. "A quad-track tractor is usually 20-30% heavier out of the gate. Tracks also have a greater rolling resistance than tires. That means more horses are devoted to pulling the tractor itself, which means fewer ponies are available for the real job of pulling the implement. More weight and more rolling resistance can mean more fuel consumption too.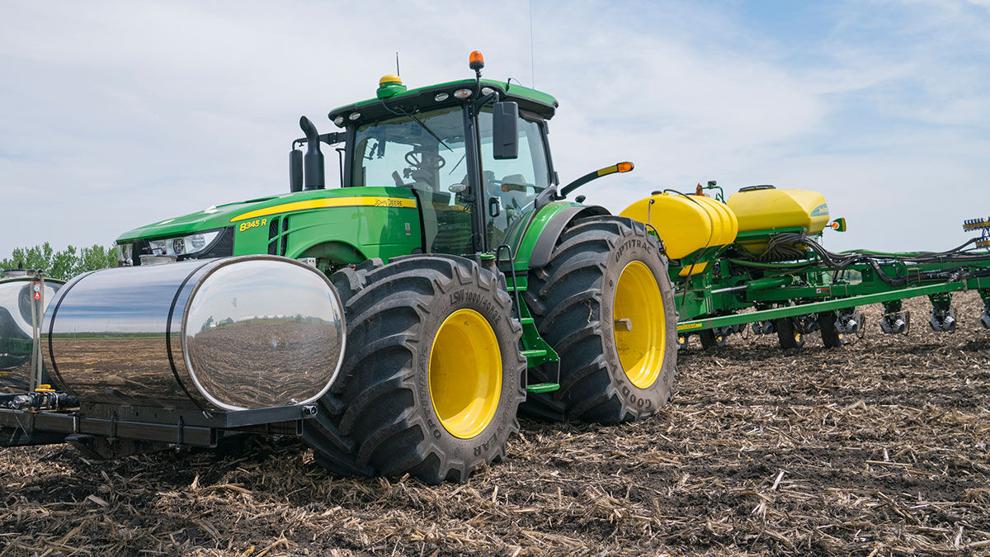 "Field testing of John Deere 9620R and 9620RX tractors showed the wheeled tractor consuming approximately 15% less fuel than the track tractor. And with a host of moving parts such as idlers, bogies and other suspension components, a track tractor may give you sticker shock if several of the components need replacing at the same time.
"In addition, flotation and compaction are not the same. While it's true that tracks 'float' better than tires, they don't necessarily offer lower soil compaction levels when compared to tires. Tracks concentrate the tractor's load on the area of the track beneath the idlers and bogies. In other words, the tractor's weight is not evenly distributed across the surface of the tracks. With advancements in radial tire technology, tires may become the preferred choice over tracks."
One example: Low sidewall (LSW) super single tires are meant to take the place of traditional dual setups. Tire manufacturers also have introduced increased flex (IF) and very high flex (VF) tires in recent years.
"IF tires can carry 20% more load at a standard radial's inflation pressure," adds Schroepfer. "Or they can carry the same load (as a standard radial) at 20% less inflation pressure. VF tires can carry 40% more load at a standard radial's inflation pressure, or the same load (as a standard tire) at 40% less pressure."
Whatever tire you decide to use, tractor experts agree there's no single, simpler way to improve tractor efficiency than to use proper tire inflation pressure. After all, it's all about where the rubber meets the road — or soil.
---
Michael Gustafson has written for and about farm equipment companies, their products and dealerships for more than 40 years, including 25 years with John Deere. He lives on a small acreage in Dennison, Ill.