There's no doubt that agricultural machinery is becoming "smarter." New combines, in particular, are even able to adjust themselves to match specific harvesting requirements and conditions.
The move to more technology has roots in basic farm business concerns: maximizing Return On Investment (ROI) and the search for skilled labor.
"At the end of the day, every combine does the same thing," says Zach Stejkal, North American harvesting product specialist at AGCO.
"It collects, thrashes, cleans, and sends the residue out the back. It's to the point now where technology has come to the forefront. We're now trying to figure how to make combine operation easier and how to make more dollars out of every crop."
Matthew Badding, John Deere tactical marketing manager for combines, agrees.
"When I talk to producers, I find that what's on their minds is ROI," he says. "We know that margins are incredibly skinny right now, to say the least. So producers are looking at anything they can do that will either make them more productive, help them manage their operation better, and/or help them preserve the yield that they have in the field."
In 2017 for model year 2018, John Deere introduced Combine Advisor.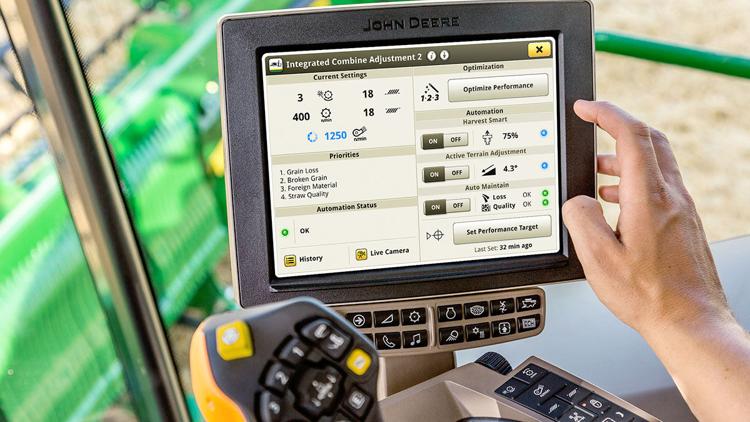 "That technology really enables the producer to maintain the same level of grain quality and losses throughout the entire day. The combine is able to adjust itself throughout the day as condition change," notes Badding.
"It's all about combines being able to do some of the work that used to rely on the operator to make the adjustments and calibrations."
"That's pretty important for producers who are finding it difficult to get skilled operators," adds AGCO's Stejkal.
According to AGCO, the IDEALharvest system provides real-time visualization of crop flow inside the combine. Specialized sensors determine what is grain and what is not, and directs the adjustment of combine settings on-the-go to achieve the operator's pre-set harvest strategy. This reduces the operator's work as conditions change throughout the day.
Preferences for minimizing grain damage, loss, and material other than grain (MOG) in the bin are set by using an easy-to-use touch-screen tablet.
The IDEALharvest system compensates for sudden changes such as crop density and field slope, adjusting to maintain machine performance and grain quality. This technology is especially important when crop maturity, crop quality, plant health, stand variability, and harsh weather make harvest challenging.
"Technology is always evolving," notes Stejkal. "Within a six-month period, we could have brand new software that is quite possibly much more advanced. As a company, we're diligent about getting information to dealers who work closely with customers to work through any changes and upgrades."
Badding at Deere reports that they, too, make sure customers have the full story on new technologies. The company has extensive training programs for dealers so they can make sure buyers know how to use their smart equipment. Videos are also available on Deere's YouTube channel to show how Combine Advisor works, including what happens behind the scenes.
Whether its an existing combine or a new equipment purchase, "I encourage everyone to fully understand what technology you may have, and what technology you may want. Then get back to that ROI and see how the new technology fits into your operation," said Badding.
That's a very smart approach to new technologies.