The side-by-side off-road vehicle market is certainly full of choices. From the John Deere Gator to the Kubota Sidekick to the Polaris Ranger, brands, models, sizes and accessories seem almost endless.
This past year we've seen new model introductions, as well as automotive-style accessories added to the long list of options.
For example, Kawasaki recently released information on their 2020 Mule SX family.
Select models from the 2020 Kawasaki Mule SX family are available with digital fuel injection. All Mule SX models include the winter kit as standard, making starting in colder conditions easier.
The compact Mule SX takes many of the same styling cues from its sibling, the Mule Pro line of side-by- sides. The Mule SX is available in seven configurations (five featuring fuel injection), starting with the standard SX two-wheel-drive model up to the XC options.
The Mule 4010 and Mule 4000 models have a wide variety of Kawasaki accessories to add more comfort, convenience and capability, including both a hard cab and a soft cab, winches, windshields and skid plates and are all backed by the Kawasaki Strong three-year warranty.
In late 2017, Mahindra Agriculture North America first introduced their Retriever Utility Vehicles, a fairly standard-looking side-by-side that fits the mold for most ag applications. Now, Mahindra Automotive North America is making a bit of a splash with their new ROXOR machines.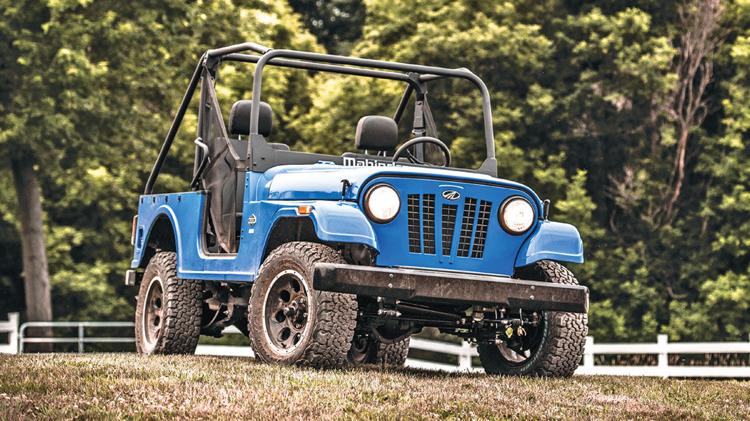 Kevin Kersey, ag specialist with Mahindra and ROXOR, notes there are a handful of Mahindra Tractor dealers now selling ROXOR.
"However, so we can compete with other side-by-sides, such as Polaris, Yamaha and the like, ROXORs are mostly sold through Power Sports dealerships," he says.
Kersey says Mahindra received the original licensing to create the Willis Jeep during World War II.
"That licensing agreement is still in effect today. With that, we decided to come to North America and have really created our own segment," he says. "We haven't changed the design much. We're staying with that rich heritage of the Willis."
The ROXOR features a 2.5L turbo diesel 4-cylinder engine that creates 62 horsepower and 144 lb.-feet of torque.
"The engine may be small, but it puts out a lot of torque," says Kersey. "Torque is the real story on this engine, being able to handle any terrain. It's truly a workhorse."
Towing capacity is 3,490 pounds.
"There's no other side-by-side on the market that can do that," says Kersey. "Customers tell us that they just can't believe the payload and the towing capacity. The ROXOR also doesn't have a drive belt, like most of our competitors. The ROXOR is 4-wheel-drive, shaft driven, so you don't have to worry about replacing and servicing those belts.
"Plus, there are a variety of models, including the ROXOR A/T (automatic model) and one with a manual transmission."
The ROXOR is customizable, he says, with different colors and over 100 accessories.
"You can get a rear seat, wraps, different tire options, a towing package with a Reese hitch, and so on," Kersey says. "It all just depends on how you're going to use it."
Recently released options and accessories include a forward- facing rear seat, solid doors, a windshield made of military-grade LEXAN MARGARD material, aluminum wheels with BF Goodrich Tires, a Warn winch with heavy-duty bumper and mounting plate, side- and rear-view mirrors and a full hard-cab enclosure.
"There are many automotive- style features on the ROXOR," says Kersey, "including a heating and air-conditioning system, with the option to have heat in the floor or up above, depending on the configuration of the unit. If you choose the cab enclosure, you can have the air and heat come in from above."
According to Kersey, the base ROXOR model with a manual transmission starts at $15,999. The base automatic transmission model is $18,999 before adding accessories.
"We're trying to stay very competitive with the market," he says.
For some potential buyers, the ROXOR's appearance and automotive-style options and accessories might lead them to believe these machines are on-road ready.
"Depending on local laws, you may be able to license them for on-road use in certain areas," explains Kersey. "Still, the ROXOR really is designed as an off-road machine."
The ROXOR is made in Auburn Hills, Mich., which also serves as the North American corporate headquarters for Mahindra Automotive.
Side-by-side brands and models are certainly plentiful. Manufacturers also continue to update their offerings, bringing to the market new technologies now found in many cars and trucks. Still, these little workhorses were made for off-road chores and, sometimes, fun.
---
Michael Gustafson has written for and about farm equipment companies, their products and dealerships for more than 40 years, including 25 years with John Deere. He lives on a small acreage in Dennison, Ill.