New types of crops, such as hemp, can offer great opportunities. They also present equipment questions.
Will you need new field equipment? Or can your current machinery be modified or adjusted to handle the crop?
When it comes to hemp production, I was fortunate to talk with Jordan Milewski, brand marketing manager, crop preparation, at New Holland Agriculture. Milewski actually lives near Hempfield, Pennsylvania.
"It's not just a catchy name," he says. "At one point hemp was a major crop in eastern Pennsylvania and across the country.
"What we've forgotten over the past century or so, we now have to relearn. So New Holland has partnered with the National Hemp Association, as well as our farmer-producers, to promote and share best practices in hemp production and processing.
"When you think back to when hemp was grown as a commodity crop here in the U.S., it was used for rope-making," continues Milewski. "The utilization of this crop today, though, is very diverse. You can turn it into almost anything. So, it's a great opportunity as a crop."
By working with growers, Milewski has found that current equipment you have on the farm can be slightly modified to handle hemp production.
"The New Holland drill is a good choice for hemp because, in our case, we've had some experience in crops that have a very small, difficult-to-handle seed," he says. "I'm also seeing more planter companies engaging with this, offering seed discs to handle the smaller hemp seed. There are some advancements in planting that are coming, that's for sure."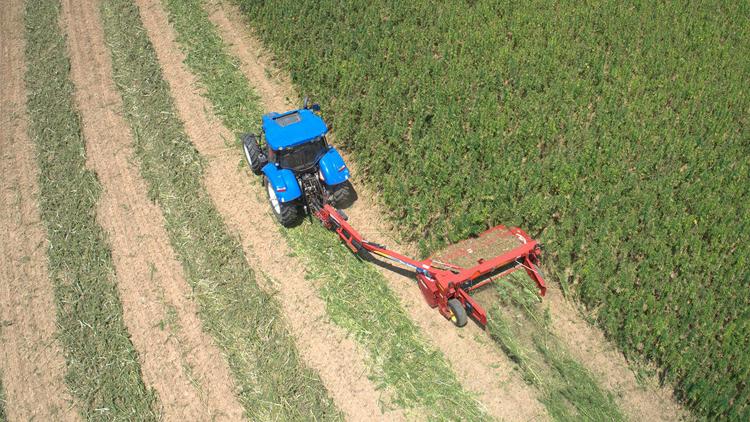 The biggest challenge, though, isn't getting the seed in the ground. It's the harvesting.
"Early on, we had producers who had planted about a hundred acres of hemp, and they came to us wanting to work together to see the best way to get the crop off the field," recalls Milewski. "There wasn't a lot that was well understood at the time.
"One of the first things we did was to try a Discbine. When the machine was adjusted for a hay crop condition, there was what we might call 'performance opportunities.' With some adjustments, though, within 20 minutes the Discbine was running like a sewing machine. The original machine ran admirably in the crop but needed a few minor adjustments to handle the hemp as we would like, cutting and conditioning properly through the machine.
"We found that if the crop stayed too long inside the machine, it could wrap around the shafts. So we needed a few changes to the machine and some better protections for the machine to help prevent wrapping around the shafts."
New Holland offers a free brochure for anyone wanting to obtain more information about cutting and baling hemp fiber.
"Hemp is a bit different than a hay crop. You still want it to dry, but you also want the fiber to break down by laying in the field," says Milewski. "That's called retting. You want to condition it, but you have to be cautious that you don't over condition it. You want to get the moisture out, but you don't want to destroy the fiber.
"I would never recommend taking an impeller machine into a hemp field. That would be a very bad day. What we've found is that our roll machine works very well at collecting the material off the disc cutting bar, then moving it through the machine. Rubber rolls are OK for the application. But the best rolls seem to be steel because steel rolls seem to have less of a crushing action and more of a crimping and bending action, so you're less likely to damage the fibers in the crop."
As for baling the hemp fiber, Milewski recommends a round baler set up for silage work.
"The crop is sticky, like forages, and remains sticky even after drying," he notes. "The silage balers have bearing protections to handle the crop while minimizing the abrasiveness and stickiness of the crop."
Harvesting hemp seed and flowers is also important, with some producers just focused on obtaining those portions of the crop.
"When it comes to harvesting hemp seed, the New Holland twin rotor combine is a sure bet," says Milewski. "We're used to handling small grains with this combine, and I think producers will find that it's very efficient."
Todd Davis, AGCO marketing product specialist with the Gleaner combine, agrees with using a rotary combine, but of course recommends the Gleaner.
"You don't need to make any special adjustments to the machine," says Davis. "Working with producers in Colorado, we set the combine to milo, and the flower came out just like they wanted it, and the seed was in the bin. It worked great.
"This is not a hemp-special combine. It's a combine that can go from corn to beans to hemp to milo to wheat. Crop-to-crop changeover is only 15 minutes."
The market for hemp is still developing. Fortunately, you can get in without a major investment in new equipment. Start small, use machinery you have, see how it goes, and head on from there.
---
Michael Gustafson has written for and about farm equipment companies, their products and dealerships for more than 40 years, including 25 years with John Deere. He lives on a small acreage in Dennison, Ill.