I've often wondered about how Unmanned Aerial Vehicles (UAVs), or drones, have and will affect the crop protection application business.
Agricultural drones have become more popular over the past few years. According to the Massachusetts Institute for Technology (MIT), one of the ways producers and farmers are using drones today includes crop spraying.
Drone technology is a much safer alternative for the application of harsh chemicals that pose dangers to human health with continued exposure. By incorporating ultrasonic, light-detection and grounding lasers, drones can offer precision crop spraying that is five times faster than traditional crop spraying.
And by using state-of-the-art topographical scanning, agricultural drones can dispense the optimal amount of fluid, ensuring even coverage for crop growth without unnecessary waste.
Recently, Homeland Surveillance & Electronics released a new Fumigator Drone Package for fumigating, fogging and spraying in an all-in-one unit. Designed for mosquito abatement (vector control) or other pest eradication, the Fumigator Fogger dispenses mist or spray to increase efficiency. This is also a popular method for pest eradication in tree farms.
HSE notes that while sprayer drones have given farmers access to precise and harvest-saving techniques, drone technology can bring a host of benefits to agriculture. With the addition of granular seed-spreading drones and fogging drones, farmers can avoid unnecessary chemical exposure and save on labor costs.
Many farmers are using multispectral Normalized Difference Vegetation Index (NDVI) cameras embedded with sophisticated software that can survey fields to detect soil quality, monitor crop health and growth, and help detect and treat problems before they get out of control.
While drones do offer many advantages, this technology still has one major drawback: solution tank capacity. For example, the DJI eight-rotor Agras MG-1 is designed specifically for agricultural use, yet carries only 10 liters (about 2.6 gallons) of chemical solution. That's certainly not enough capacity to efficiently handle larger farm operations.
Traditional application methods surely aren't going away any time soon.
Spray rig manufacturers continue to improve spray accuracy, operator comfort and control and machine communications.
Earlier this month, John Deere announced the expansion of the top end of its 4-Series Sprayers, introducing its biggest sprayer yet — the 1,600-gallon capacity R4060 Sprayer with the new CommandDrive powertrain. In addition, the existing R4045 Sprayer will come standard with CommandDrive beginning with Model Year 2020.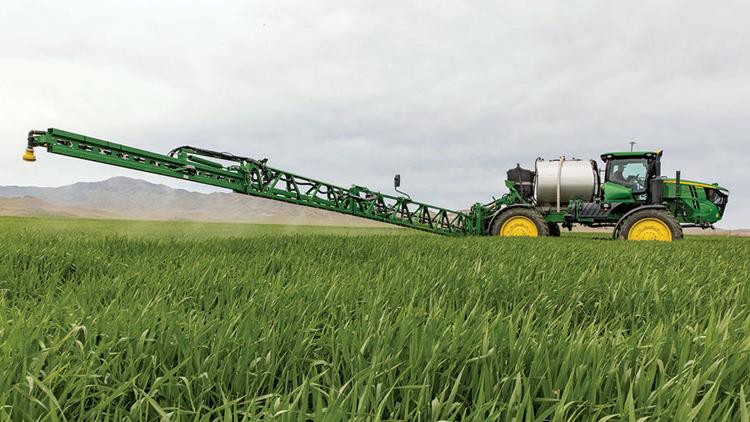 These two sprayers are designed for large, broadacre cropping systems and high-volume applications.
"This new powertrain will help farmers and ag service providers cover more acres quickly and efficiently," says Lindsey Pollock, John Deere product manager for sprayers. "We know time is often the critical factor in most field applications, no matter the crop or season, with very tight application windows. The R4060 and redesigned R4045 can help operators traverse wide-ranging field conditions and hilly terrain in order to make accurate applications faster and more comfortably than before."
In February, Case IH announced their Advanced Farming Systems (AFS) AccuTurn automated headland-turning technology will be available on high-powered Patriot series sprayers. This next-generation AFS autoguidance technology is compatible with the AFS Pro 700 display. AFS AccuTurn provides hands-free, automatic, and repeatable turns for increased productivity for broadacre and pre-emergence applications.
Mark Burns, Case IH application equipment marketing manager, notes that, "With Accu Turn, operators can seamlessly navigate the tightest turns and reduce inconsistencies seen with manual steering. Pairing that with our Patriot series sprayers means operators can be confident that they're consistently covering all of the field, delivering product to each and every plant."
If you're running your own applicator, here are a few recommendations:
Know what kind of nozzles are on your sprayer and whether or not their patterns need to be overlapped for complete coverage. Make sure the nozzles are not partially clogged, and never use a pin, knife or any other metal object to unclog nozzles.
Set the proper boom height for the nozzle spacing. To achieve uniform coverage on the entire swath of the sprayer, conventional flat-fan nozzles require 30 to 50% overlapping of adjacent spray patterns. Check nozzle catalogs for specific recommendations for different nozzles.
Know your actual travel speed, and keep it as steady as possible. Increasing the speed by 20% may let you cover the field quicker, but it also cuts the application rate by 20%. Similarly, a reduction of speed by 20% causes an over-application of pesticide by 20%.
Pay attention to spray pressure. Variations in pressure will cause changes in application rate, droplet size and spray pattern.
Avoid spray drift by not spraying when the wind speed is likely to cause drift. Keep the spray pressure low if it's practical to do so, or replace conventional nozzles with low-drift nozzles. Also keep the boom close to the target, use drift retardant adjuvants, and spray in early morning and late afternoon when drift potential is less.
Calibrate your sprayer periodically during spraying season to keep it at peak performance.
Be safe. Wear protective clothing, rubber gloves and respirators when calibrating the sprayer, doing the actual spraying and cleaning the equipment.
Spraying technology and crop protection chemicals are always changing and improving. Whether you're using drones, ground application or hiring custom application, be sure to stay informed on the best approach for your operation.
---
Michael Gustafson has written for and about farm equipment companies, their products and dealerships for more than 40 years, including 25 years with John Deere. He lives on a small acreage in Dennison, Ill.