At one time, tillage was affectionately described as "dragging pieces of rusty metal across the field."
Of course, it was always much more than that, with tillage options that included various weighted frames, a selection of discs and shanks, spring-loaded ground engagement for adjustable down pressures, a seemingly endless variety of chisel points and sweeps and much more.
Over 40 years ago, a company called Glencoe Manufacturing developed and sold a tool they called the Soil Saver. By today's standards, the Glencoe Soil Saver was fairly simple in design. Discs up front sliced and sized residue, while trailing shanks mixed the residue with the soil.
Popular for its time, the Soil Saver filled a need for producers who were not ready or willing to go all no-till, but still wanted to incorporate conservation tillage into their operations.
Today, according to the USDA, "conservation tillage is defined as any tillage and planting system that covers 30 percent or more of the soil surface with crop residue. Two key factors influencing crop residue are the type of crop, which establishes the initial residue amount and its fragility, and the type of tillage operations prior to and including planting."
Those types of tillage operations — and tillage equipment brands, models and options — certainly have expanded since Glencoe first put the Soil Saver on the market.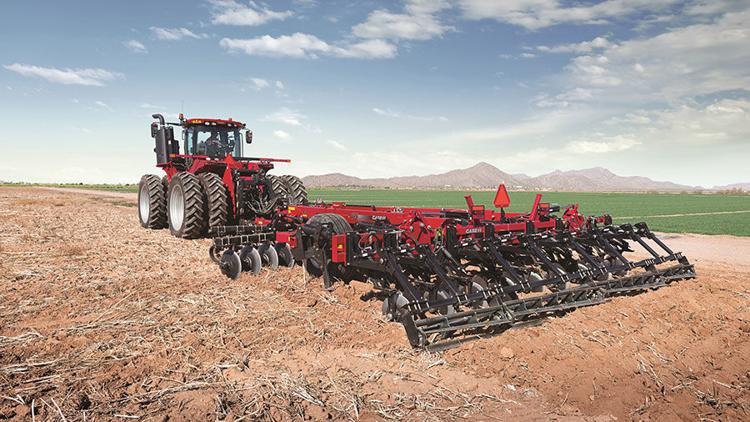 One conservation tillage practice that's been gaining in popularity since the mid-1990s is the concept of vertical tillage, which refers to tilling the soil less than 4 inches deep. Vertical tillage equipment is designed to stir or ridge the soil without inverting the soil.
Some soil particles are mixed with surface residue, but the residue is not completely incorporated into the soil. Vertical tillage equipment may use disks or shanks to disturb the soil.
You might consider vertical tillage for several reasons, such as to stir the soil surface to encourage drying or warming prior to planting, to incorporate surface-applied fertilizers, to size crop residue and to facilitate crop residue decomposition.
John Deere offers this advice when it comes to vertical tillage:
"It starts with your soil. If you live in an area with a relatively thin layer of topsoil, then you have to make decisions differently than someone who lives in an area with 12 or more inches of topsoil. These two environments will probably experience different annual moisture levels, too. Areas with thinner topsoil tend to be dryer overall.
"The average crop yields from these two environments also will be quite different. But many of the input costs, such as seed, fertilizer, chemicals and fuel, will actually be similar. So if you live in an area that is dryer, has thinner topsoil and lower average yields, vertical tillage could really work to your benefit.
"A true vertical tillage tool sizes the residue and fractures the soil, but only to a depth of 1-3 inches. In other words, the residue virtually stays on or near the surface, protecting your precious topsoil from wind erosion while it decomposes and returns nutrients to the soil.
"The minimal depth penetration of vertical tillage also helps what moisture is in your soil to stay there. It protects your soil, and helps it retain as much moisture and nutrient volume as possible."
Obviously, vertical tillage requires specialized equipment designed specifically for this practice. Most major tillage tool manufacturers, including Case IH, John Deere and Frontier, Great Plains, Landoll and Sunflower, offer models to fit most operations. Plus, these tools have been around long enough that there's a fairly good inventory of used units available.
Tillage tools have become intelligent as well.
Last December, Topcon Agriculture introduced the NORAC Tillage Depth Control (TDC) system, leveraging the same core technology used on the NORAC Boom Height Control system. The system uses ultrasonic sensors to automatically compensate for differing soil types and terrains, while maintaining the correct implement depth.
The company states that the TDC system is designed to turn tillage into a high-tech operation, regardless of your tractor type.
AGCO's Sunflower brand also offers intelligent tillage with its Till Control precision-farming system available on Sunflower's SF6830 high-speed rotary finisher, SF1436 Series disc harrows and SF6631 Series vertical tillage tools. With Till Control, all three implements can communicate with ISO-compliant terminals in tractors.
Besides an implement-recognition feature that automatically displays implement data, operators can view service intervals, receive maintenance notifications and track field and lifetime total acres and hours worked.
Finally, this past February, Case IH announced that their AFS Soil Command mapping technology will be available for the fall season on all AFS Soil Command agronomic control technology and seedbed sensing technology equipment: the Case IH Ecolo-Tiger 875 disk ripper, the Tiger-Mate 255 field cultivator, True-Tandem 345/375 disk harrows and True-Tandem 335 VT/Barracuda vertical tillage tools.
Imagine that. Today's tillage equipment offers you more control, precise soil and residue management and increased opportunities to improve yields and returns. We've come a long way from simply "dragging rusty metal across the field."
---
Michael Gustafson has written for and about farm equipment companies, their products and dealerships for more than 40 years, including 25 years with John Deere. He lives on a small acreage in Dennison, Ill.