Although all-terrain vehicles and utility task vehicles or utility terrain vehicles have been around since the early 1960s, my first real contact with these now-popular off-road vehicles was with the John Deere All Materials Transport. Remember those?
The three- and five-wheel AMTs were first introduced in 1987. There was even a kids' ride-on peddle toy, the AMTeeny by Ertl Toys.
AMTs were the forerunners to John Deere Gator utility vehicles, which came out in 1992. Since then, we've seen a variety of ATV and UTV models come along from John Deere and a multitude of other manufactures. Many of those models are now incorporating automotive-style features.
For example, last year John Deere introduced the gas-powered Gator XUV835 and diesel-powered Gator XUV865 utility vehicles. Featuring three-wide seating, these Gator models also offer heating and air conditioning, and can reach speeds of over 45 mph. With over 90 attachments, from snow blades to winches, these Gators can be outfitted to give you work versatility, as well as a good bit of fun.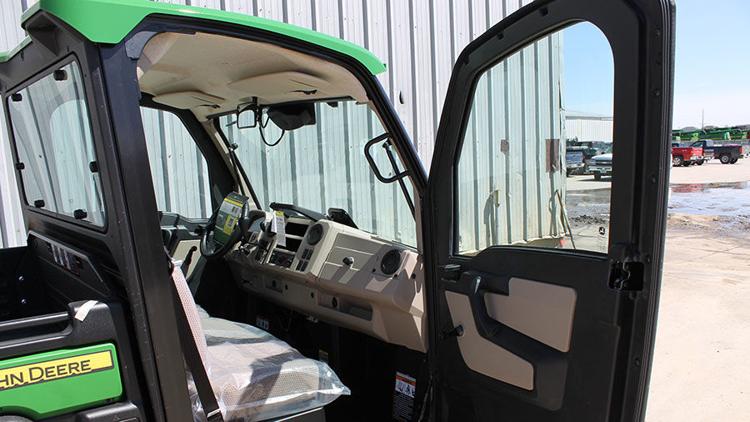 Workability, versatility, the fun factor and improved driver/passenger comfort and controls continue to drive the popularity for ATVs and UTVs. Even Caterpillar has taken notice.
Last year, Caterpillar introduced its first-ever Cat utility vehicles — the gasoline-powered Cat CUV82 and diesel-powered CUV102 D. This November, Caterpillar expanded its product line, which now includes the gasoline-powered Cat CUV85 and diesel-powered CUV105 D. They both feature a spacious second row to accommodate a total of five people.
Other features include a four-wheel independent suspension system with a front sway bar to provide stability at full load; a long swing-arm suspension, custom-tuned springs and shocks that deliver a balance between a smooth ride and hauling loads; and ample ground clearance that helps these vehicles navigate rough terrain.
According to the company, you can customize Cat UTVs to satisfy your specific work needs with more than 50 accessory options including cabs, backup alarms, heater, front winch and work lights. Cat UTVs are prewired for quick do-it-yourself installation of all options, if you're so inclined.
Caterpillar actually partnered with Textron Specialized Vehicles to develop and build the Cat-branded UTVs. Textron, of course, has its own lineup of UTVs.
In October, Textron Off Road announced three new vehicles to its Prowler Pro lineup: a six-passenger Prowler Pro Crew XT, and three- and six-passenger Ranch editions with premium accessories and a custom Atomic Copper color.
The Prowler Pro Crew XT looks to be a real workhorse. The vehicle has 10 inches of front and 9.5 inches of rear suspension travel, 10 inches of ground clearance and 26-inch Pro Terrain tires, along with a 2,000-pound towing capacity, 1,500-lb. payload and 1,000-lb. cargo box capacity.
The choices don't stop there.
Kubota
This past spring, Kubota introduced the RTV-XG850 Sidekick with speeds up to 40 mph. It can carry up to 15.2 cubic feet or half a ton and provides 2,000 lbs. towing capacity on level terrain and 1,550 lbs. on inclines.
The Sidekick is offered in four distinct colors — Kubota Orange, RealTree AP Camo, green and black. A full line of new attachments and accessory options includes a premium audio system, LED headlights, sports roof and a bed extender to carry more cargo.
Mahindra
Mahindra's utility vehicle product line was rebranded as Retriever and expanded with 24 new models in 2017. The newest model is the 83-hp Retriever with a 1000cc gas engine that can move along up to 60 mph and delivers 2,500 lbs. of towing capacity. The Retriever comes in single-row, crew and long-bed models in gas and diesel powertrains with a standard cargo box with electric dump or Mahindra's Flexhauler cargo box.
Of course, Can-Am, Honda, Kawasaki and a host of others continue to make ATV and UTV models for farmers. Those models also offer new automotive-style productivity, comfort, convenience and safety options. No doubt, we have come a long way from the first three-wheelers and the AMT.
---
Michael Gustafson has written for and about farm equipment companies, their products and dealerships for more than 40 years, including 25 years with John Deere. He lives on a small acreage in Dennison, Ill.