Many years have passed since my John Deere 4X2 Gator utility vehicle sat new at a dealership, ready to become a go-to machine for carrying brush, wood, tools or whatever loads I need to move. Although it's showing its age, the Gator still runs solidly and reliably.
While I'm not really in the market for a new Side-by-Side, I'm still interested in what new models offer in power, performance and automotive- like features.
For example, John Deere recently introduced their Model Year 2021 Gator.
"For 2021, we took a look at our Gator lineup and made improvements to the transmission controls, digital displays, gear positions and power steering," says Mark Davey, John Deere marketing manager. "Customers will find that our updated units are easier to shift and control, provide instant engagement of 4-wheel drive and differential lock, and provide more information on the dashboard."
When you take a seat in these new Gators, the first thing you'll notice is that dashboard. An updated instrument cluster provides more information at a glance, including gear position, fuel level, differential lock and on some models, an RPM readout and service interval indicator.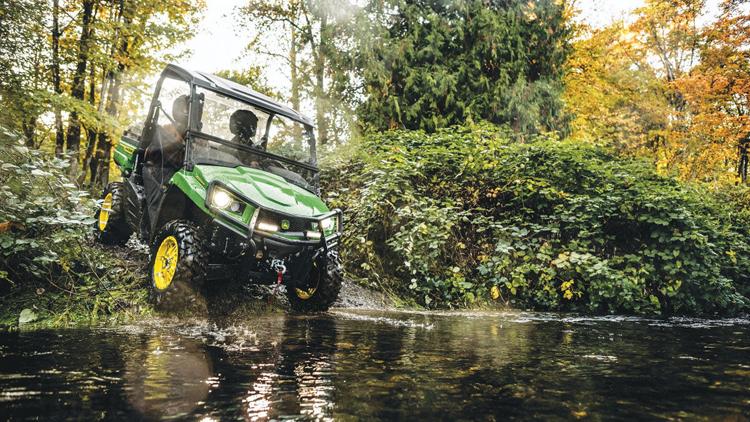 According to the company, these updated John Deere Gator Utility Vehicles, including the HPX Work Series, Mid-Size XUVs and Full-Size XUVs, offer an integrated park position and improved shift pattern for easier operation and a more automotive-like feel. The updated units also feature instant four-wheel drive that's easily engaged with the flip of a switch.
I might also appreciate the upgraded automotive-style power steering on the Gator XUV M and R models, which provides smoother steering and better control on all terrains.
The versatility of these vehicles is enhanced by a full range of over 100 attachments, including sprayers, snow blades and winches. The units are available in green, olive, and new for MY '21, TrueTimber camo.
Also for 2021, Polaris Off Road has unveiled their latest lineup with products that will be of interest to a wide range of riders who are looking to do more around the farm or better experience the outdoors. The Polaris RANGER has been a top choice of farmers, ranchers, hunters, homesteaders and rec enthusiasts for more than a decade. New features you can get with select MY '21 models include upgraded clutching, stronger front drive, LED headlights, 29-inch Maxxis Tires, 14-inch Aluminum Wheels, and a battery charging port.
Polaris also is offering a geofencing kit for the RANGER 1000, enhancing vehicle controllability with speed control down to 4 mph and the ability to set operating boundaries.
For owners who need even more utility from their Side-by-Side, the first-ever, purpose-built RANGER XP 1000 Trail Boss and RANGER XP 1000 Northstar Trail Boss are available in three-seat and CREW models.
If you want some variety in style and colors, Polaris RANGER now offers new, premium colors and graphics throughout the 2021 lineup.
Newer utility vehicles certainly offer more space for occupants. However, if you have a need for tracks, you might find that there's not enough room for the track conversion. With forward floorboards for more legroom and ease of entry and exit, these utility vehicles have clearance issues for standard track conversions on the front axles.
According to Mattracks, though, their zXT Tracks were designed specifically for newer utility vehicles.
Looking at all the new features I could get with a new Gator, RANGER or other brand/model, maybe now is the time to consider an upgrade.
---
Michael Gustafson has written for and about farm equipment companies, their products and dealerships for more than 40 years, including 25 years with John Deere. He lives on a small acreage in Dennison, Ill.