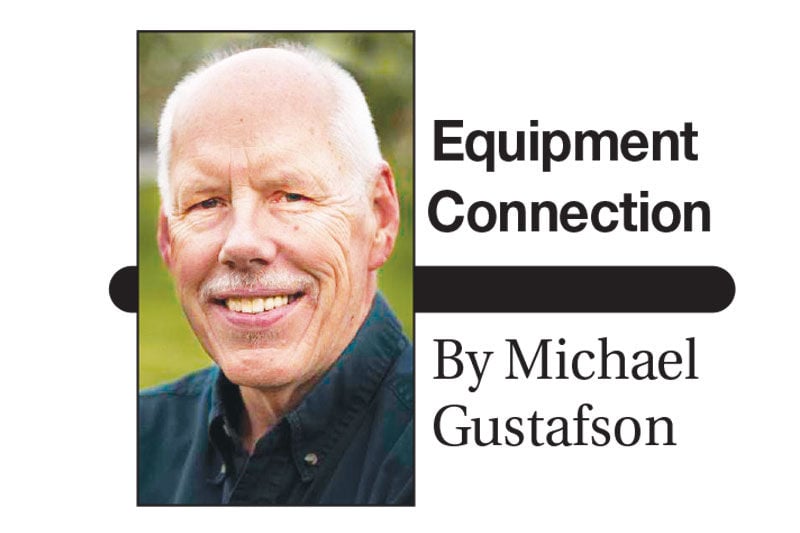 As I was wandering around a farm show in Illinois this past September, I became aware of all the various tillage tools on display. What was even more striking, though, was the consistency in how these machines were being promoted.
While the word "versatility" was not mentioned specifically every time, it was obvious that tillage tool companies have recognized their customers' requirements for adaptable equipment.
For example, let's take a look at the Summers VRT Renegade. According to the company, the VRT Renegade is "the most versatile tillage tool available. It features a highly adjustable design with the ability to switch from minimal to aggressive tillage, and anywhere in between."
This flexibility allows the VRT Renegade to do the work of multiple implements, including vertical tillage, high-speed tillage, conventional tillage, residue management, minimum tillage, seedbed preparation, fertilizer incorporation, spring tillage, fall tillage and conservation tillage.
The company adds, "Operators can control the blade angle, hydraulic hitch, tillage depth, gauge wheels, wing down pressure, and rolling basket down pressure on the fly using an iPad with Summers iControl Implement Control technology."
The iControl system is the brains of the VRT Renegade. The iControl computer is mounted on the implement and controls the blade angle, hitch control, tillage depth, gauge wheels, wing down pressure, and rolling basket down pressure. Your iPad connects wirelessly to the iControl computer from the tractor cab."
The result? "No hassles with third-party monitors or changing tractors. Just an iPad control system easy enough for any operator to understand and use," Summers says.
McFarlane Ag Manufacturing recently introduced the Incite 5100 Series, the "first-ever universal tillage tool on the market."
The company notes, "The Incite is an evolution in vertical tillage, providing the flexibility to adjust to different soil types and conditions from field to field and from year to year. The versatility of this tillage tool allows conservation tillage and minimum-tillage growers to accomplish in a single pass what once would take multiple passes with different tillage equipment."
One design feature, the Universal Tillage selector, offers on-the-go hydraulic adjustment of disc gang angles from three to six to nine degrees. Other features include hydraulic Dura-Reel height adjust, spring cushion level lift, and INCIZOR blades that feature 22-inch diameter 6-millimeter razor-sharp reversed crimped blades.
Tillage tool versatility is being offered by Great Plains Ag, as well.
Available in 20- to 40-foot models, Great Plains' Terra-Max was designed to perform variable-intensity tillage with adjustable front and rear coulter gangs. The front gangs adjust from zero to eight degrees, while the rear coulter gangs adjust proportionally from zero to six degrees for adaptability in ever-changing soil conditions.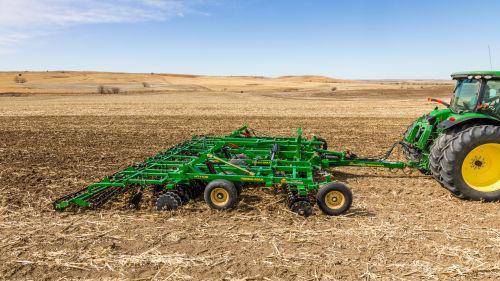 With the Terra-Max, you have the ability to create the ideal seedbed — level soils, remove ruts and bury residue — and control resistant weeds.
Rodney Hake, tillage engineering manager for Great Plains, explains, "What makes the Terra-Max really shine, compared to other hybrid tillage tools on the market, is its finishing capabilities. The seedbed coming out from behind this machine is second to none."
The Terra-Max is offered with the optional Implement Command system that works on the tractor's ISOBUS virtual terminal. There's no need for extra monitors in the cab. For tractors equipped with multiple displays, dual VT compatibility lets you easily transfer implement controls to the next available VT on the bus.
With Implement Command, you can control implement depth and wing down pressure and monitor the gang angle, rear finishing attachment and fore/aft leveling.
"With front gangs that angle from zero to eight degrees, new rear attachments that are some of the most aggressive on the market, and the new Implement Command system, we think the combination of features we have put together will be really beneficial for producers," says Hake.
Finally, Case IH recently introduced the VT-Flex 435 vertical tillage tool, available fall 2022. It offers simple, variable gang angle adjustments that can be performed on the go. With its rugged, durable design built to withstand tough conditions, this vertical tillage tool is ideal for mixed farms and small to midsize grain operations.
The VT-Flex 435 is available in widths 11 to 25 feet.
Obviously, tillage has become an even greater part of your cropping system, supported by new technologies to reduce costs and increase efficiencies. And these days, machine versatility is key, as well.
---
Michael Gustafson has written for and about farm equipment companies, their products and dealerships for more than 40 years, including 25 years with John Deere. He lives on a small acreage in Dennison, Ill.