When it comes to conservation tillage equipment, vertical tillage machines keep gaining popularity throughout the Corn Belt.
Larry Kuster, AGCO senior marketing specialist for tillage, was kind enough to give me a bit of a background on the development of the vertical tillage process and the equipment required.
"In my opinion, vertical tillage all started when no-tillers were looking for ways to manage soil moisture along with all the residue," says Kuster. "Since seed companies started modifying their hybrids for better stalk quality, residue became a much more difficult material to deal with, because it didn't break down as quickly. Consequently, the buildup of tough residue was decreasing yields.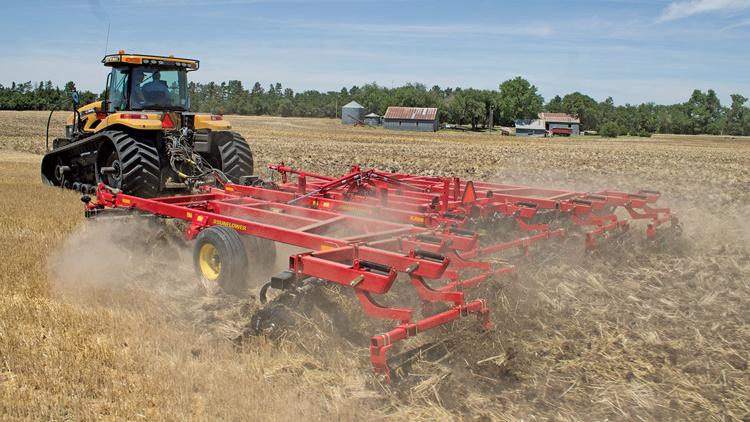 "Back in the early 2000's, corn process prices were pretty good, and some producers were looking at doing corn-on-corn. Without the crop rotation, the residues were really piling up."
Kuster recalls that companies who first started with vertical tillage machines simply put flat coulter blades on a frame to slice up the residue with minimum to no soil disturbance.
"This is exactly what no-tillers wanted," continues Kuster. "By sizing the residue, they could more easily open the soil for planting, while maintaining and managing soil moisture. And since the soil warmed up a bit faster, producers possibly could get into the fields a couple of days earlier.
"As a tillage company, we kept close watch on the trend. We quickly noticed that the flat coulters didn't incorporate the residue."
Without some incorporation with the soil, residue has a tendency to wash away or blow off the field in high winds.
"There was one year in Iowa when we had torrential rain and a lot of wind," recalls Kuster. "The residue washed off the cornfields so much that the adjacent highway had to be closed because there was so much corn fodder laying on the road.
"Producers certainly liked the concept of sizing residue. But they also wanted a way to anchor it by incorporating it with the soil."
A new blade design introduced by Ingersoll offered a solution – blades that didn't move soil left and right, but rather up, mixing soil and residue.
"Sunflower then got into the vertical tillage market with these blades we call the Saber Blade," says Kuster.
Today's Sunflower 22-inch-diameter Saber Blade has 25 soil- lifting flutes designed with scallops to maintain an effective cutting edge. No grinding or rolling is necessary to maintain its edge.
"We've done a great deal of experimenting with these blades," Kuster notes. "We've decided that 25 flutes is the optimal amount to pick up the soil and incorporate with residue, while avoiding side-to-side movement. Producers can vary the results by how deep they run the machine. You just want to make sure that the residue is anchored. If not, residue can move around the field, causing some plants to be shaded and moisture to build up in certain areas."
To be sure, proper machine adjustments are essential.
For example, on their website, John Deere's Frontier brand offers these adjustment tips for their VT17 Series vertical tillage tools:
"First, lift the unit onto the transport wheels and adjust the gang angle from 0 to 12 degrees.
Once you're in the field, set the unit's working depth. Working depth can vary from 1 to 3 inches.
Next, make sure the vertical tillage tool is level front to back. You should wait to adjust levelness until after the unit's working depth has been set in the field.
Once you've set the gang angles, set the depth control, and leveled the unit front to rear, you're ready to begin operation. Remember, it's very important to have the transport wheels in contact with the ground and have some pressure on them during operation. Otherwise, the depth setting you've chosen won't matter. The unit will simply till as deeply as it can."
This is a point of emphasis for Larry Kuster, as well.
"You really shouldn't operate a piece of tillage equipment with wheels off the ground," he says. "If you look at our operator's manual, and, frankly those of our competitors, you'll notice that all of the field adjustment settings are tied to the tires. We're adjusting the frames to the tire positions. If you're taking the tires off the ground, you're just dragging the equipment around like a log chain."
The vertical tillage concept began more than two decades ago. Its popularity continues to grow as producers become more acquainted with the tools, the adjustments and operation, and overall benefits.
---
Michael Gustafson has written for and about farm equipment companies, their products and dealerships for more than 40 years, including 25 years with John Deere. He lives on a small acreage in Dennison, Ill.