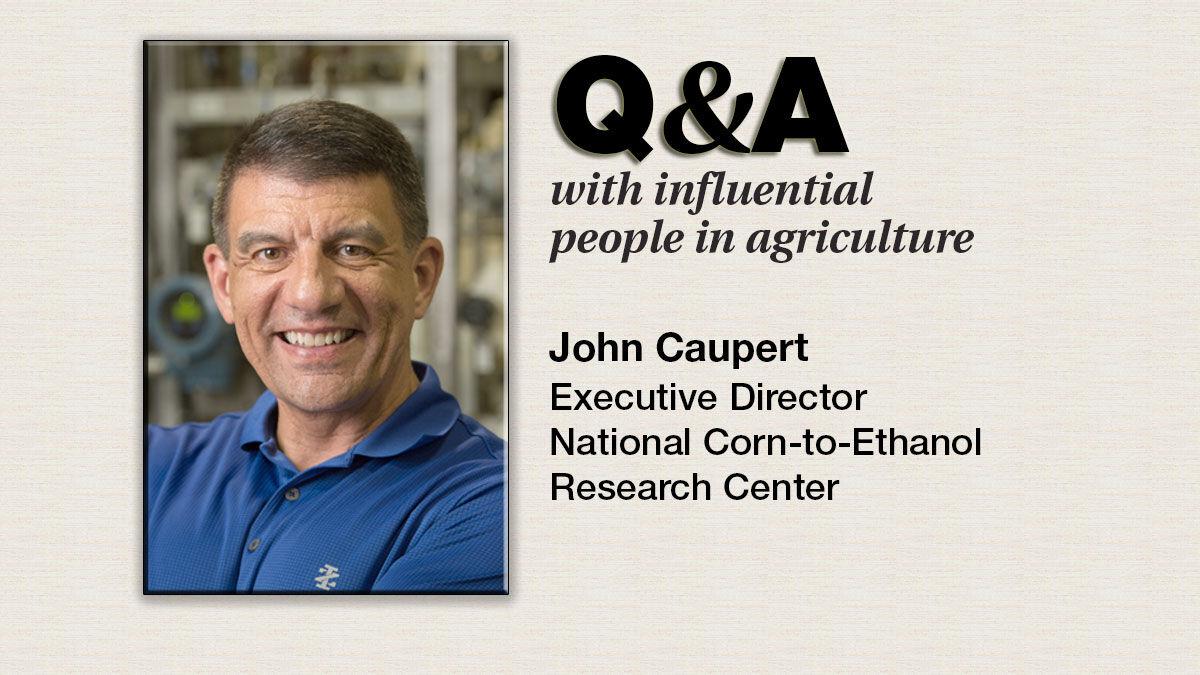 John Caupert is executive director of the National Corn-to-Ethanol Research Center, a position he has held since 2006. The center is located on the campus of Southern Illinois University-Edwardsville, across the river from St. Louis.
A native of southern Illinois, he grew up on a grain and livestock farm near Pinckneyville and attended SIU-Carbondale, where he earned graduate degrees in agricultural economics and policy.
Caupert's easygoing, self-deprecating manner belies the qualifications and experience he brings to the leadership position at one of the nation's premier ethanol research facilities. He spent the first half of his career in the private sector, including a 10-year stint as a contractor with Anheuser-Busch, where he marketed brewers grains. He also worked at St. Louis-based Romer Labs and at the National Corn Growers Association.
IFT: How did NCERC come into existence? And how did it come to be located in Illinois?
CAUPERT: It was born out of the 1996 farm bill. The following year, $14 million was appropriated for bricks and mortar to develop this center. Illinois put in nearly $7 million of matching funds for capital construction. The center opened its doors in October 2003. Three years later — almost to the day — I was named executive director. I was the third. I guess that either proves that I'm not very smart or I'm a glutton for punishment. Anyway, it's been 15 years and I'm still here.
IFT: Seriously, you are uniquely qualified for the position. How did your prior career prepare you for the leadership role at NCERC?
CAUPERT: After my stint with Anheuser-Busch, I spent four years with a small company named Romer Labs. They design, manufacture and market grain quality testing systems, specifically for mycotoxins, such as aflatoxin in corn, cottonseed meal and distillers grains. From there, the non-profit bug hit me around 2004.
That's when I went to work for National Corn Growers Association at its main office in St. Louis. Then came my nomination to be director at NCERC. That transition made sense, because in October 2004 I was (NCGA's) first-ever staff lead on ethanol and ethanol co-products. It was a natural transition.
IFT: The center is a prime example of a public-private partnership. How is it funded?
CAUPERT: The way that we like to describe it is that the public — the taxpayer — built us, but for utilization by the private sector. Well in excess of 80% of our revenue comes in the form of contractual research from companies in the private sector.
IFT: What form does the work there take?
CAUPERT: The contractual research is all private sector companies. Bay Area companies that don't have assets to prove a concept validation may end up here at NCERC. At the opposite end, Fortune 500 companies come for third-party scale-up. And everything in between.
IFT: The center also does work for non-profit entities. How does that differ from private-sector projects?
CAUPERT: Some of our key stakeholders are trade associations such as NCGA and the Renewable Fuels Association. We absolutely do work for them, but it's different than contractual research. Every bit of contractual research is under non-disclosure, confidentiality agreements. The work we do for trade associations usually addresses a common issue or challenge or problem the members of that trade association have. We call those sponsored projects.
IFT: Can you provide any examples of research that a layman would understand or that farmers may benefit from, at least indirectly?
CAUPERT: One area we're particularly proud of is how we have assisted the industry in ethanol yield. Ten to 15 years ago we were getting around 2.6 gallons of ethanol from a bushel of corn. We are completing a project right now in which we're getting 3 gallons from a bushel of corn. That may not sound like a lot, but in terms of percentage increase, that's tremendous. And the starch stays the same. That is a quantum leap across the board.
A second area is all the work we're doing in new uses for corn. My director is working with some folks from the U.S. Department of Energy in converting corn starch into aviation jet fuel. Six or seven years ago this was unheard of. We're not doing it yet on any kind of scale, but you have to start somewhere.
Another area that's really exciting and unlimited is biomaterials, things that are a direct one-to-one replacement for petroleum-based products. One project scaling up in a large way creates a product that can be utilized for anything from an absorbent in baby diapers to a strengthening agent for cardboard. These new uses for corn are critically important for corn growers. These yields are not going down. We're developing new opportunities for starch from a bushel of corn.
IFT: There is a big push nationally to transition from fossil fuels to green energy. Does that pose a threat to ethanol and ethanol research?
CAUPERT: I would say almost the opposite, and here's why: Electric vehicles are getting all the attention, but they're not here today in a big way. The infrastructure is not here at all. We view corn-based ethanol as a pathway of getting there. It's not going to happen overnight.
In the near term — the next one to three years — I see areas in corn ethanol really ramping up again. Where our place is going to be in that, we're not 100% sure. I think on the technology side, it will be in reducing our carbon footprint. But I see us continuing to work on aviation fuel, polymers, and goodness only knows where the next opportunity will come through the door.