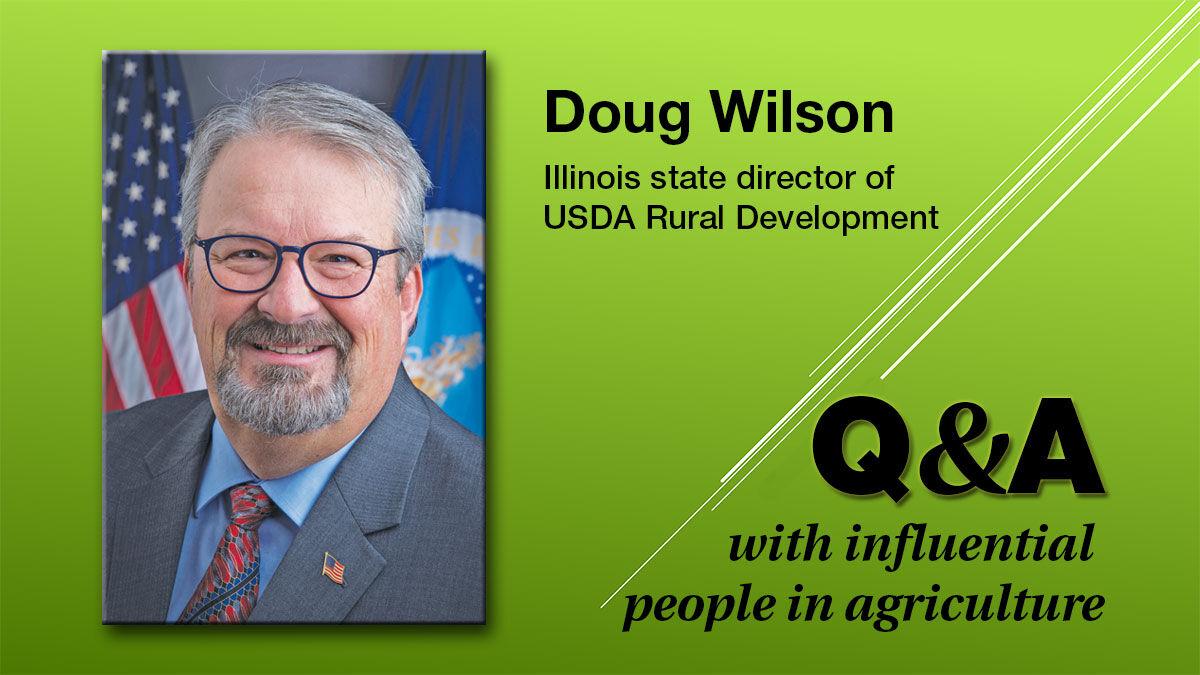 Doug Wilson, Illinois state director of USDA Rural Development, knows firsthand about the needs of farmers and rural America. He lives in north-central Illinois, where he produces corn and soybeans on the family farm. He is a lifetime resident of the state.
Before coming to the USDA more than 10 years ago, Wilson was involved with commodity organizations including the National Corn Growers and U.S. Grains Council.
He spoke to IFT about Rural Development's objectives and reach.
IFT: As it pertains to your agency, what is the definition of "rural?"
WILSON: It is a defined area. The highest level of a community that we can invest in is 50,000 population for business. For housing and other things, it's 20,000 and less. For water and environmental programs, it is 10,000 and less.
IFT: What is the national agency's annual budget?
WILSON: Overall, we take a very small amount of federal funding. Through our ability to convert it into loan dollars, we'll invest about $30 billion into rural America this year
IFT: Rural Development's main purpose is to provide assistance for capital development projects. What form does that take?
WILSON: We have direct loans and loan guarantees, where we work with the lender and basically co-sign the note. There are also grants, but our grant portion is on a much smaller scale. The majority of what we do are loan guarantees for business. We also work with individuals through our housing program, which includes everything from home purchase to home repair. First-time home buyers are usually targeted there.
IFT: RD also helps with municipal projects, doesn't it?
WILSON: Yes. We've financed everything from grain rail to ethanol plants to livestock facilities to businesses on a smaller scale that have no connection to agriculture but something the community sees as an asset. Rural health is under our community facilities program. This year we did three major fundings for expansion. We get involved in anything from an ambulance to a $35 million hospital addition or renovation. We cover the gamut, including community programs such as water, waste and other facilities. Business programs are a growing area for us.
IFT: Why wouldn't an individual, business or other entity work directly with a bank or other lending institution?
WILSON: Sometimes it's the size of the loan. A small- to mid-size lender needs to be able to protect itself. Many times we give the borrower better rates and terms. It's helpful from a business's point of view. It may be something new or something that the lender is not typically involved in. The lender may not be that interested in participating in something that they take longer to pay off and may have a little more risk. I think we serve an important role.
IFT: How does the agency determine credit worthiness? Do you depend on lenders to vet prospective borrowers, or are you directly involved in that aspect of the process?
WILSON: We work very closely with the lenders. But it isn't at all unusual for us to do site visits. We have a loan committee just like a bank or other lending institution. It's an effort by us in partnership with lenders. We try to use the best judgment that we can. I look at this as your money and my money because it's tax money. Though I'm here to take some risk, that doesn't mean I want to go crazy and make a lot of bad loans.
IFT: Making the right deal can help entities save money in the long term, right?
WILSON: With interest rates as they are, it's turned out to be very good for municipalities or others. They can often lock in a 1% or 2% interest rate for 30 to 40 years. That can translate into literally billions of dollars over the course of that loan.
IFT: Does Rural Development help industrial or municipal entities through economic leverage?
WILSON: Yes. For instance, we may work with an electric co-op. We lend money to them and they can re-lend it to others at zero interest. There are ways we can work other than just a grant or loan.
IFT: Your agency frequently works with other government and other entities, doesn't it?
WILSON: We partner with SBA (Small Business Administration), EPA (Environmental Protection Agency) and other federal and state agencies. Many times we have partnerships with real estate firms, local banks and other things. Many times we get a referral on housing projects. A lender or real estate agent may turn them toward our direct program. There is a lot of interaction among local, state and federal agencies. If you're working on a project, that's the best you can have.
IFT: Much of the interaction is personal, right?
WILSON: That's true. One thing that makes Rural Development unique is that we have offices around the state. There is someone who lives in their community, their kids go to the same schools, they know what rural is.
IFT: How has COVID-19 affected Rural Development's role in economic development?
WILSON: In Illinois we're going to have a record year in spite of COVID. We're investing half a billion dollars just in rural Illinois. It's amazing to me how busy we've been. This is encouraging, because these are people investing in their future.