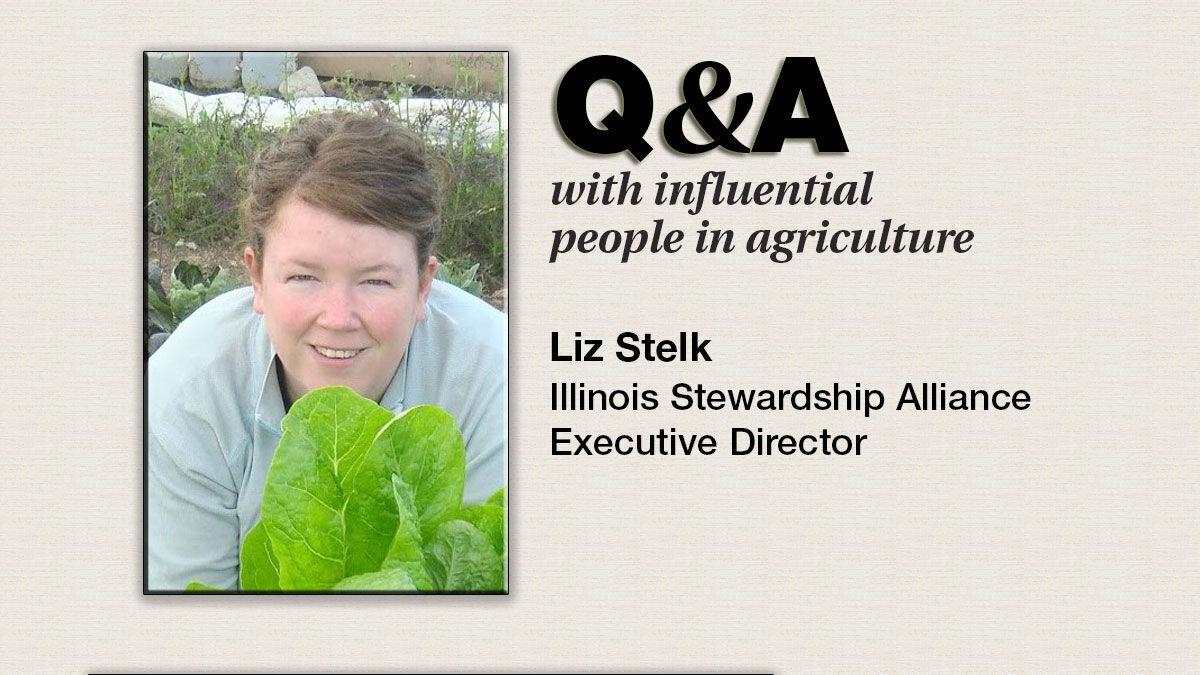 For five years, Liz Stelk has served as executive director of Illinois Stewardship Alliance. She and her husband, David, are raising two their two sons, a 4- and a 5-year-old in suburban Homewood in Cook County in northeast Illinois. They have a big garden, chicken coop and horse barn ready for 4-H livestock projects.
IFT: For those who might not be familiar with the Illinois Stewardship Alliance, please tell us about it.
STELK: The organization was founded nearly 50 years ago. Since our inception, the alliance has advocated for state and federal policies that keep family farmers on the land. Our vision is an Illinois where farmers earn a living responsibly stewarding the land and feeding our communities; people can easily and affordably find and buy local food that aligns with their values; and we all enjoy vibrant, resilient and healthy communities.
The alliance is based in Springfield with members in 65 Illinois counties. Our members reflect the diversity in the food and farm movement: growers, eaters, retailers, chefs, nutritionists, etc. Farmer-members are both direct-market and conventional produce, grain, and livestock farmers, many certified organic, but not all.
IFT: What is your background and experience and connection to agriculture?
STELK: I grew up in the southwest Chicago suburbs in a union household. My dad was a carpenter and about as far from agriculture as you can get. I went to school at the University of Illinois at Springfield to study policy. I worked as a union organizer and then after a particularly challenging legislative campaign, I volunteered to work for a season on a small organic produce farm in Montana through World Wide Opportunities on Organic Farms (WWOOF).
I was looking for a departure from organizing, but after a few weeks on the farm, I experienced selling produce at a farmers market that brought me right back to it. I had never been to a farmers market. I didn't know there was an alternative to the conventional food system. I quickly realized how much customers loved the farmer I worked for, the unique produce she grew, and the potential power of the local food community. I wanted to help organize farmers and eaters to change the food system and set out to work with organizations doing that work.
IFT: What did you learn, in working in ag policy, that surprised you?
STELK: I'm happy to say that the ag and food policy the alliance has worked on has received overwhelming bipartisan support. People on both sides of the aisle helped pass the Home to Market Act, the SNAP match for purchasing produce at farmers markets, and increased funding for the Fall Covers for Spring Saving cover crop reward and protecting water quality.
IFT: What is the association's biggest policy victory in 2020-21?
STELK: The Home to Market Act was alliance members' top priority and our biggest victory this year. Illinois' cottage food law had limited sales avenues primarily to farmers markets. That became an extra challenge when the pandemic closed or sales slumped at some farmers markets. Farmers and cottage food producers drafted legislation to expand the sales avenues for certain food produced in a home kitchen and sold direct to customers at fairs, festivals, from home, and online for shipping. They educated lawmakers and other supporters on the need for the change, talked with the media, and shared their stories. The legislation passed unanimously and was signed by the Governor.
Producers like Derek and Libby Ervin at Glacier's End Farm are gearing up for online sales starting on Jan. 1, 2022.
IFT: How did the pandemic change things?
STELK: The pandemic exposed the cracks in the food system. For decades, we created a large, complex, efficient food supply but that efficiency comes at a cost — the local food supply chain has been hollowed out. There was a time when every region had their own mills, processing and distribution networks. That infrastructure, especially in rural communities, has been mothballed. Yet producers need it more than ever.
Livestock producers have been especially hard hit. Some farmers have told us they have processing dates in 2022 for animals that haven't even been conceived yet. The processing bottleneck though was a problem long before the pandemic because of consolidation in meat packing. Now we have the opportunity to change things — to rebuild that infrastructure that feeds us and provides food security. We know that we will experience more shocks to the food system and need resilient, redundant local and regional food systems that keep food on the grocery store shelves.
IFT: What are three priorities for the organization going forward?
STELK: Alliance members have identified local food infrastructure, farm-to-school, soil health, climate change, and racial inequity in the food system as key issues to address next year.
Public food procurement is a policy we are excited about. Contracts for food from schools, hospitals, park districts and other public institutions aren't a silver bullet for building local food systems but they can be an important bridge to the future we want to build.
The legislature passed a resolution to create a task force to explore how a Good Food Purchasing Policy might roll out. The City of Chicago and Cook County Board passed a GFPP that has the potential to shift $300 million a year in public food spending to sources that are local, fair, healthy, humane and sustainable. Those contracts can lay the groundwork for rebuilding the infrastructure we need.
There is also urgency to address the impact of farm runoff on drinking water. The latest biennial report on Illinois' Nutrient Loss Reduction Strategy tells us that we're not making the progress we need to in order to reduce nitrogen and phosphorus pollution into our waterways. Good steps have been taken like investing in cover crops that keep nutrients in the soil, but farmers are not volunteering to adopt these conservation measures at the pace and scale needed. Unfortunately, climate change will only make our runoff challenge even worse.
It's also time to begin gearing up for the next Farm Bill, coming up in Congress again in 2023. Illinois has an outsized voice on drafting the legislation with four members on the House Agriculture Committee and Sen. Dick Durbin serving on the Senate Agriculture Committee. Alliance members will be working to foster champions primarily for direct market agriculture, conservation programs, and climate measures in the Farm Bill.