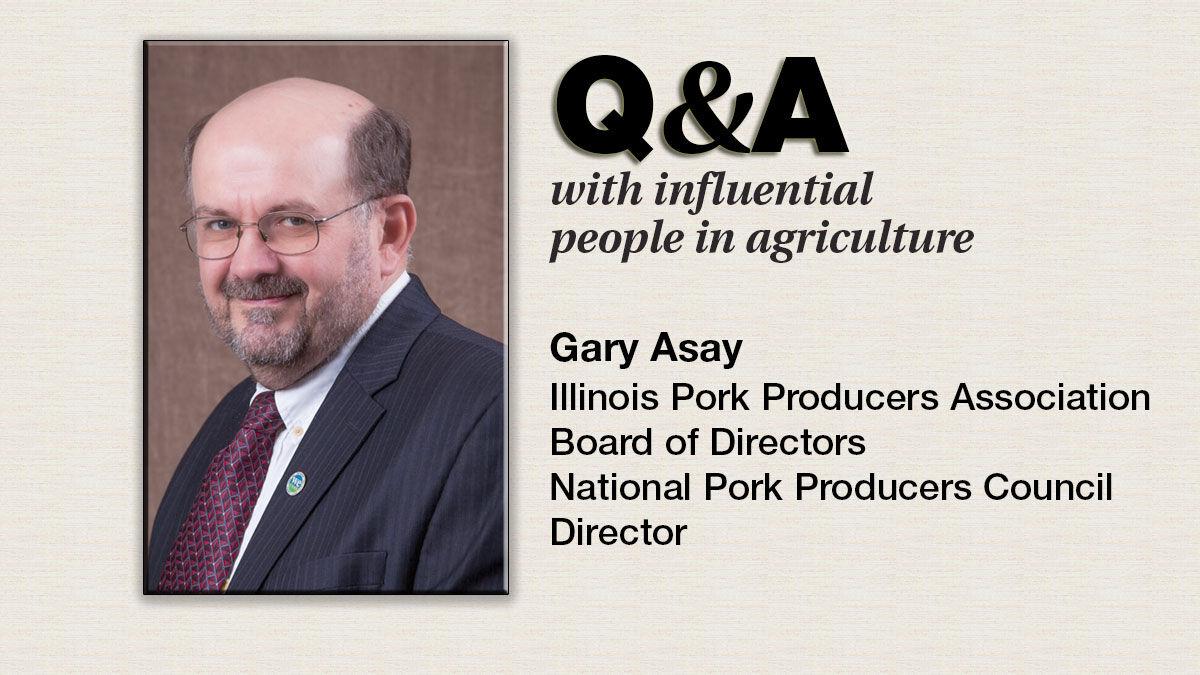 Gary Asay owns and manages Asay Farms, a wean-to-finish operation in Illinois that markets 9,500 hogs annually. He also raises corn and soybeans.
Asay most recently served on the Illinois Pork Producers Association board of directors and was a director for the National Pork Producers Council. He is an Operation Main Street speaker, as well as a member of the Illinois Soybean Association and the Illinois Corn Growers Association.
IFT: It's been more than a year since the start of the COVID-19 pandemic. How have producers weathered this year?
ASAY: We're definitely in a better place now than we were a year ago. Many slaughtering facilities were experiencing slowdowns or closures, and a lot of pigs were backing up.
But something that dawned on me a little later during this is never underestimate the ingenuity of pig farmers. We're thinking there's going to be a lot of pigs euthanized, and there were pigs euthanized, more than we'd like, but not as many as we thought were going to be. Lots of producers slowed hogs down with the feed and found extra facilities to hold those hogs where needed. Then the pigs were sold in smaller groups and individuals. They moved them so they didn't have to be euthanized. Not as many sows were bred, and litter numbers were trimmed down early on to decrease the backlog there. Producers used a lot of different methods to get through this, and it wasn't as bad as it could have been as far as euthanasia due to the ingenuity of pork producers.
IFT: What has the industry learned from the pandemic?
ASAY: As an industry, we must increase preparedness for emergency depopulation and disposal scenarios. While we know that depopulation and disposal would be part of any FAD outbreak response, COVID-19 was the first instance in which large-scale, emergency depopulation and disposal was required, and the industry was simply not prepared to implement these practices at such a scale. To respond, the Pork Checkoff is working with state pork associations, investing in real-time field research during depopulation and disposal activities related to COVID-19, which will be applied to our FAD response plans, and identifying additional research needs for scaling emergency depopulation and disposal activities. 
IFT: Disease is a constant concern, particularly ASF. How prepared is the pork industry in the event this hits American soil?
ASAY: Contact tracing and disease mitigation efforts must be a priority to quickly and effectively recover from any disease outbreak and, for the pork industry, FADs specifically. 
In 2020, the Pork Checkoff launched AgView to help prepare for an FAD outbreak with the objective of quickly containing disease spread and, ultimately, mitigating the implications of a FAD outbreak on animal movement, pork supply and trade. 
AgView is a free opt-in technology solution to help get producers back to normal business as quickly as possible by providing contact tracing for pigs starting on day one of a disease outbreak. AgView helps producers provide real-time disease status updates and pig movement data to state animal health officials upon their request, so they, along with USDA, can make critical decisions on things such as disease control zones and regionalization.
IFT: Domestic diseases such as PRRS continue to cost the pork industry millions of dollars annually. What are researchers working on that might help tame these viruses?
ASAY: There's been research going on for years on PRRS, and we're still trying to find better vaccines out there that can cover more strains or new strains. There's a lot of work being done on filtered barns to help protect particularly sow farms.
Gene editing, or CRISPR, technology could help us by utilizing gene deletion to decrease vulnerability to PRRS and other disease. While there could be some challenges with consumer perception, this tool could be of great use to our industry.
IFT: Trade is always a hot topic. What's your outlook for exports in the coming year?
ASAY: African swine fever is the major wild card here. ASF has caused a major protein gap, especially in Asian countries, and the ability of each country to recover will have an impact on U.S. pork exports. The Pork Board is focused on diversification to keep our export markets strong. We are working in key areas including: 
Securing core markets where pork demand is high, but the U.S. pork export position has room to grow. 
Expanding business in developing markets, including both an increase in volume and variety of exports. 
Discovering new business in emerging markets by establishing a deeper understanding of such markets, developing and executing export marketing strategies that capitalize on localized preferences and needs
IFT: What are maybe two or three major research projects the Pork Checkoff is funding?
ASAY: A big area of research is FAD response-related, such as euthanasia and disposal. We do have proposals out there to find novel methods for both that we don't currently have, because any method we have now has drawbacks when you go to large-scale depopulation.
IFT: As you leave the pork board, what are some of your fondest memories during your period of service?
ASAY: These are some of the things I've been involved in as a board member. Being on task forces and some key areas I think are great for the industry. I feel very proud to be a part of this, including:
The new strategic vision of the Pork Checkoff to be consumer-focused and producer-led. 
The Checkoff's leadership in responding to the impacts of COVID-19 on the pork industry. 
Launching Real Pork, our trust and image brand differentiating us from the alternatives. It drives growth by celebrating everything that is authentic about pork.
Participating in the We Care sustainability task force and our industry metrics. 
To me, the biggest joy and highlight is the people out there in the pork industry. I've been going to pork forums since 2005 and the pork expo for about the same amount of time. I've been able to meet a lot of people in the industry from all over the country, A lot of very good, hard-working people who are all doing their best to raise pork and supply pork to the consumer.