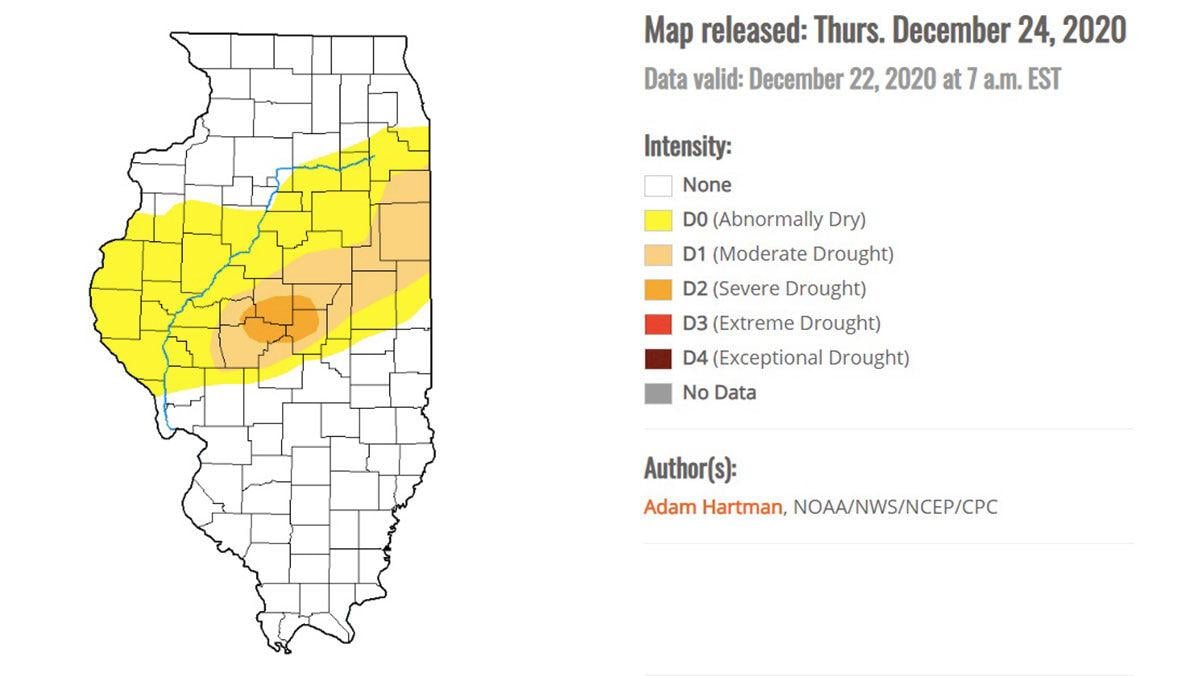 The prediction of a little wetter than normal winter is good news for farmers in parts of central Illinois this year. Drier parts of northeast Illinois are likely to get some rain they need as well.
At the same time, the threat of spring flooding in southern Illinois appears to be less than in the last two years, according to an Illinois meteorologist and the state's climatologist.
Certain parts of central Illinois are showing moderate to severe drought, said Trent Ford, Illinois State Climatologist. It was the big news before Christmas when the new drought map was released Dec. 24.
However, the same area appears to be in line for above-average rainfall this winter.
"It's good to see that, because there has been persistent dry weather in parts of central Illinois," he said.
Moderate drought conditions are seen from Sangamon to Will counties, including parts of McLean and Logan counties.
Severe drought, described as D2, colors the map in parts of Sangamon, Logan, Macon and DeWitt counties — basically east of Springfield to Decatur, Ford said.
It's been very dry — below 60% of normal rainfall for six months, he said.
"Hopefully that will fade by the time we get to the growing season," said National Weather Service meteorologist Kirk Huettl. He notes the area of Illinois in severe drought is small.
Farmers will want to see some of the soil moisture deficit replenished before planting, Ford said.
"We would benefit here from a slightly wetter than normal winter," he said.
Central Illinois also missed some of the snowy weather that dropped 4 to 8 inches on northern Illinois before Christmas, said Huettl, who is based in the central Illinois NWS office in Lincoln.
The biggest story for the winter will still be the La Niña pattern, a semi-regular climate pattern in the Pacific Ocean. It has intensified since October and is on the edge of moving from moderate to strong, so it will likely will have some impact on the jet stream, Ford said. It has more impact on weather in the southwest but also some in the Midwest, he said.
Its strength means its impact will continue into March and April, said Ford, who previously worked in Texas and was a professor at Southern Illinois University in Carbondale for four years. His first year as the state climatologist in Illinois included both a pandemic and a derecho.
Indicators show that much of Illinois, especially the eastern and southern regions, will be wetter than normal during January, February and March. In northern and western Illinois, moisture will be moderate, Ford said.
Although it appears to be wetter, conditions are less likely to produce significant floods this winter, he said.
It has already been wetter than average in parts of south and east Illinois, which could be a concern as there may be potential for Ohio River flooding. However, Ford said the threat in southern Illinois is less this year than it was in 2019 and 2020 in the spring.
"It looks better than the last two years," he said.
Late December brought a big drop in in temperatures after one of the warmest falls Huettl can remember. Temperatures in January will likely be normal. Indications now are that February and March temperatures are likely to be a little above normal in most of Illinois.
The winter months are the easiest to predict, but it gets harder when looking further out at March, April and May. Ford said there is a higher chance of wetter than average weather in these three months in the eastern part of the Corn Belt, in Illinois, Indiana and Ohio. There is a chance of flooding, but at the same time a "decent amount of uncertainty yet," he said.
The large weather models show mixed odds, he said. There is a chance that May to July could have below average rainfall in the Corn Belt. But Kansas and Nebraska and the Great Plains in Texas have stronger odds of being dry this summer, he said.
For June, July and August, it looks like above-normal temperatures and above-normal precipitation in much of Illinois.
The precipitation expected this spring and summer should alleviate drought here, Huettl said.
Ford said he isn't really concerned about a drought in Illinois this summer, but it is something he and his colleagues will keep an eye on.
"If I were a few states west of here, I'd be concerned," he said.