Chilly weather is ahead for much of the Corn Belt, and the eastern Corn Belt likely will get more precipitation than normal.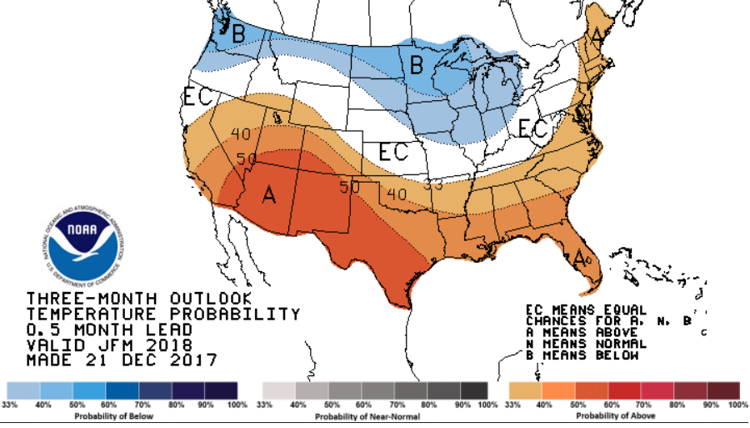 "La Niña is likely to persist through the Northern Hemisphere winter 2017-18," the National Weather Service Climate Prediction Center said in its January-March forecast issued Dec. 21.
It said the indicators for La Niña and El Niño turn neutral in mid- to late spring through summer.
For the first three months of 2018, the odds favor below-normal temperatures for parts of the Pacific Northwest to the northern Great Plains, Upper Mississippi Valley and Great Lakes.
Warmer than normal temperature are likely across the southern tier of the 48 states, with greater than 50 percent odds of warm weather in the Southwest.
The cooler than normal areas also likely will received more than average precipitation.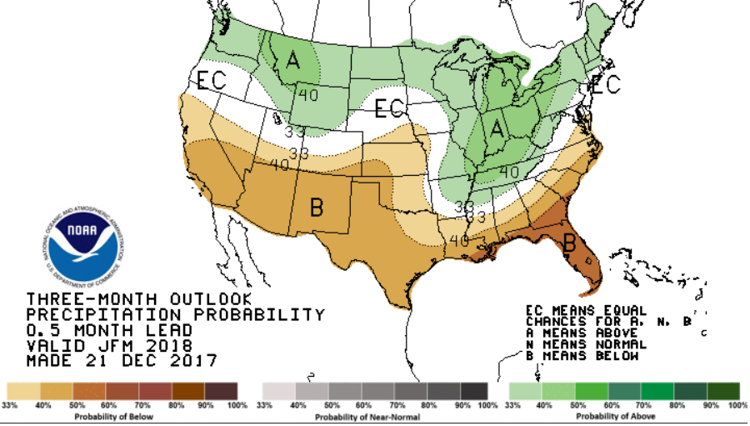 Wetter than normal weather is likely in parts of the Pacific Northwest and northern areas of the Great Basin, Rocky Mountains, and Plains.
"Increased chances of above-normal precipitation are also favored from the Great Lakes south to the Ohio and Tennessee Valleys," the Climate Prediction Center said.
The forecast favors below-normal precipitation for parts of the Southeast, Gulf Coast, central and southern Great Plains, Southwest, and much of California.
"The most likely area to receive below-normal precipitation amounts is southern Georgia and Florida," the center said in its forecast.