The February-April weather outlook leans toward cooler than normal in much of the Corn Belt and wetter than normal in the eastern Corn Belt and northern Plains.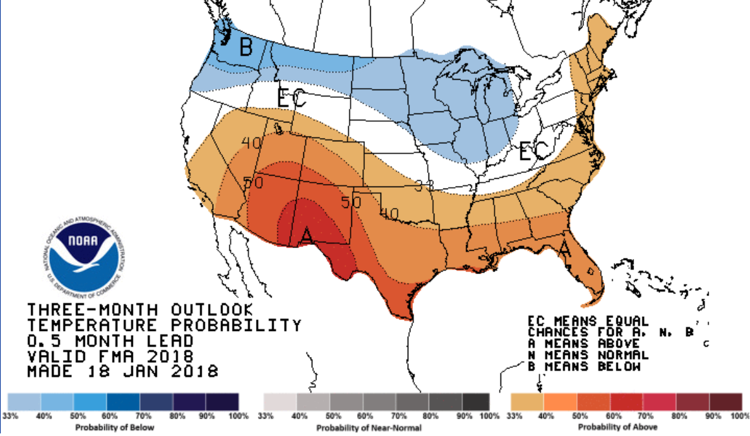 La Niña likely will persist through the Northern Hemisphere winter and move to neutral conditions in spring, the National Weather Service said.
In February-April, the outlook favors above-normal temperatures in the southern continental U.S., with highest odds of warm weather in the Southwest. Odds also slightly favor above-normal temperatures on the East Coast.
Below-normal temperatures are forecast from parts of the Pacific Northwest to the northern Great Plains, Upper and Middle Mississippi Valleys and Great Lakes, the weather service said.
Precipitation outlook
Above-normal precipitation is likely in February-April in parts of the Pacific Northwest, northern areas of the Great Basin, Rockies and Great Plains. The outlook also is wetter than normal for the Great Lakes to the Tennessee Valley.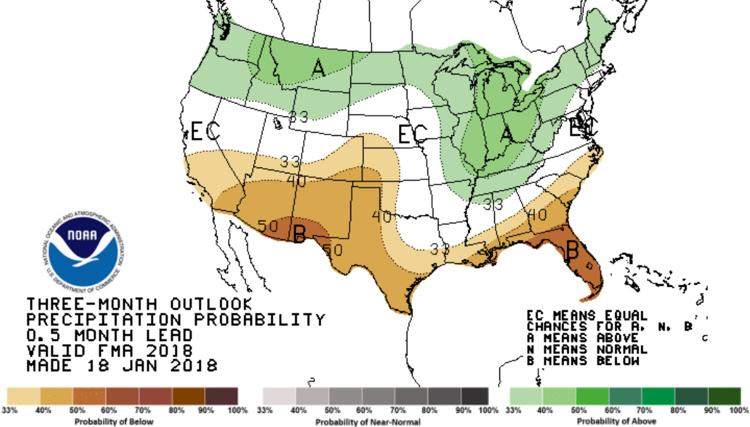 Precipitation is likely to be less than normal in parts of the Southeast, Gulf Coast, central and southern Great Plains, Southwest and Southern California.
Three-month forecasts suggest warmer than normal temperatures will spread over much of the country by summer, but much of the Corn Belt will see equal chances for above or below-normal temperatures.
Chances for above-normal precipitation slide to the northeast during the summer and disappear from the September-November map.
Drought Monitor
Much of the Plains and Corn Belt are in abnormally dry to drought conditions, according to the weekly Drought Monitor.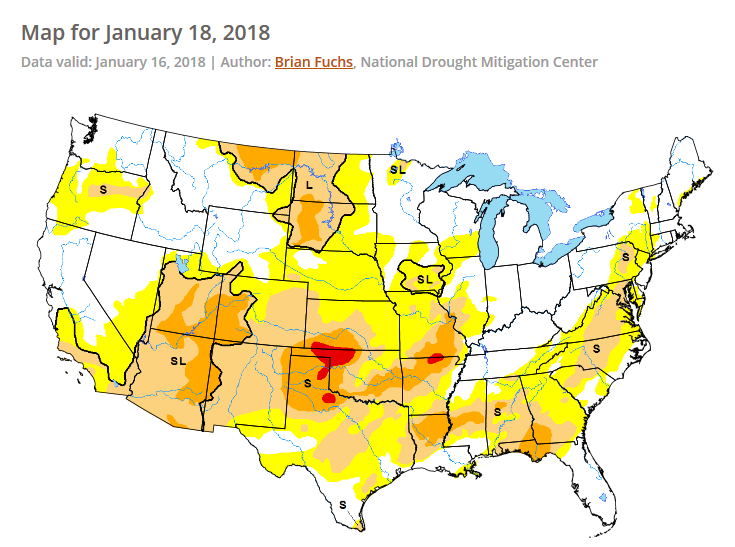 This week's map shows abnormally dry to drought conditions over virtually all of Missouri, three-fourths of Iowa, more than half of Illinois and the southern quarter of Wisconsin.
In the High Plains, abnormally dry to drought conditions cover all of Kansas and nearly all of the Dakotas, Nebraska and Colorado.
More maps
June-July-August precipitation
July-August-September temperature
July-August-September precipitation
August-September-October temperature
August-September-0ctober precipitation
September-October-November temperature
September-October-November precipitation