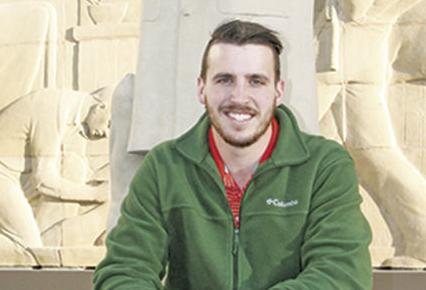 AMES, Iowa — Brent Sexton says he can see the light at the end of the tunnel.
Life is hectic for Sexton, who is in his fourth year at Iowa State University's College of Veterinary Medicine.
"It's pretty busy," he says. "Boards are coming up, people are starting to look for work. It's a little crazy."
Sexton, who grew up on a farm near Rockwell City, Iowa, is the son of Keith and Barb Sexton. He became interested in veterinary medicine while caring for his 4-H and FFA livestock.
"As I went through 4-H and FFA, I knew I wanted a career in agriculture, and that I enjoyed working around animals," Sexton says. "Around my sophomore or junior year in high school, I became more interested in veterinary medicine.
"My neighbor (Tim Collison) was a veterinarian, and I worked for him, and I really enjoyed it."
After graduating from ISU in 2014 with a degree in animal science, Sexton started veterinary school.
"I always knew I wanted to work in production animal medicine," he says. "I enjoy working with producers, and I know what I do will impact their ability to raise livestock."
Demand for large animal veterinarians remains high, says Pat Halbur, a veterinarian and interim dean of ISU's College of Veterinary Medicine.
"That's something we are seeing across the U.S.," he says. "I think one of the reasons is that some vet schools are producing fewer food animal veterinarians. We've done the opposite at Iowa State."
Once students reaches the fourth year of school, they choose one of four options — small animal, equine, mixed animal and food animal.
Halbur says more than 65 percent of veterinary students at ISU are choosing food animal medicine. That figure has risen from 20 percent over the last five to eight years, he says.
Halbur says a large number of veterinary students at ISU come from non-farm backgrounds.
"They are getting turned on to animal agriculture, and we think that's great," he says.
Iowa State has about a 98 percent placement rate for its veterinary school graduates, Halbur says.
He says there are just 30 veterinary schools in the country.
"It's pretty competitive to get into Iowa State," Halbur says. "What makes us unique is that we are at the center of a $33 billion animal agriculture industry, and that is very appealing to students."
ISU has the oldest public veterinary school in the country, with the second largest number of alumni, trailing only Ohio State. Halbur says nationally there are 1.6 applicants for each slot in a vet school. At Iowa State, for the class accepted in 2017 there were six applicants for each spot. Applications for fall 2018 appear to be up substantially.
"That's mostly a reflection of all the out of state applicants we received and likely a reflection of our strength in food animal medicine," Halbur says.
He says ISU also does a good deal of recruiting to attract students.
"We've markedly ramped up our recruiting process," he says. "It's so competitive to get into the school. We have an excellent reputation nationally, and that helps us attract the best students out there."
Sexton says he and his fellow students understand the demand for food animal veterinarians. He says internship opportunities are plentiful, and soon he and other fourth-year students will start the job application process.
He has chosen a particular field.
"I'm looking to get into swine production medicine," he says. "My primary interest is finding the right clinic that is going to help me develop and become a better veterinarian."