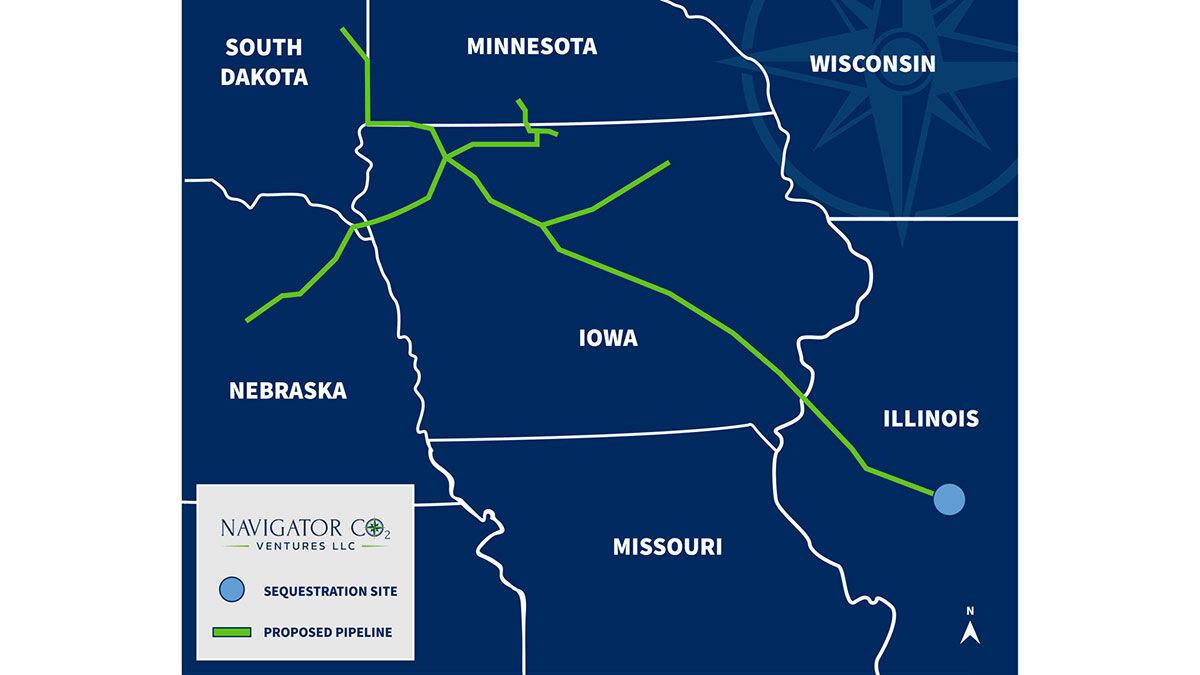 In three years' time, North Iowa residents could see an operational pipeline, totaling more than $2 billion, locally capturing carbon dioxide emissions from ethanol, fertilizer and other industrial plants before being permanently sequestered at a site in Illinois.
That's if all goes according to plan for the Texas-based group Navigator CO2 Ventures, whose CEO, Matt Vining, said the 1,200-plus mile pipeline would run through five states and be phasing into service in the last quarter of 2024 and the first half of 2025.
"We're in the contracting phase and when that phase ends in September, it's off to the races," he said.
Navigator CO2 Ventures is listed on their website as an affiliate of Navigator Energy Services, which bills itself as "the largest private crude oil midstream provider in the Anadarko Basin" that runs through Oklahoma and Texas.
In conversation, Vining said that the carbon capture pipeline hitting the goal of sequestering about 12 million tons of carbon a year wouldn't balance out emissions from petroleum consumption on its own but would make progress toward doing so.
"The state of Iowa emits 130-140 million metric tons of CO2. It's going to take a lot of these to accomplish the broader societal goal in getting to carbon neutral," Vining said. "Iowa will be in a unique place relative to other states. This is going to put the state of Iowa in the pole position in terms of de-carbonization."
Getting to that position will involve a lot of conversations with ethanol producers in the state. Vining said that Navigator plans to accept carbon dioxide emissions from ethanol plants and other agricultural manufacturers in Iowa, South Dakota, Nebraska, Minnesota and Illinois.
"The cost of participating is much lower than say a coal facility," Vining said. The reason being that the CO2 coming from such sites would be purer which takes less effort to convert. He said he expects ethanol facilities will get involved because of the $50 per metric ton tax credits they could receive for participating.
At the state level, Vining said Navigator is going through five separate processes for each state they're involved in. At the county level, they would likely have to get involved with folks like Cerro Gordo County Planning and Zoning Administrator John Robbins.
"I imagine it'll be a little bit before I even hear about it," Robbins said. "At a minimum, if they're going under a creek or something they'll do floodplain permits. There'll be a DNR floodplain permit and then there's a local permit. So that's at a minimum."