WINFIELD, Iowa — Ted Herman said his wife's father was "the idea man," and one of those ideas Ted took to heart.
"One day shortly after we got married, he was here and mentioned in an off-hand way that when he was a little boy, they had a maple tree out in their yard," Ted said.
"His mom told him if he tapped that tree and collected the sap, she'd boil it down and make syrup for him. He said he did, and told me 'Ted, it was the best syrup of my life.'
"A little bulb went off in my head and I thought 'We can do that here?' I just assumed you had to be in Vermont."
Ted and his wife, Helena, live in Winfield, Iowa, and have been tapping their trees for sap and making syrup since about 2000.
While he said he is "certainly not an expert," in the syrup-making business, Ted said the biggest thing he has learned is to just keep trying.
"I know a great deal about what doesn't work," Ted said. "I half-jokingly say I should write a book about that. We are beginning to find the things that do work.
"(When I started), the internet wasn't quite what it is today. There was some information out there but my ignorance of how to use it and access was part of that too. It's trial and error."
He noted that Iowa weather isn't necessarily the best for making syrup. He only gets a few rounds to try new things each year. If something doesn't work one year, he has time to figure out another idea and put it in process for the upcoming season.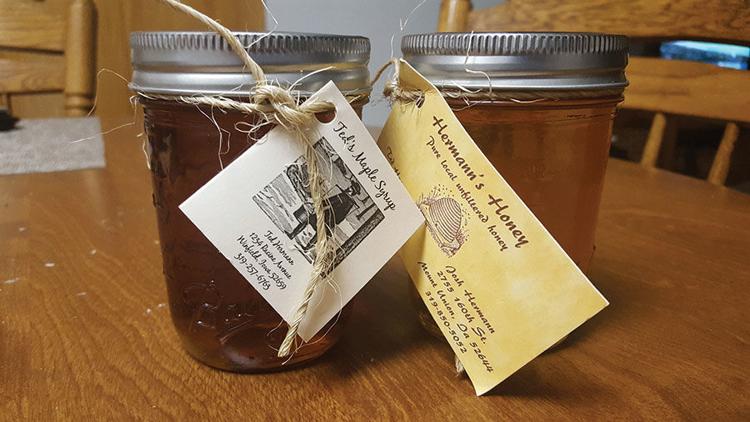 The syrup isn't the family's only sweet hobby. In the spring of 2014, Ted and his son installed a pair of bee hives. They would check them each week and gather the honey, and they couldn't wait to get more.
"We'd inspect the hives once per week on Saturdays and it was like, 'We can't wait until Saturday, man'" Ted said. "Then Saturday would get here, we'd inspect the hives and after 20 minutes we'd be done. Then it was 'I can't wait for next Saturday.'"
He said the bee hives gave him another thing he and his son could do together. They quickly doubled their hive count to four the next year, and now have 17 hives in 2019. The goal is to get up to 25 hives.
Once they have the product (either syrup or honey), they use it themselves, share it with friends and sell it to the community to help offset a little of the cost.
"It's not horribly expensive to do, but you are constantly throwing money at it," Ted said.
Helena, a Winfield native, said she will sometimes have people stop her while in town and ask if she has any honey or syrup on hand.
The couple has shown off the honey and syrup operations to many groups as well, serving as a destination for the local 4-H and other community groups looking for a field trip.