IOWA FALLS, Iowa — Lyn Evans is busy, continually checking on the 19 trays of meatloaf that are in the ovens or the warmers, talking to volunteers who are dishing up food, checking on the number of people in the hallway who are waiting to be served.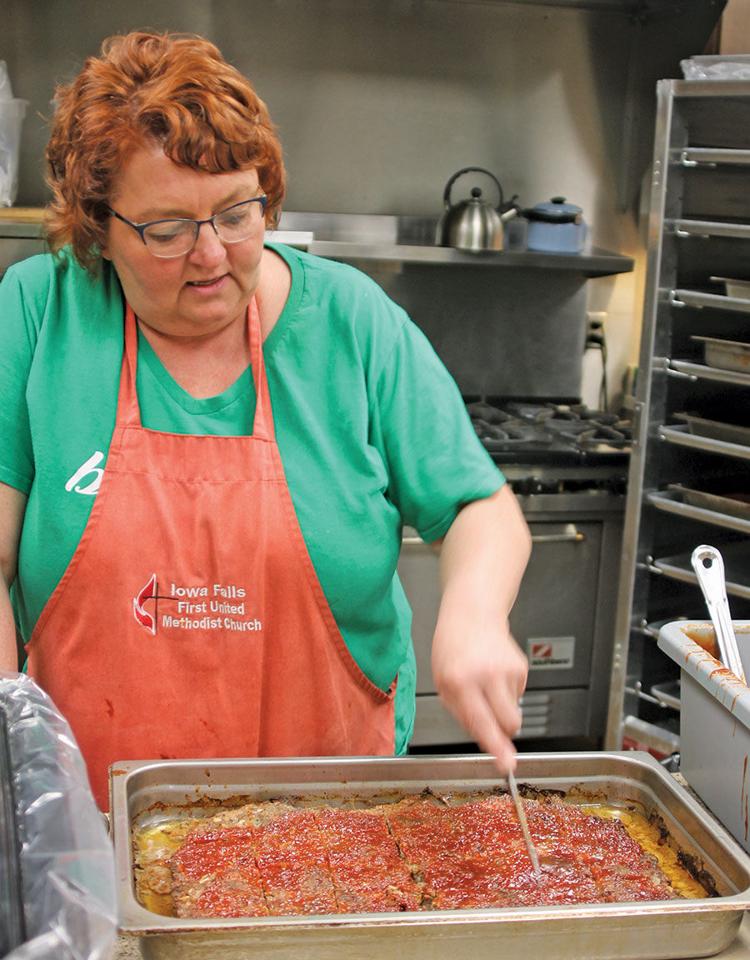 In other words, it's a normal Wednesday night at the First United Methodist Church.
The church, under the supervision of Evans, prepares a free community meal every week from September through May.
Anyone is welcome. The meal is free, though some people donate money. On a normal Wednesday upwards of 400 meals are served, with more than half going out the door as delivery or pick-up.
Tonight is at least a 400-meal night.
The event is supported by other churches in town, as well as various civic organizations.
"It has been quite a journey," Evans says of the experience. "There are a lot of people who make this work."
Evans followed a roundabout path to this place. She worked in the food business at the Memorial Union at Iowa State and later managed a Pizza Ranch restaurant. When she had children she became a stay-at-home mother.
But when the kids went back to school she began inching her way back into the work world, making cakes for parties and events, and now working part-time for a local gourmet establishment, The Open Door.
But it is the community meal that dominates much of her schedule.
"I actually started doing it about nine years ago," she says. "It was for the youth group."
At the time, her family was trying to find time to eat together after school and before evening church or school activities. Evans talked to the pastor and began preparing a free meal for kids in the church. Evans and others saw the opportunity to serve more individuals in the community, including low-income people and the elderly. They also saw the possibility of using the meal to help draw the community together weekly for food and fellowship.
"We just started cooking a meal every Wednesday night. It became a community meal," she says. "It just kind of slowly grew."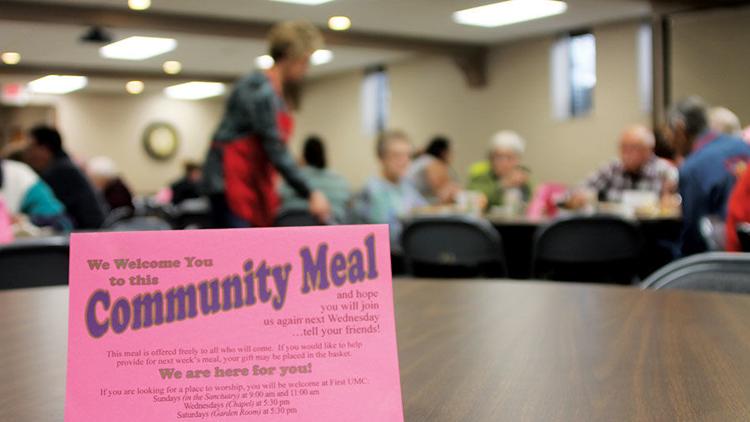 The first year they served about 3,000 meals. This past year the figure was closer to 13,000 meals.
Volunteers like Linda Scallon, Jane Schultz and Linda Starr help organize the event, and the list of volunteers is a long one. Some people help set up or take-down. Others deliver meals. Many help package meals and serve them. Churches and other organizations donate cookies and desserts. Grants and donations help pay for ingredients.
And everyone is busy, in an upbeat volunteer way. Evans, however, is the busiest.
"Coming through," she says as she carries another tray of meatloaf to the servers.
After delivering it, she looks at the number of trays remaining and does the math in her head as she considers how many people are yet to be served.