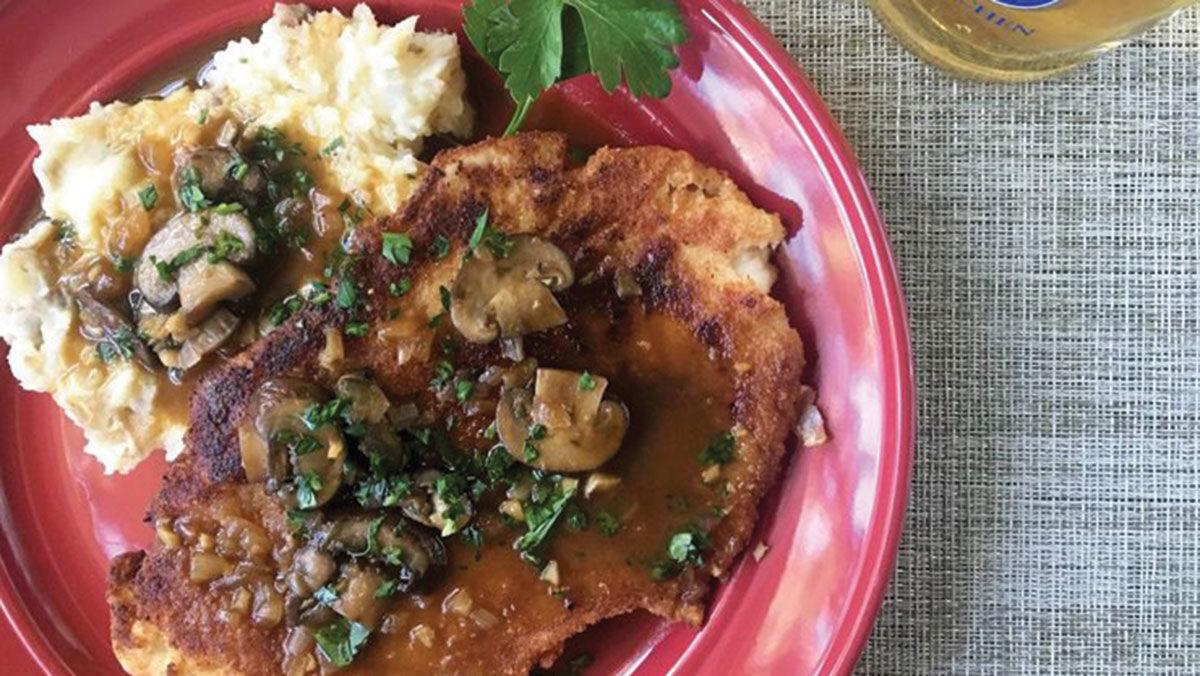 2 skinless pheasant breasts, approximately 5 to 6 ounces each, flattened
4 C. buttermilk (for soaking pheasant breast)
For gravy:
32 oz. beef stock
1/2 medium yellow onion, finely diced
2 large cloves fresh garlic, finely minced
2 T. white wine vinegar
8 oz. baby portabella mushrooms or wild chanterelles, sliced
4 T. salted butter (mixed use)
4 T. flour
1 tsp. each kosher salt and black pepper
For schnitzel:
2 C. flour
3 eggs without yolk, lightly beaten
2 C. plain breadcrumbs
Light dusting of kosher salt and black pepper when frying
1 to 2 C. of vegetable or canola oil for frying
Place pheasant breasts on cutting board smooth-side down and cover with plastic wrap. Using either a meat mallet or rubber mallet, lightly pound pheasant breast until meat is a quarter-inch thick. For best results, try side-swiping the edges and thicker parts of breast in an effort to both pound and spread outward. The idea is not to bust the muscle fibers but to still tenderize and flatten the meat. Once flattened, soak in buttermilk while gravy simmers.
To start gravy, add 1 T. butter to deep sauté pan and heat on medium low. When butter is melted, add finely diced onion and minced garlic. Lightly salt and pepper. Deglaze with 2 T. white wine vinegar once onions are soft and slightly brown. Thoroughly rinse mushrooms and add to pan, along with 1 T. butter. When mushrooms are soft (but not mush), add beef stock and 1 tsp. each of kosher salt and black pepper. Let liquids simmer on medium-low heat and reduce to half.
While liquids reduce, in a small pot, melt 2 T. of butter on medium-low heat. Once butter is melted, add 4 T. flour and mix together. Stir often so not to brown roux. Once roux has texture and color of wet sand and stock in sauté pan has reduced to approximately half original amount, add roux to liquids. The reaction will produce a lot of heat and perhaps cause liquids to erupt, which could potentially burn you if too close. Stir roux into gravy until gravy thickens. Salt to taste.
Heat a separate large skillet on medium and add half inch of vegetable or canola oil to 350°. Fill one large bowl with flour, another with egg whites, and the last with breadcrumbs. One at a time, remove pheasant breasts from buttermilk and dredge through flour, shaking off excess, and then through egg whites, and, finally, through breadcrumbs, again shaking off excess. You may need to rinse fingers off during this process to avoid clumping. Put pheasant breast in frying pan and dust topside with kosher salt and black pepper. Fry pheasant breast one at a time, flipping once underside is golden brown. Remove when other side is golden brown and place on napkin-covered plate to absorb grease.
To serve, drench schnitzel in gravy and garnish with freshly minced parsley.