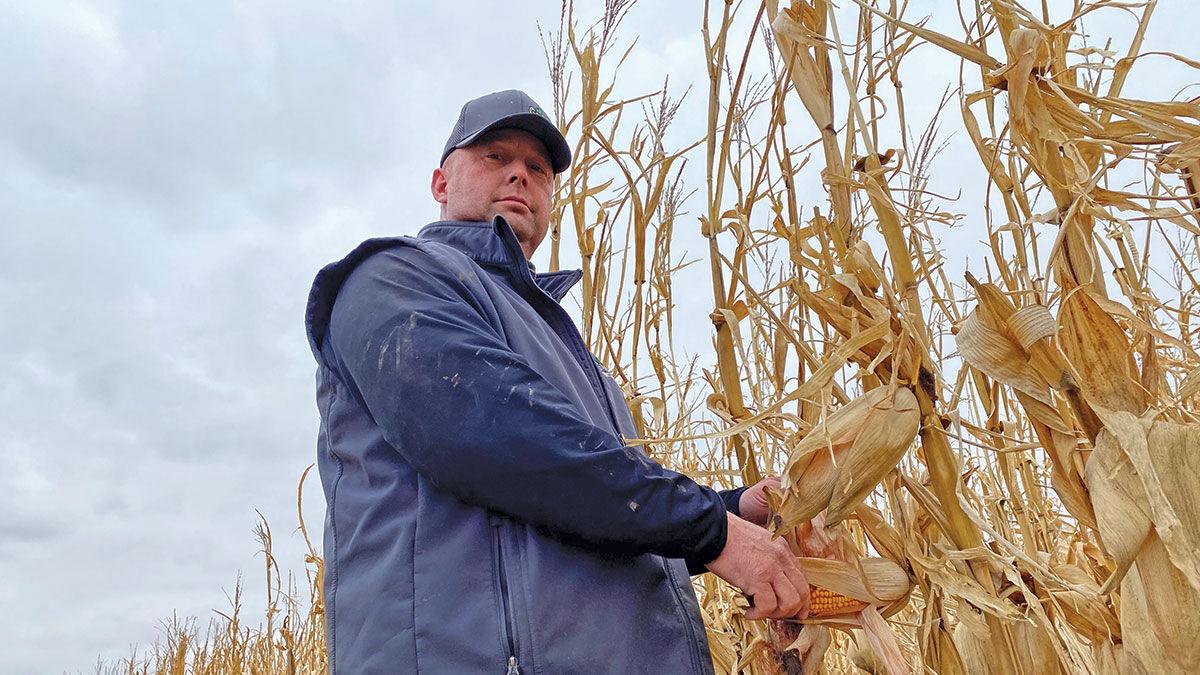 DENISON, Iowa — Kelly Garrett has his eyes set on the Iowa record books. To get his farm there, he is always trying new things.
"I want to set the state record on corn," the northwest Iowa farmer said. "It's 442 (bushels per acre). I want to break it."
In an effort to hit that last year, he planted 50,000 seeds per acre to raise a half-pound of grain per stalk. To break the record, he calculated he needs 49,652 plants to come up at that mark. Unfortunately, Mother Nature had other ideas.
"I knew it was a risk because it was so thick," Garrett said. "Then on Aug. 10, we had the derecho and it was flat."
Garrett, a seventh-generation farmer who manages 6,500 acres, 400 cows and a trucking company with his family near Denison, Iowa, said he has been trying new practices on his farm since he started farming full time in 1998, with drip irrigation being one of his most notable improvements.
While moisture is key to getting those high yields, he said carbon is one of the most important aspects in farming.
"Everybody talks about nutrients and fertilizer — those are elements," Garrett said. "The most important element we need is carbon."
Garrett emphasizes carbon sequestration for his success, limiting the amount of carbon lost in soil and utilizing practices to add it back in. Practices such as cover crops or no till have environmental benefits, but he said the best benefit is in his crop.
"I'm happy about it being better for the climate and the environment, but when I put the carbon in the soil, it's better for my yields," he said. "Ninety-five percent of raising corn is water, sunlight and CO2, and we all worry about the other 5%."
There are financial benefits Garrett is noticing. Companies are offering him carbon credits to continue his existing practices, and some are paying him to try new, environmentally friendly practices. Working through Nori, a carbon marketplace, he said he received nearly $340,000 for more than 22,000 credits.
"Their system was saying I was sequestering one ton per acre per year," Garrett said. "We put in 60 hours' worth of work to validate the practices, and when you are talking $340,000, I don't think that's much to ask for."
He said adding a microbial, Rhizolizer Duo, helped him get additional sequestration, and allowed him to be eligible for new contracts that required the adoption of a new practice.
Grant Aldridge, with Locus Agricultural Solutions, said his organization has been working to connect growers like Garrett with companies in the carbon marketplace as it has become a hot topic. The program, CarbonNOW, started last year, and he expects it to grow.
"Any kind of new, novel initiative that comes in the market needs to be built as you launch it," Aldridge said. "Carbon is not new. These markets have been around for quite some time in other sectors, like wind or solar, but for projects like carbon ag removal from agricultural lands or pastures, it's very new."
Aldridge said this is like the "Wild West" as they help farmers into the market, as there are many participants. But with everyone learning at the same time, organizations can do things differently. The marketplace uses guidelines and methodologies from the Intergovernmental Panel on Climate Change (IPCC), which gives them a roadmap, but with other countries entering the market, there will be different hurdles to cross.
"We are going to see some dust accumulate," Aldridge said. "Then the dust will settle and I think people will find their sea legs on how they want to participate."
He said he hopes government doesn't over-regulate the market, but rather makes sure it's safe and legitimate for growers.
Garrett said he expects the carbon market to evolve from a producer standpoint as the industry gets more attention, and he hopes to see ranch and pasture land become more involved as well.
"I think the use of biologicals (in soil treatment) will grow," Garrett said. "I think it's the future of agriculture to try to push our yields higher. Carbon will become another commodity that we can sell to add to our diversity."
While it might be good for the environment, he said it's also good for the pocketbook.
"Just the other day Nori deposited $40,800 in my account because they made another sale," Garrett said. "There's nothing wrong with that."