Snow and rain come as no great surprise to those who live in the Midwest. Many winters leave people longing for the spring sun and the eventual warmup after a winter of hibernation.
However, Iowa farmer Mark Mueller said he's felt things have become a little more unpredictable in recent memory.
"I'm not surprised by weather that's cold and snowy," Mueller said. "Our weather is getting more erratic. This does come with global warming, and I'm not going to spark controversy by saying whether or not it's man-made cause, but I do believe it's a fact of life and we are going to have to work around it."
State Climatologist Justin Glisan confirmed Mueller's suspicions of more erratic activity. Trends have shown extremes in either direction on the thermometer have become more prominent.
This has led to seasonal shifts in precipitation patterns.
"What we are seeing in the last 30 years, which we consider a climate decade, we are seeing rainfall occurring earlier in the growing season and earlier in the springtime," Glisan said. "Right around the time farmers want to get in the fieldwork and start planting."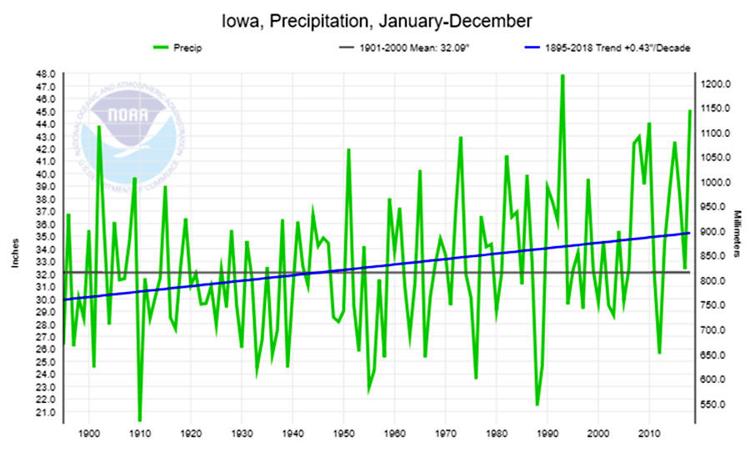 This issues can be compounded by a warmer atmosphere, Glisan said, meaning there is more water vapor creating more precipitation events.
"We've seen a more persistent pattern built in," Glisan said. "When we get into a wet period, it seems like there's a perpetual wetness, and this was especially apparent across northern Iowa in late spring all the way through winter time."
These prolonged wet and dry periods are due to a weaker jet stream, he said. As we hit the "shoulder seasons" (spring and fall), he said the transition from colder to warmer weather, or vice versa, typically creates a more active jet stream.
"The jet stream strength and speed is a function of a temperature gradient between the mid latitudes and higher latitudes," Glisan said.
"We are seeing a relaxation of that temperature gradient, so in certain parts of the year, the jet stream is acting slower. That allows systems to hang out longer across the state."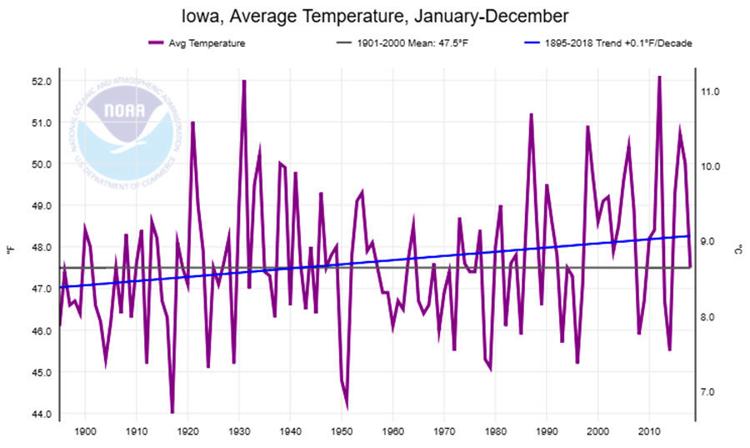 After a winter that saw a lot of snow dumped across the region, southeast Iowa farmer Curt Mottet said things are already behind due to the third wettest fall on record in 2018.
With the possibility of more winter weather, this will make for a challenge come planting time, he said.
"Everything is going to be behind," Mottet said. "Last year on March 15 I seeded oats and started putting on anhydrous ammonia. This winter hasn't allowed us to make dry fertilizer applications. We have a lot of it to do this spring, whereas most years we'd have it done in the fall/wintertime."
Mueller said one of the changes he's made is the switch to no-till practices, and he has seen benefits amid the more erratic weather. He recalled a recent growing season when he received 5 inches of rain, and a day and a half later he was able to be out spraying his crops.