SAN ANTONIO, Texas — Finding any way to get the most out of a soybean or corn crop is important, and at Commodity Classic there was no shortage of companies looking to gain farmers' business with new products.
One of those companies, Helena, introduced new herbicides for corn and soybeans. Its soybean product, Antares Complete, is a pre-emergence herbicide slated to be available for the 2020 growing season.
Mark Wayland, a senior brand manager for Helena, said the product is for weeds in "tough to control" situations. He said a pre-emergence herbicide is important — as much as 15% of yield potential could be lost in the first two weeks after planting depending on the variety being planted.
"Protect that crop, let it reach its full genetic potential and keep it from stresses, get an early robust start," he said. "That's the best thing you can do in any type of season."
Wayland said this herbicide is a pigweed species killer — including waterhemp and palmer amaranth — and it will also hit small-seeded broadleaf weeds, ragweed and velvet leaf.
For corn, Helena introduced Empyros, a pre-emerge and early post-emerge herbicide estimated to hit the market in 2021. Wayland said the product provides a "very flexible application window" as it can be used up to 14 days before emergence to up to 10-collar corn (V10). The active ingredients are tolpyralate, a new formula in the U.S., and S-metolachlor.
"This product is Hoss on grasses," Wayland said. "It does a very good job post-emergence."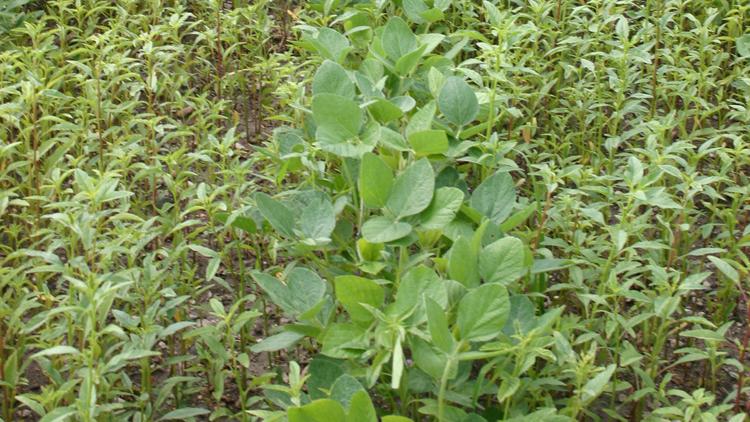 At the trade show, Corteva was promoting advice on what diseases to watch out for in 2020.
Nick Dame, Corteva U.S. product manager for fungicides, said that last year the major issue was getting crops in the ground late. He said gray leaf spot and northern corn leaf blight were among the biggest problems in 2019, and early protection is going to be a key to preventing that in 2020.
"If you can protect with a fungicide at tassel time, that's going to be your best benefit in terms of protection against those diseases," Dame said. "It's more about being proactive with scouting. Definitely be staying out there and walk through fields inspecting."
Corteva market development specialist Jason Gibson said that last spring having a Plan B helped farmers who were forced to endure delays.
"It's going to be important for growers to have a plan in place and to be able to go attack it when we have the opportunity for weather," Gibson said. "I think the key thing, especially as we think about when we get into the field, is the flexibility piece. And being able to rely on products is going to allow for flexibility."
Corteva was continuing to actively promote its Enlist E3 soybean program, which it expects to take over 20% of the market share in the U.S. this season. Shawna Hubbard, product marketing manager for Corteva, said more independent seed companies are starting to add the E3 technology to their brands.
"There's a choice out there for everybody," she said. "What we bring in terms of weed control, in eliminating competition in Enlist fields, we hope to see people really exploring the range of options around tank mixing and program approach."