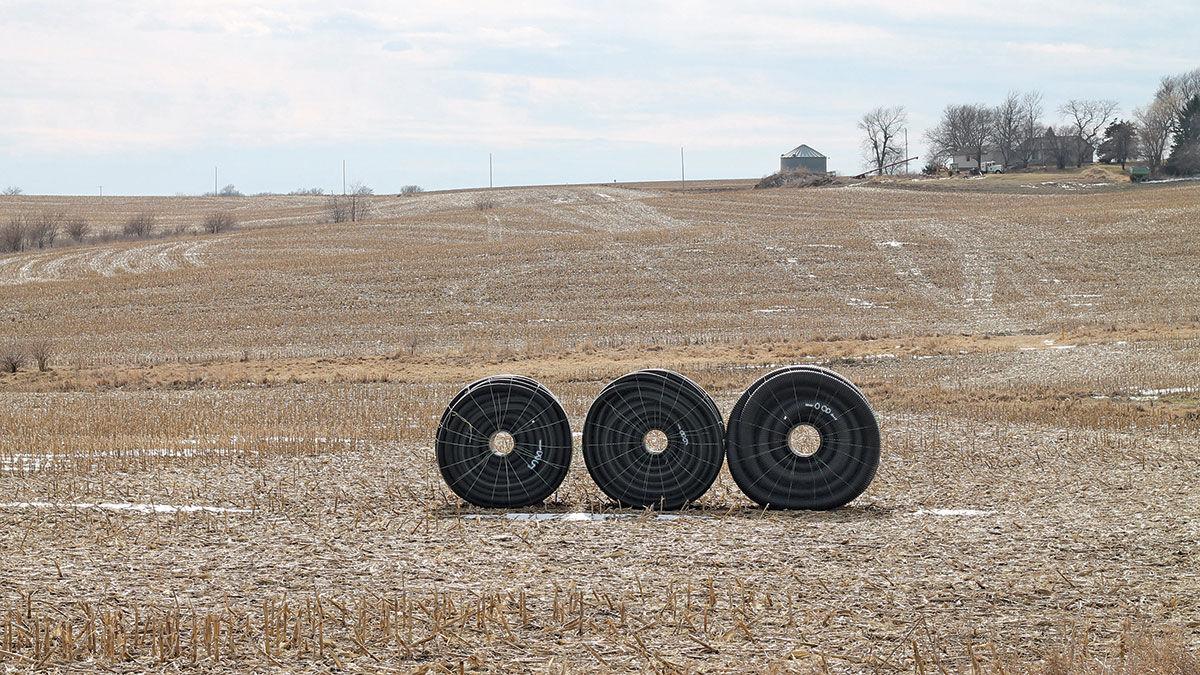 It might be a big project, but the Tiefenthaler family is excited about what pattern tiling might mean for their farm
Ryan and Tarin Tiefenthaler have been working on pattern tiling the land at their Carroll, Iowa, farm, and they are looking to put in a pond to collect runoff water. The plan is to catch the water and improve the irrigation on the ground.
"Dad thought it was a little overkill, because it wasn't an overly wet farm," Ryan said. "We are going to catch the water and I want to put in a subterranean drip irrigation system in the next two or three years here. It's easier to improve the farm land you have versus going out and buying another one."
Ryan said he considered limiting the tiling work to the low spots of the farm, but ultimately decided to get as much as he could done in the fields.
"We just wanted to make sure we got it all because we only have one chance to do it," he said.
A recent study done by Iowa State University, the University of Kentucky and the Swiss Federal Institute of Technology showed there is benefit to keeping farmland infrastructure updated. In the study, lead author and Iowa State agronomy professor Michael Castellano said updating of the water infrastructure can benefit crop production and the environment.
Mike Henderson, state agronomist for the NRCS in Iowa, said when making land improvements, ensuring the integrity and health of the soil is the most important aspect of any system being put into place.
"Whether it's a terrace or no till, we are trying to get the conversation to be more around a system and the interrelated aspects of everything we do on that farm and how it impacts everything else on the farm," Henderson said. "Soil health is a key example in that, and focusing on how if you take care of the soil, it will take care of you."
Using certain conservation practices could assist that infrastructure in reducing nitrogen runoff, improve water quality and ultimately increase crop productivity as well.
Ryan Tiefenthaler is hopeful to see some of those crop benefits with his combination of improvements and conservation practices.
"With the tile and irrigation system over a 10-year average, I'd hope to see a 30-50 bushel per acre increase," he said. "That's the direct cash benefit. The other benefit is if I can get this water reclamation project in place, we are going to help the environment so you won't have the soil and nutrient runoff."
Variety has been prevalent in Midwest weather patterns, with extreme floods and droughts in recent years and unexpected storms damaging many fields. Henderson said the best way to protect a field is to minimize the soil disturbance.
"Drought-proofing is hard," Henderson said. "Looking at a system that practices minimum disturbance, cover crops and keeping residue on the surface to enhance and retain the soil's ability to capture and store the water over a longer period of time can enhance the soil organic matter content."
As fall field work continues in many fields, Henderson stressed managing the residue in a field is something to focus on.
"If you are in a situation where you are taking the residue off for corn stalk bedding for livestock, put a cover crop back out there to maintain that physical protection of the soil sources that a random rainfall can harm," Henderson said.
Tarin Tiefenthaler said she was grateful for the help and advice she and Ryan have received from the community, and said asking questions is one of most advantageous things someone can do to learn.
"You have to find a support system behind you to answer your questions," she said. "There's no bad idea or wrong questions when it comes to learning more."