In Iowa this spring, it's a safe bet many farmers are looking at the same two crops they have for years: corn and soybeans.
With much of the acreage in Iowa dedicated to corn and beans, there isn't much room for volatility year over year, said
Iowa State extension cropping systems specialist Mark Licht.
"We do see shifts a little bit, and Iowa is generally fairly tempered compared to other states," Licht said. "Largely because our climate, our soil and our market is better suited for our corn and soybeans."
Since 2000, corn acres planted in Iowa have hovered between 11.7 million acres and 14.2 million acres. The low point during that span came in 2001 — the only time over the last 18 years the number went under 12.3 million acres. The 14.2 million acres occurred twice (2007 and 2012) — the only times the acreage went over the 14 million mark.
Soybeans over the same span hit a low of 8.65 million planted acres in 2007 — 650,000 lower than the next lowest at 9.3 million in 2013. The highest soybean acreage over that span came in 2001 when 11 million acres were planted.
No other crop reached more than 1.6 million planted acres over that span.
With two crops dominating, Licht said profitability is more consistent in the state, but Iowa has also effectively shut out other crop markets.
"Now we are to a point where one of the major consequences is we've got a market system in Iowa that is fully supportive and fully encompassed by corn and soybean production," he said. "To the point where the markets for oats or wheat or rye, any of the small grains or third crops, we just don't have a market system that can handle them anymore."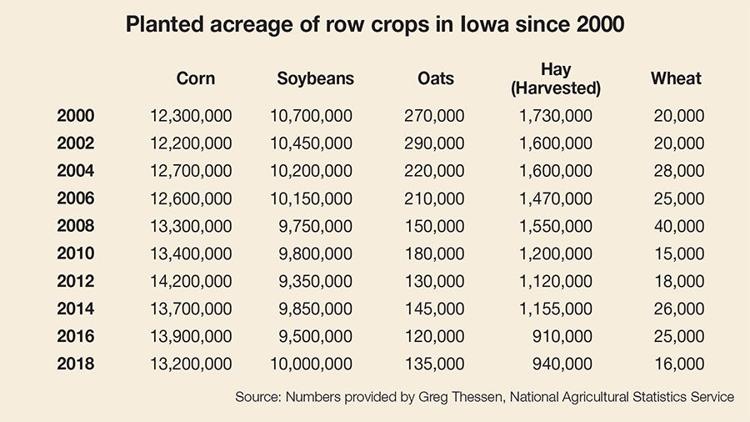 He said many of the other crops, such as wheat, rye or hay, rely on niche markets in Iowa, requiring on-farm storage or direct sale to the end user with no intermediate buyer.
Licht noted that another consequence comes in the form of agronomic management, as Iowa's land hasn't been developed for the other crops.
"We've been doing a really good job of it for corn and soybeans," Licht said.
With corn and soybean acreage remaining relatively consistent, Iowa State economist Chad Hart said the key factors influencing Iowa's farm economy come from other states.
"We've been seeing a gradual increase in corn and soybean area (in other states), most of that coming at the expense of wheat and cotton," Hart said.
"We've been seeing an expansion, and while Iowa hasn't been moving, the states around Iowa definitely have been, and have been moving to look more like Iowa."
That means Iowa is unable to make drastic shifts based on the market, Licht said.
"For us in Iowa, we have some ability to (adjust due to commodity prices), but other producing areas can generally have other crops they can switch in and out and bring into play," he said. "That's a dynamic that's been new in the last 10 years or so."
Total crop acreage has also decreased slowly over the past 18 years, going from 32.5 million to 30.5 million, but Licht said that has been relatively hidden by increased production.
Hart noted that part of this is because of conservation programs, with farmers taking land in and out of production.
"Congress is allowing us to put more land into CRP," Hart said. "That means we'll be pulling more land out of production again. Does that have a big enough impact to move where we are going to go here? We've been able to produce incredibly large crops, even though we've watched overall crop land decline."