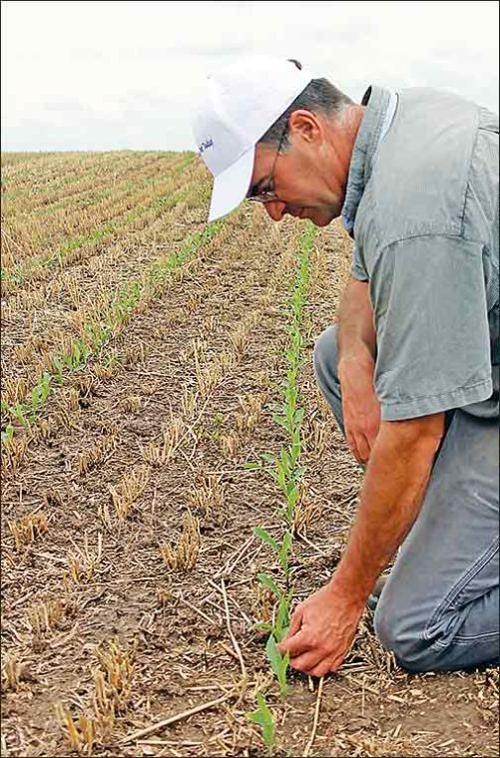 ALBIA — Tim Kaldenberg will readily concede that he's still learning when it comes to cover crops.
He's not alone in that situation. Farmers across Iowa and the Midwest are learning just how and whether to use cover crops. There are no sure-fire how-to lists, Kaldenberg says. Every farm and every farmer is different.
"Really, the first thing you should do if considering a cover crop is to decide what the goal is," says Sarah Carlson, Midwest Cover Crop Research Coordinator for Practical Farmers of Iowa.
For some farmers, the goal may be providing forage for livestock. For others it may be reducing erosion. For some it may be improving soil quality or providing wildlife habitat. It may be an attempt at double-cropping. For many it may be some combination of those ideas.
And there is some "low-hanging fruit," Carlson adds.
"If you are harvesting corn silage it's kind of a no-brainer (to plant a cover crop)," she says.
The reasons for that are not complex. Corn silage is harvested earlier than a normal corn crop, allowing the farmer to seed without using an aerial application and reducing costs. Also, if you are harvesting silage it means there is livestock in the system, meaning the cover crop can be used to provide feed.
Other systems that include a relatively early harvest would usually also work well with cover crops due to the timing and cost factors.
But, the question of your goal is important. It effects the type of cover crop used, the way it is planted, and the rate at which it is planted.
"There are a number of different cover crop species," explains Tom Kaspar, a plant physiologist at the USDA-ARS National Laboratory for Agriculture and the Environment (formerly the soil tilth lab) in Ames.
Annual ryegrass is a very popular cover crop species, Kaspar says. Radishes are also popular. But farmers use a variety of cereal grains and other products as well. Winter wheat, barley, triticale and winter rye are all good cover crops because they grow rapidly in cool weather, withstand moderate frost, and they are relatively inexpensive, Kaspar says.
Many of those crops can overwinter in Iowa and grow again in the spring. They would provide good cover but would require the farmer to kill them with herbicide or tillage in the spring, generally shortly before planting (though some farmers have planted into cover crops and then gone in with an early weed treatment to kill off the cover crop).
Kaspar says legumes can make good cover crops and can fix nitrogen. However, they often don't grow as well as small grains in the fall and their seed may be more expensive. They also must be killed in the spring.
Some farmers may prefer a cover crop that does not overwinter so that it would not require a spring herbicide burndown treatment. Carlson says farmers who are looking to put a cover crop into a cornfield that will be soybeans in 2015 might like a cover crop that will over-winter while those seeding into a soybean field that will be corn in 2015 might prefer a crop that does not over-winter, such as spring wheat or oats.
Of course, the scenario will differ if the farmer is really looking to gain livestock feed from a cover crop, such as someone who wants to graze cattle or sheep on the crop late in the fall. That scenario may call for radishes or turnips or some other type of crop.
Kaldenberg has tried different approaches on his farm, where livestock is a part of the equation. Turnips were an excellent source of fall and winter grazing when he used them, Kaldenberg says. He often puts a cover crop into fields where he chops corn silage but he has tried using a seeder after harvest and also flying on seed before harvest. He has even considered double-cropping some fields in a scenario where he seeds the cover crop in the fall and harvests it in late spring, then planting corn into the ground late in the planting season.
"Every year and every field is different," he stresses.
And some of that goes back to Carlson's emphasis that the first step is to define the goal. For example, she says that if a farmer is looking to gain feed from a cover crop he or she might want to double the seeding rate in comparison to a farmer who just wants some groundcover for erosion control.
There are plenty of resources available to farmers. The Midwest Cover Crops Council has an online cover crop decision tool at www.mccc.msu.edu. There are also plenty of private company or organizational sites, such as covercropsolutions.com. Iowa has also made some state cost-share funding available to farmers who are trying cover crops for the first time. Last year that effort led to 100,000 more acres of cover crops being planted in the state, raising the overall total in Iowa to about 300,000 acres.
Some analysts say this new push is part of an attitude by farmers that if they don't voluntarily find ways to reduce erosion and nutrient runoff from the land, they will eventually be regulated.
Finally, Kaspar offers a couple basic pieces of advice. First, he says, if you are just starting out with cover crops do it on just a few acres. This is a new system for many farmers and it comes with a learning curve. Mistakes will be made.
Second, understand that there is no perfect way to approach cover crops. Every farm and every situation is different.
"There's nothing sacred about this," he says. "It doesn't have to be a religion."