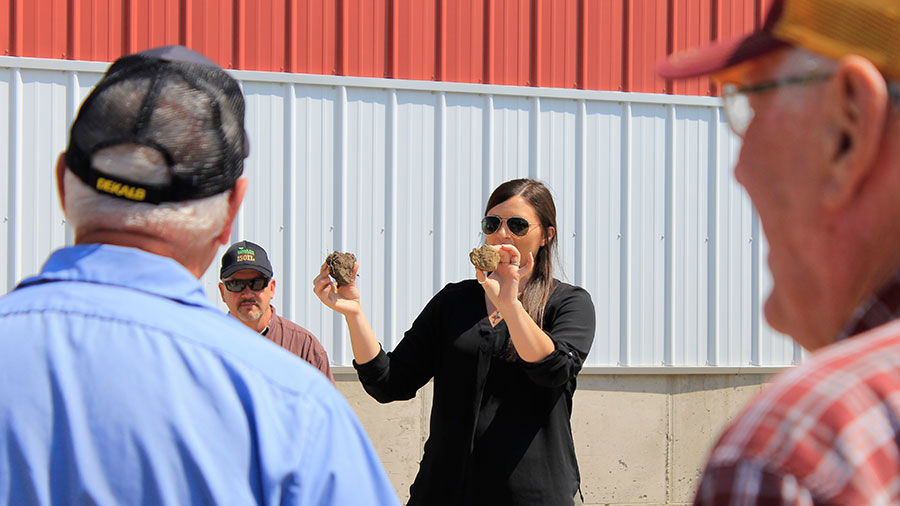 PRAIRIEBURG, Iowa — When harvest is done, Jim Greif said he will be plenty busy getting his farm ground seeded with as much cover crop as possible.
"I try to cover every inch I possibly can," the Prairieburg, Iowa, farmer said. "We go as fast as we can behind the combine, right up to snowfall basically. If it doesn't germinate in the fall, it will in the spring."
Greif is a big proponent of utilizing cover crops, and many eastern Iowa farmers were on hand as he hosted a field day on the subject presented by the Iowa Corn Growers Association July 23.
Topics ranged from herbicide use to soil health, including an NRCS demonstration to illustrate water runoff.
Using their Rainfall Simulator, NRCS representatives Michelle German and Shawn Dettman showed the effects of four different management practices in the same soil. The systems on display were tilled ground, a three-year soybean-only no-till, a three-year corn/soybean rotation on no-till ground with cover crops, and soil that has had prairie grass.
"We are looking at infiltration and runoff of our soils," German said. "We want to show how much water is running off the front across the top of the soil, and how much is infiltrating underneath for the root system."
The tool simulated a heavy 2-inch rainfall and showed runoff was higher on the tilled system.
"The runoff was less on the no-till system and even less on the diverse rotation that includes cover crops, and the one with prairie is the least amount," German said. "The infiltration goes the opposite. The most infiltration took place with the no-till corn/soybean rotation."
David Legvold, a corn and soybean farmer from Northfield, Minnesota, said sustainable agriculture can be many things.
"Why cover crops?" Legvold asked. "There's all kinds of reasons, but the bottom line for all of us is there are as many reasons as there are producers."
He said in Minnesota, they define tolerable soil loss at 5 tons per acre, which equates to the thickness of a dime. If that was spread out over his 40 years of farming, that would equate to 2¼ inches of soil.
"There is no such thing as tolerable soil loss," he said. "We cannot afford to lose our soil. We think cover crops are a good vehicle to hang on to the soil we have."
One tip he offered was to plant rows east and west as opposed to north and south.
"Going east/west we noticed there's much more robust growth than north/south," he said. "If you think about the travel of the sun, not much shade gets in between 6 or 8 foot tall corn until its directly overhead, and then the sun moves to the west."
Greif said showing farmers the value and effectiveness of cover crops is important.
"We need even more regional events for cover crops," he said. "What happens in Minnesota doesn't necessarily work here. As you move south, there's so many things you can do and we just don't have the climate for it. I think getting local people in is a good thing."