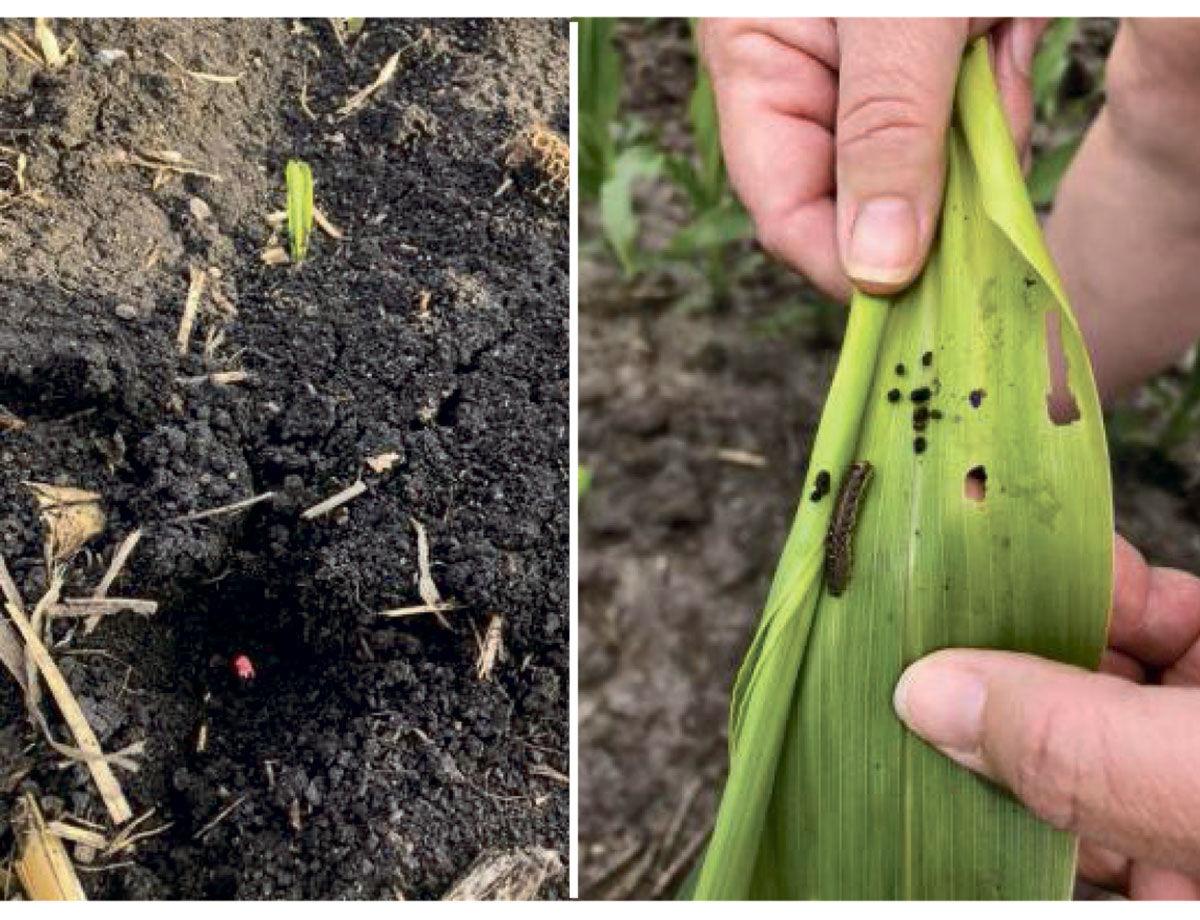 Editor's note: The following was written by Angie Rieck-Hinz, Iowa State University Extension field agronomist in north central Iowa, for the Extension Integrated Crop Management blog May 11.
---
The May 10 USDA-NASS Iowa Crop Progress Report showed 86% of the Iowa corn crop is planted and 22% is emerged; soybeans are 67% planted and 6% emerged. The emergence of crop means it is time to start scouting fields.
Scouting fields is not only part of an integrated crop management plan but allows us to gain historical perspective of year-to-year planting conditions, anticipate potential issues and take appropriate action when issues arise.
Stand assessment
Once crops are emerged, we should take the time to do stand counts and assess the stand. Stand assessments are comprised of three key steps, evaluation of 1) plant population, 2) emergence uniformity, and 3) plant spacing. These steps allow us to determine if a stand issue is due to planter performance, seedling emergence issues, insect, disease or poor seed.
Take time to dig where plants are missing and even where plants are emerged. This is easily done with a square-bottom spade that allows you to pop open a furrow to assess planting depth, moisture at depth, sidewall compaction, rooting issues, and to look for soil-dwelling insects and seedling diseases.
For example, seeds that haven't emerged that were still hard had not imbibed water and this could be due to planting in uneven soil moisture conditions.
While you are conducting stand counts, take time to evaluate the plants, both above and below ground. The first principle of crop scouting is to determine what is normal and what is not normal. Note plant color, vigor and growth stage.
Plants communicate in color and growth. Are those small corn plants, VE to V4, pale yellow due to cold soils, compaction, herbicide injury or transition to the nodal root system? Perhaps a combination of conditions?
Seedling diseases
Knowing what a healthy plant looks like is key to identifying seedling diseases. When scouting for seedling diseases, look for yellowing, wilted, stunted, dead or missing plants. In corn, look for discolored or rotten mesocotyls, seminal roots and nodal roots. In soybeans, look for seedlings that pull easily from the soil, discolored or rotting root tissue, and lesions that form on the taproot or hypocotyl.
Due to abnormally dry conditions throughout most of Iowa this spring, seedling diseases should not be a major concern.
Insects
When scouting for plant stand assessment, also take time to look for early season insect pressure. Insects are small, mobile, and sometimes nocturnal feeders, so it may be difficult to actually find the culprit. Scouting for signs of plant damage such as leaf-feeding, plant-cutting, or missing plants is important.
Soil-dwelling pests such as grubs, wireworms and seed corn maggot can reduce stands or cause poor germination. Digging in areas where stands are thin will help determine if these insects are an issue.
Depending on the amount of damage done, the growth stage of the crop and the size and number of insects, treatment may be warranted to prevent additional damage or loss of stand. In some cases, treatment may only be necessary in some field areas as insect pests often move in from field edges and waterways.
Some common insect pests have economic thresholds (ET) and economic injury levels (EIL) established to help make treatment decisions. An ET is the point at which action should be taken to avoid reaching the EIL. The EIL is the lowest population density that will cause economic injury, or where yield loss is equal to the cost of control.
For example, Iowa State Extension recommends insecticide treatments for true armyworm are warranted if 10% or more of the plants are injured and the larvae present are less than three-quarters of an inch in length when corn is VE-V2. If corn is V7-V8, treat if there are greater than 8 larvae per plant, 25% of leaf area is removed and larvae are less than three-quarters of an inch in length.
In summary, early season crop scouting can help you make management decisions for possible replant situations, treatment that may include a whole field or only border rows, and future seed and seed treatment decisions.