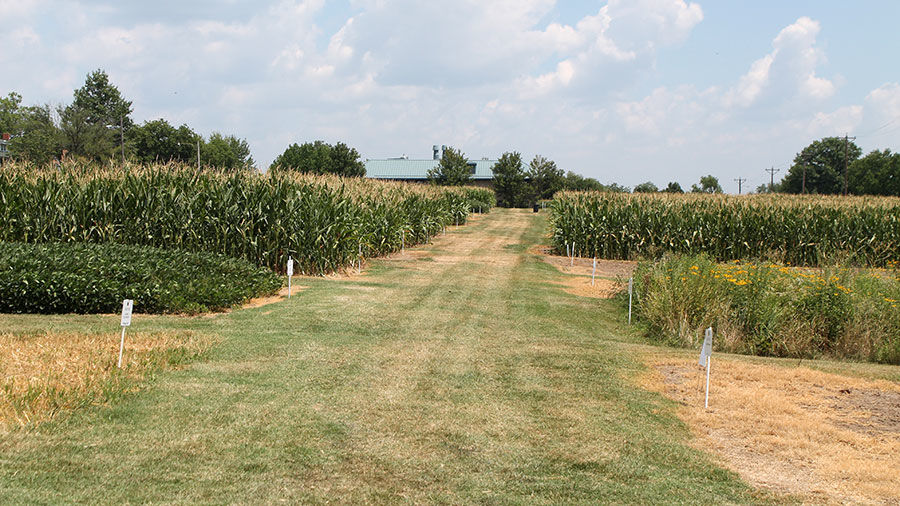 BOONE, Iowa — After a strong start to the planting season for many producers, 2020's growing season has been littered with extremes.
Drought has plagued much of Iowa and Illinois, while extreme winds from a derecho ran roughshod through those same farms, leaving extensive crop damage and poor crop conditions throughout the region.
All these instances make it difficult to evaluate how certain crop traits performed this year.
"I traveled the areas affected by storm, and unfortunately you aren't learning a lot about hybrids," said Mitch Heisler, product marketing manager with Wyffels Hybrids. "You reach a point where nothing can withstand (100 mile per hour) winds."
However, that doesn't mean the entire season was a wash for seed companies. Heisler said his company has been looking at the fringe areas of the extreme winds to see how stalks held up and have been pleased overall with the progress.
"We don't have anything that's a big red flag for us," he said.
Bruce Battles, a seed agronomist with Syngenta, said these types of unpredictable weather patterns help to show the importance of traits in the seeds being selected.
"You can definitely see differences between hybrids as you get to different areas," Battles said. "You can go through steamroller type of events where it didn't matter for anything, but you can see hybrid differences on the other end of the spectrum."
But farmers need to take their normal multi-year approach when it comes to making decisions for 2021, Battles said.
"It's the age-old cliché, right? You take everything you learned this year and throw it out the window," he said. "This year, in a lot of areas, that's very true. Is what you saw this year indicative of what you can expect out of your area in the next 5-10 years? If so, then look for wind or drought tolerance. But you need to find consistent-performing products."
While Heisler noted that some farmers may sacrifice trait or input protection in their seed program in favor of a more traditional yield, it may not work out that way, especially if there are any concerns about conditions throughout the year.
"If you go back 10 or 15 years, one of the big things is just the amount of stress tolerance that hybrids have, and it's something you have to have," he said. "You need to be able to withstand tough conditions when they are there, but also have top-end yield potential. The longer you can keep the plants healthy and happy, the better off you are going to be no matter the situation."
While much of the focus is on hardiness of the crop, there still needs to be focus on weed eradication and picking a seed that can have proper resistance for 2021, according to Mark Storr, a technical service representative with BASF.
He noted many issues that have been prevalent in Midwest fields, from waterhemp to Palmer amaranth, but suggested many pest issues can be managed with proper cultivation.
"We have the technology to put someone in a tractor seat and they should be able to stay between the rows with guidance systems," Storr said. "If you don't get rid of those weeds that are popping up today, you are just adding to your seedbank."
He said a sole reliance on chemicals is the "easy thing to do" but taking the time to chop down weeds is worth the investment.
Weeds won't be the only issue in fields either, according to Battles and fellow Syngenta agronomist Dean Grossnickle. They expect corn rootworm to be a very common problem coming up.
Grossnickle said it's been a little while since corn rootworm has been an issue, but with increasing populations over the past couple years and drought this year, it's something to prepare for.
"Given that we didn't really have the soil moisture to kill them like we have in the past, I think pressure is going to be really high going into next year," Grossnickle said. "It's not on the forefront right now, but I think they are going to need to have a plan in place."