DES MOINES — While climate change has often been a political hot potato, there are farmers who are trying to bring the discussion about agriculture and climate back into the non-political realm.
"When we work together, we all benefit," said Ray Gaesser.
Gaesser, a southwest Iowa farmer and former candidate for the Republican nomination for Iowa Secretary of Agriculture, serves as chair of Iowa Smart Ag, a group aimed at working with farmers on climate issues. The group sponsored a conference on climate change Nov. 25 in Des Moines.
There are similar efforts in several other states, according to Fred Yoder, chair of the North America Climate Smart Agriculture Alliance.
The farmers in these alliances are both Republicans and Democrats, Yoder and Gaesser said. They are simply people who care about climate issues, as well as related items such as water quality and erosion. But what they face in their business and their environment is a "really, really interesting puzzle," said Jerry Hatfield, director of the USDA National Laboratory for Agriculture and the Environment in Ames, Iowa.
The status quo, Hatfield said, is that we are slowly degrading soil resources. And the changes in climate mean farmers will face serious issues related to water management and a narrowing time frame for both planting and harvest.
The number of workable days in the spring and in the fall is declining, Hatfield said, thanks to a climate that pushes more rainfall events into the spring and fall and into heavier individual rainfall events.
That trend also means more erosion unless practices change.
Cynthia Rosenzweig, senior research scientist at the NASA Goddard Institute for Space Studies at Columbia University, said climate change is not just a pie in the sky idea.
"Climate change is no longer a projection into the future," she said. "There are observed changes now."
One of the biggest issues for Midwestern farmers right now and in the future is water management, researchers say. More large rainfall events and more of the rain coming in the spring and fall means getting water out of fields without massive erosion will only become more important.
Another issue is that most of the warming at present is happening in the winter. In Iowa, it may actually now be cooler in the summer and warmer in the winter. That may sound good, but it changes the ecosystem. For example, some pests may overwinter more succesfully.
And even in the summer, the cooler daytime highs may come with higher nighttime temps. That could impact livestock and crops.
Researchers at Iowa State University spoke about how farmers might best deal with issues of climate, water and erosion. For example, prairie strips could be a useful tool to build up soil, reduce erosion and in some cases increase profitability.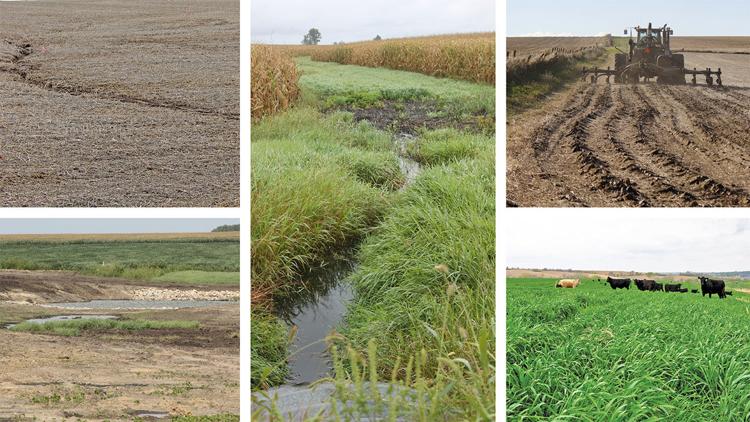 Several farmers spoke at the conference about things they are doing on the farm to cope with climate and water issues.
Bill Couser, who farms near Nevada, Iowa, said heavy rainfall events have provided a challenge for his feedlot operation. As a result, he put more of his livestock under a roof. He has also worked with researchers at ISU on a number of test plots on his farm.
Bryan Sievers of Stockton, Iowa, installed two anaerobic digesters on his farm to handle his livestock waste and provide fertilizer for his fields.
Dave Walton of Wilton, Iowa, has changed his crop practices and moved to more variable rate applications of nutrients.
"Our forefathers did the best they could with what they knew," Walton said, adding that today's farmers need to adjust those practices to fit what they know today.
All three farmers say they can see the differences of new practices on their own farms, pointing to things such as waterways that don't fill with mud after a rain.
And all three say farmers need to take action to improve the environment.
"The last thing farmers want is for EPA to come out and tell you what to do," Couser said.
But to avoid that scenario, farmers need to make changes. That means more cover crops, more waterways, more buffer strips and prairie strops, more variable rates of fertilization, more diverse crop rotations and more of a number of other practices.