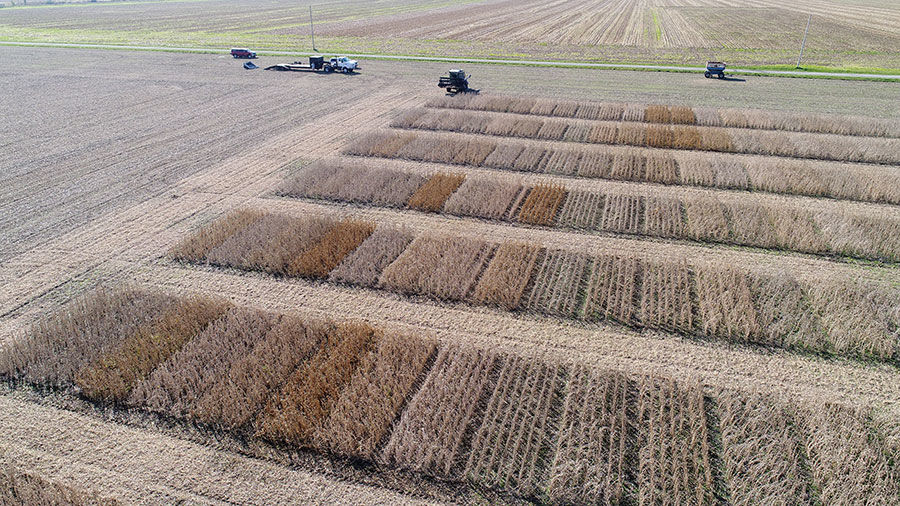 With harvest wrapping up in many places across the Midwest, early yield results are starting to be analyzed.
The 2018 Farmers' Independent Research of Seed Technologies (FIRST) results are in, and across Iowa, Illinois and Missouri, it's been a mixed bag of crop conditions and yields.
From drought to too much rain, the season was capped off by a wet October in some areas, making harvest difficult.
In northern Iowa, FIRST manager Corey Rozenboom said the growing season got started a little late, with most of their soybean crop planted in the last two weeks of May.
"Right out of the gate, we got planted two weeks behind normal," Rozenboom said. "That has its effect because the plants were not able to produce as much vegetation and harvest as much sunlight for as long. We had a little bit of a challenge for high-end yields."
Things were different in southern Iowa, where Randy Meinsma indicated drought stress took its toll.
"In a lot of my plots, I've seen a lot of damage," said Meinsma, who covers southern and central Iowa. "I saw it more in the southeast. I had one plot down in Lineville, on the Missouri/Iowa line in the center of the state, and then Bloomfield in the southeast corner, those two were really stressed by drought."
But he noted that late rains also hurt some of the crop.
In Illinois, Jason Beyers managed the field tests in the northern half of the state. After an early planting season, Beyers said there was good rainfall for about two weeks, leading to strong yields across his part of the state.
"Yields were excellent for the most part in northern Illinois," Beyers said. "Until you got to the I-80 corridor, they actually experienced a drought in July a little bit. That hurt their yields, I'd say about 10-15 percent in that area."
In the southern part of Illinois, manager Bill Schelp said he hasn't seen a year quite like this.
"It was phenomenal over there," Schelp said. "I had growers 35 years farming that had their best corn yield ever. The rains just kept coming at a regular interval. It was a nice growing season and harvest went well. No real delays. It was a good year."
Schelp also covers the Missouri test plots for FIRST, and said the story was different there.
He noted a drought hurt parts of the state, but the soybeans were resilient considering the dry conditions, which were prominent in northwest and central Missouri.
"We had an abnormally below-average rainfall kind of a year," Schelp said. "We lost one corn location that was in the most severe drought classification assigned by the USDA. We had 25 bushel average corn, and we had a farmer with a field nearby that never produced an ear."
FIRST conducts seed trials throughout the Corn Belt. The soybean results are included in this week's issue of Iowa Farmer Today, and corn results will be included Nov. 24.
Results for other regions may be found at http://www.firstseedtests.com/