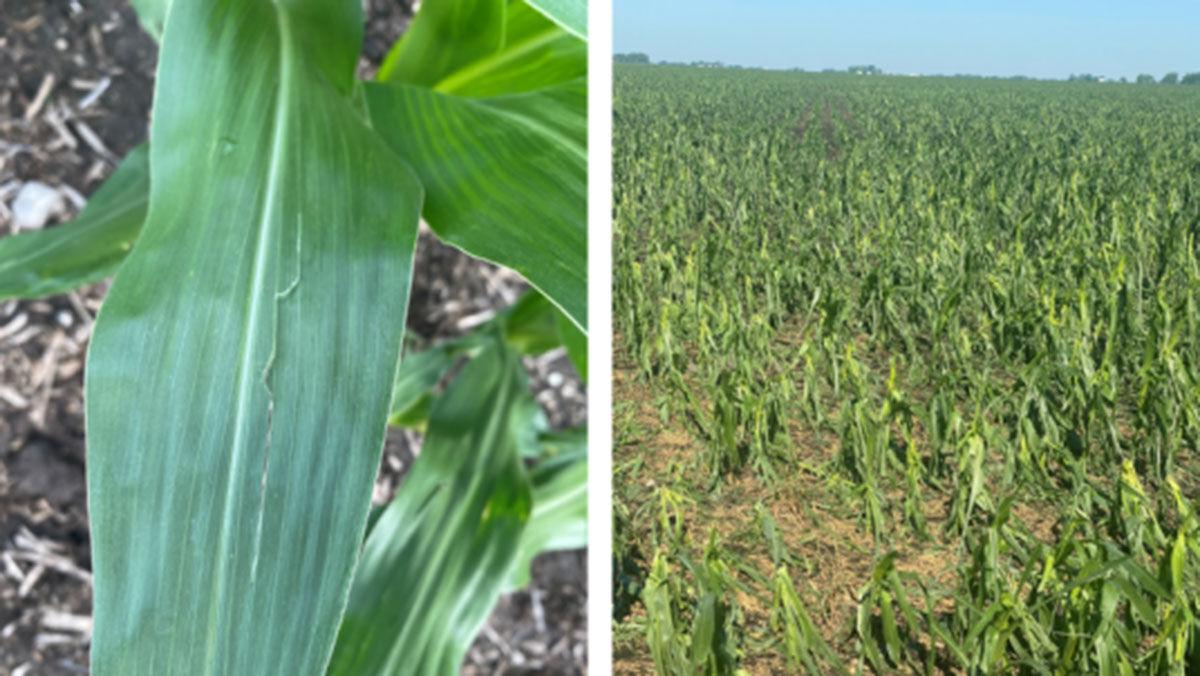 It was late June, but it could have been confused for the middle of January.
A severe storm system swept through the Midwest June 22, and in some areas left a path of destroyed crops.
"The hail was heavy enough that it looked like a snowstorm," said Le Mars, Iowa, farmer Bill Tentinger. "It took about half of my corn crop."
Tentinger said the crop was looking "beautiful," despite moisture being hard to come by so far this growing season. While leaves were starting to roll on the corn, he said a few recent rains had them optimistic for the final product.
"I felt it was still going to have potential," Tentinger said. "The streak (of hail) was probably almost 30 miles long and maybe three to four miles wide."
The damage wasn't limited to western Iowa, however, as crops across the state and throughout Illinois were left dealing with hail damage from the early-summer storm. The timing of the damage has left questions as to what farmers are going to do to recover.
Crop insurance planting dates for corn and soybeans just passed, making replant a difficult decision. Iowa State Extension field agronomist Rebecca Vittetoe said corn is likely too late to replant, unless it's going to be chopped for silage. Soybeans, however, might be successful if replanted quickly.
"Once you get into July, the yield potential really starts to decline," Vittetoe said. "We'd have to have a pretty significant loss to want to consider replant. You also need to consider how it affects your crop insurance."
She said the best way to identify the true damage on the crop is waiting for a couple of days to let the dust settle and then determining what the extent of the damage has been.
"If soybeans have been cut off below the cotyledon, there's no sign of hope they will come back," she said. "Their growing chance is gone. If they are still above the cotyledon, those soybeans still have a chance to grow and live."
For those with damaged fields, Vittetoe said spraying season could be affected as well.
"For weeds, one of our concerns with hail damage is if you haven't done your post-herbicide application on soybeans, you should probably wait a little bit," she said. "If the soybeans are shredded, the weeds are too. We want to make sure there's leaf tissue out there to actually spray something that will kill it."
While insurance will play a factor for many with damage, Tentinger said it won't completely solve the problem. Insurance covers the crop, but Tentinger uses the crop as feed in his hog operation.
"Almost my entire crop I would feed," he said. "I'm fully insured and will be made whole on this thing, but only on the crop side. We raise our row crops to feed our livestock, and that's where we are going to come up short."
Tentinger said that even before the hail storm he was having trouble getting grain merchandisers to commit to forward selling feed grains, and this will only aggravate the issue. He said this will require some "out of the box" thinking as they figure out how to address their flattened crop fields.
"I don't think it's been this widespread, but I've been farming for 52 years so this isn't my first parade," he said. "We had a good storm go through in 1981, but that was a week and a half earlier so we could replant. Here it's the last week of June and it's not going to be too lucrative to go in and replant, especially on the corn."