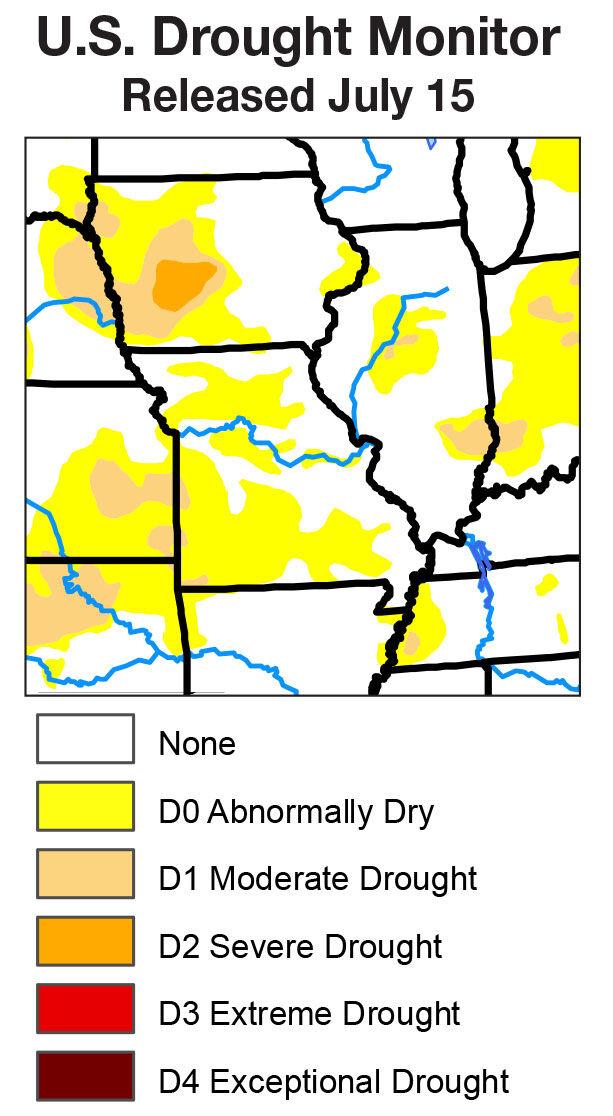 Despite a few days of rain and storms, western Iowa is looking for better fortunes in the weather.
According to the map released from the U.S. drought monitor on July 16, much of the western half of the state is ranging from abnormally dry to severe drought.
"For the lack of moisture, they're looking pretty good," said a representative from Cyclone Seed and Chemical in Harlan, Iowa.
Shelby County was put in the 'moderate drought' classification in the July 16 drought monitor, but sits next to the center of the nine Iowa counties that have areas classified as "severe drought."
While he said there haven't been too many pest or fungus issues popping up quite yet, this is a critical time for crop development with corn tasseling and pollination well underway. That makes the upcoming weather patterns especially important to the farmers in his area.
"It all depends on temperature too," he said. "I don't know if we can order up some more rain, but that would be nice."
However, drought isn't the case around the entire state.
In northeast Iowa, they have been able to get adequate rain and the crops are looking good so far, according to Iowa State University field agronomist Terry Basol. Right now, his primary concern is some of the mid-July storms having been severe.
"We want them to stay away as much as possible because once the corn tassel is destroyed it greatly decreased the chance of pollination," Basol said. "We did have some severe storms come through (July 9 and 11) just south of Shell Rock and through Waterloo and Cedar Falls, and we did get some fair amount of damage."
He said the damage was mostly from hail and 60-70 mile per hour winds, but the damage tends to be spotty.
"Our crops look good around here," Basol said.
He noted there has been some talk of Japanese beetles and corn rootworm so far, but nothing that seems to be out of the ordinary quite yet. Basol also said there has been some reports of tar spot in Iowa again, and suggests farmers take a hard look at their corn fields for the disease.
Some farmers around the state are also dealing with damage from the weed killer dicamba.
Bob Hartzler, weed specialist for Iowa State Extension, said southwest Iowa and north central Iowa seem to be the areas most affected by drift of the chemical, and said 2020 has brought about more complaints than normal.
He attributed that to some of the conditions that farmers had to deal with post-planting.
"It compressed the spraying season into a narrower time frame, and there has been increased use in corn," Hartzler said. "Those are the two big factors. Planting progressed so quickly that fields of corn and soybeans reached the stage of post-emergence at the same time. That led to more product in the environment at any given time, which led to more movement."
Hartzler said the major issues he sees across Iowa is herbicide-resistant waterhemp and giant ragweed. He said waterhemp is still the major focus due to its ability to create a lot of new seeds for spreading.