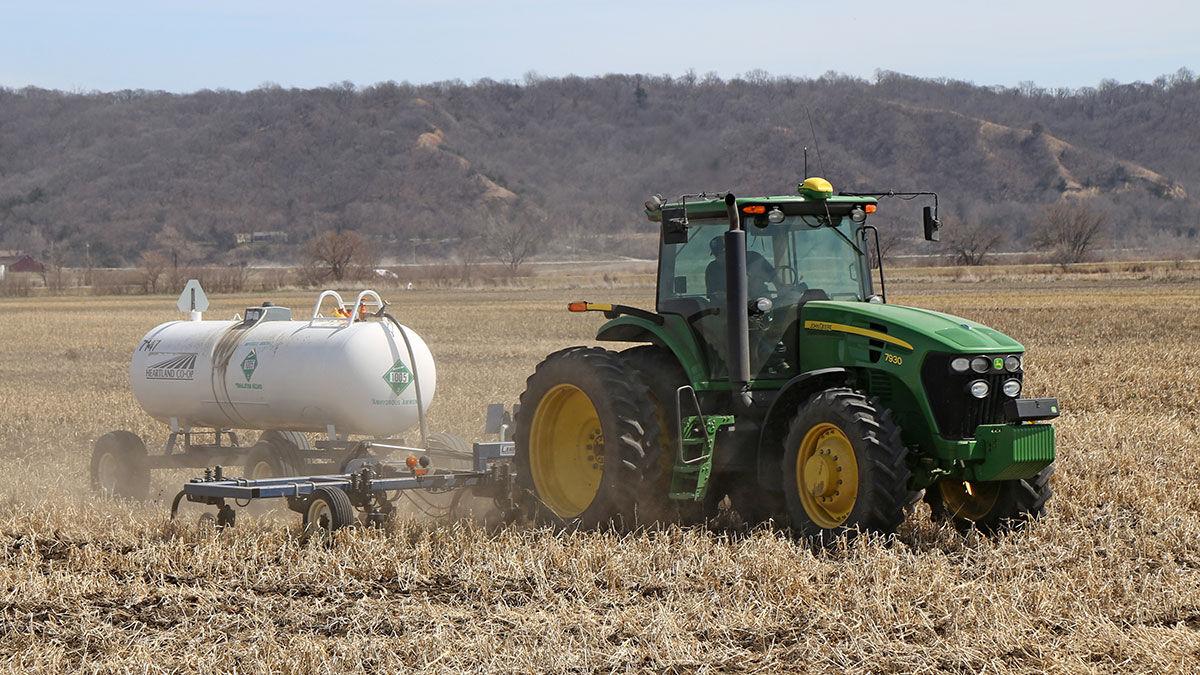 Dry conditions allowed many farmers to get their nitrogen applications on ahead of the winter season.
Getting that nutrient in the ground is an important aspect to crop production, but some of that nitrogen will be lost throughout the year.
Paul Kassel, Iowa State University Extension field agronomist in northwest Iowa, said applying nitrogen is an inherently "leaky system" and has inefficiencies. Nitrogen is rate driven, he said, and using some tools available to farmers will help them be more efficient in their applications. Those tools include studies that look at different rates and how they affect corn yield, in addition to the nitrogen rate calculator on Iowa State's website.
"We have to apply more than we lose," Kassel said. "We don't have a perfect system of reducing nitrogen losses. You can consider split applications, but that does not guarantee you'll have less losses."
With the fall applications of nitrogen, Golden Harvest agronomist Ryan Dunsbergen said the nutrient should be well sealed into the ground and should be in place. That doesn't prevent the risk for possible runoff, however, as a heavy rain or erosion event will still cause losses.
"Anything that's in the soil, if you lose your soil you lose any nitrogen that's with it," Dunsbergen said. "If you have your ammonium tracks out there and have a hard rain, you'll have a lot of soil wash up and down the tracks."
He said any nitrogen that is not surface applied and in the soil already should be fine if it can avoid that erosion. Warm temperatures and soil moisture are the key aspects of nitrogen moving in the soils, and with the current weather patterns, much has been staying in place.
"We've been relatively cool, and that's been helping prevent the conversion of your ammonium nitrogen into your nitrate nitrogen," he said. "We are looking good as far as that's concerned right now."
Kassel agreed with the sentiment, saying that with the drier conditions, there is a lower chance of leeching.
"There is absolutely no guarantee, but right now, that's in our favor," he said.
The key to limiting losses will largely come down to weather, Kassel said. In 2020, a dry spring led to less nitrogen loss in the soil and with continued dry soil conditions. The same might come true this year. If rains do come into play in the upcoming weeks, Kassel said it would have to be significant for spring/summer applications.
"If the rainfall from April 1 to July 1 exceeds 16 inches, research indicates need for additional nitrogen," Kassel said. "That's probably the last thing on our mind right now, but that could happen."
Hitting that 16-inch mark would mean sidedressing for many farmers, which would be difficult due to the likely soggy conditions, but Kassel said it's a good guideline to go by.
When making that decision, however, cost will be a factor. As crop prices have gone up, so have application costs, with Kassel noting a ton of anhydrous ammonia has gone up nearly $275 since the fall of 2020. It's up to the farmer if that cost is worth taking on, but Kassel said with the right rates it could be effective.
"The return on those nitrogen dollars is very good," he said. "We still need to think about rates and treating it right. We still have a very valuable crop and a potentially profitable year."