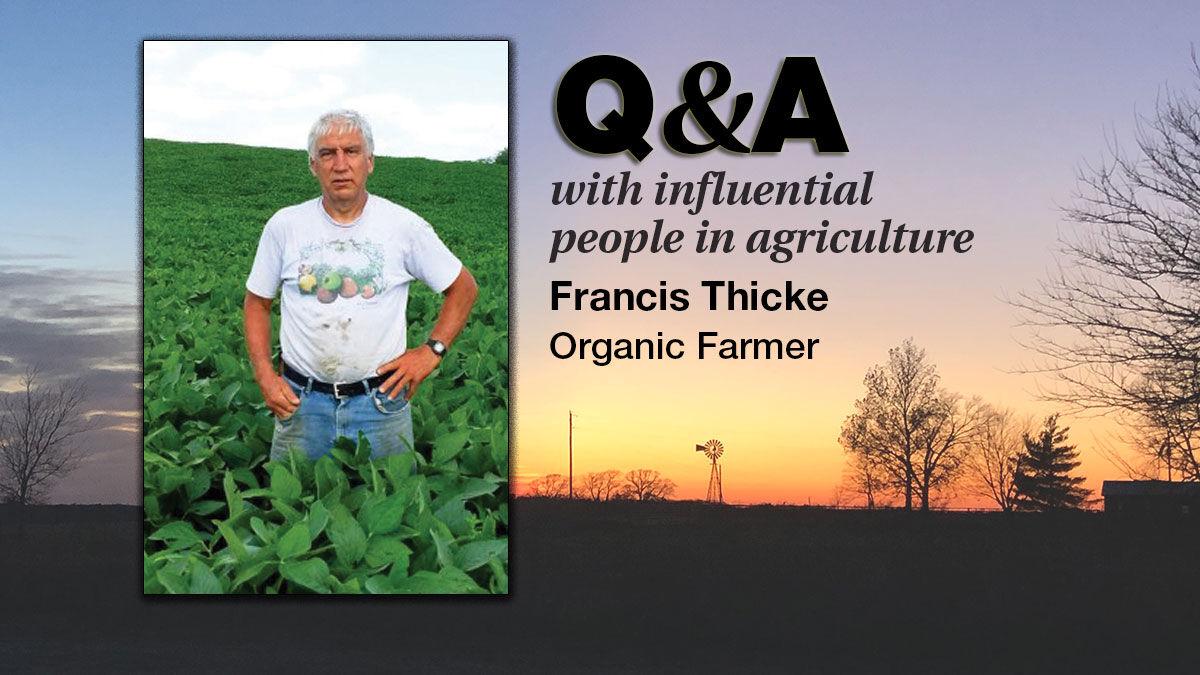 Francis Thicke, with his wife, Susan, is owner and operator of an organic dairy and crop farm near Fairfield, Iowa. They process their milk on the farm and market their dairy products through local grocery stores and restaurants. They are also experimenting with regenerative grazing and cropping practices.
Francis has a Ph.D. in soil fertility and has in the past served as the National Program Leader for Soil Science for the USDA Extension Service. He was also the Democratic candidate for Iowa Secretary of Agriculture in 2010 and served on the National Organic Standards Board from 2013 to 2018.
IFT: Let's start with the basics. You have followed agriculture and agricultural policy for a long time. How would you describe the state of U.S. agriculture right now?
THICKE: The state of agriculture has been pretty dismal for quite a while: It isn't working economically for farmers without large infusions of federal subsidies. It isn't working for the environment, especially for our water quality. And it isn't working for rural communities, which have been emptying out for years. The only sector it has been working well for is the large corporations that have gained monopoly control over the major ag commodity markets.
I think that we need to look for solutions that in combination work to address all of these issues. For example, infusions of federal subsidies to agriculture should be targeted to also produce environmental benefits, such as taking marginal and fragile lands out of production (which will also help reduce over-production) and requiring cover crops in order to be eligible for crop subsidy payments or subsidized crop insurance. We also need to target a lot more conservation funding to proven highly effective practices like riparian and saturated buffer strips.
IFT: More specifically, as an organic dairy farmer and former member of the national organic board, how would you describe the state of organic farming?
THICKE: Now that the organic food market has grown to over $50 billion a year, large players from the conventional food world have moved aggressively to corner as much of the organic market as they can. In the process they have sent their lobbyists to Congress and inside USDA to try to weaken the organic standards and the standards' enforcement to make it easier for them to comply and mass produce organic products.
Some of the results of those lobbying efforts are that USDA has approved of hydroponic production as organic, and USDA has not enforced the requirements that organic livestock should have access to the outdoors and that organic ruminant animals should be on pasture — resulting in some very large dairy and poultry confinement operations being certified organic.
IFT: It used to be that organic farming was closely associated with small and local production, but the two are not necessarily the same. Is that a problem and how would you address it?
THICKE: It is not about size per se. It is about following the organic standards, which were written to create ecologically based farming systems. Sometimes there are size limitations built into ecologically based systems. For example, there are limits to how many cows can be milked twice a day in a facility and still walk out to pasture between milkings. For a confinement dairy, there is no such limit on size.
IFT: There have long been accusations that federal farm programs are aimed at commodity production and large producers. What changes would you propose in federal farm programs?
THICKE: I support payment limitations for farm subsidies. I also think farm programs should invest more in infrastructure for alternative crops and opportunities for rural America. For example, industrial hemp has many potential uses, from medicinal products to food and feed products to fiber and even hemp building materials. But it will take investments to develop the infrastructure to open and expand those markets.
It is particularly important now to find alternative crops because so much of our farmland is currently devoted to growing corn for ethanol, and it is becoming increasingly clear that gas-powered cars will soon be replaced by electric vehicles, shutting down the ethanol market. Because electric cars have few moving parts, they will soon be cheaper to build, cheaper to run and maintain, and much longer-lasting than gas cars.
A good investment for rural America now would be to develop localized, distributed solar photovoltaic systems. The cost of solar PV installation has come down over 70% in the last decade, and solar energy is now as cheap as, or cheaper than, other electrical generation systems. Solar PV on every farm — and on roofs and in backyards in urban areas — would help working folks better create and retain value locally.
My brother in Minnesota has enough solar PV on his 100-cow dairy farm to provide all of the electric needs for his farm and house (including electrical heat for the house), and to run his electric car.
IFT: How has the COVID-19 crisis impacted your farm and other small or organic farms?
THICKE: Since we process our milk on the farm and market it through grocery stores and restaurants, when COVID-19 hit, those dynamics changed considerably. Our restaurant market collapsed, but the grocery-store market picked up some. I think that a lot of farmers selling into local markets were similarly affected.
IFT: How have trade negotiations and government trade payments impacted you or the organic industry?
THICKE: There have been some International trade issues for the organic industry in recent years, related to the growth of the organic market in the U.S. The USDA has been lax in overseeing imports of organic products, especially shiploads of organic grains coming from overseas. There have been documented cases of shiploads of conventional grain leaving ports in Eastern Europe and "magically" becoming organic by the time they arrived to ports in the U.S. After vociferous complaints by American organic farmers, USDA is working to try to correct that.