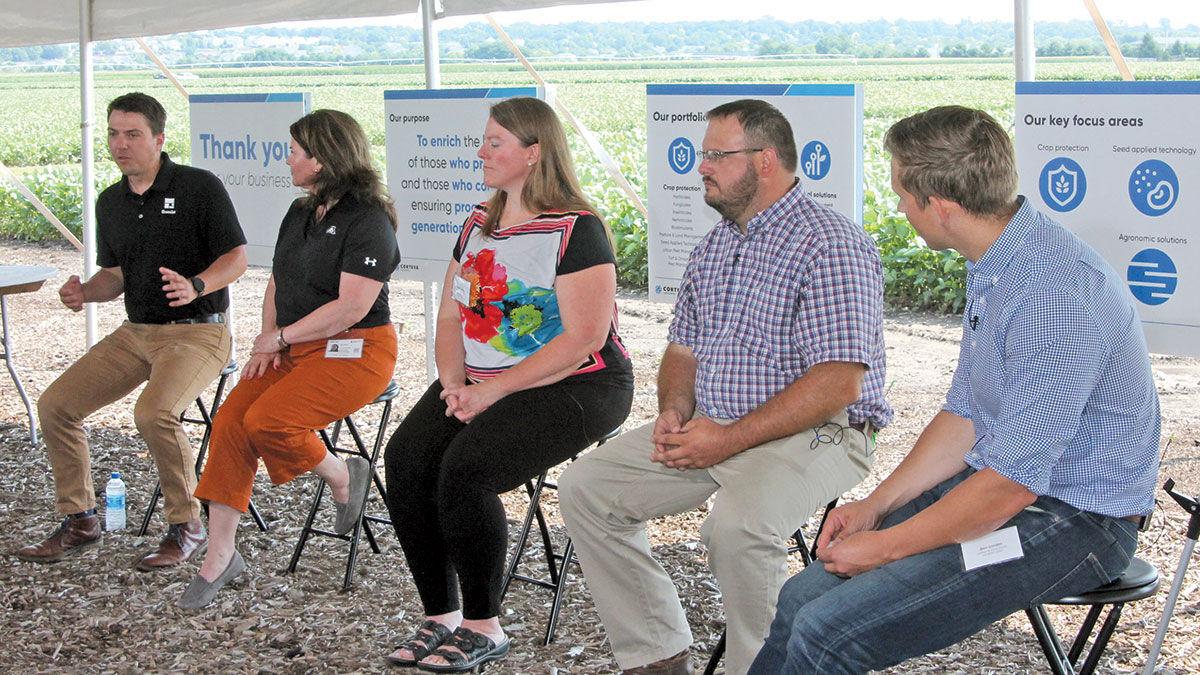 JOHNSTON, Iowa — Emerging carbon credit markets offer the chance for farmers to get paid to — in many cases — do the right thing, but it is important to understand the risks and read the fine print.
And those risks include the risks of not getting involved.
Ben Gordon is the global portfolio leader for carbon and ecosystems services for Corteva Agriscience. He led a panel discussion on carbon trading during a Corteva field day July 13, and said while the idea has promise for farmers, they need to do their homework now.
A big piece of the carbon credit discussion in agriculture is whether farmers will get paid for practices they are already doing, such as no-till, or whether they will only get paid for implementing new practices. For a farmer who is considering whether to seed cover crops, it may pay to check out the various programs before doing so, Gordon says.
Corteva is involved in its own carbon program. Gordon says it is based on soil sampling to set a base and then modeling to reward several basic practices, such as cover crops, no-till or strip-till.
Dan Hansen farms near Avoca in western Iowa and is participating in the Corteva program. He said implementing some of those practices had worth to the farm, whether he was going to get paid to do them or not. The use of no-till and cover crops have led to higher organic matter in the soil and lower production inputs, he said.
But he added that most carbon credit programs likely won't offer enough money to justify a new practice. They will simply incentivize farmers and provide an additional revenue stream. He said the Corteva program is attractive because it allows him to opt out in two years instead of locking him in for a longer term.
Farmers have learned how to better use carbon practices in recent years, according to Sarah Carlson of Practical Farmers of Iowa.
For example, she said early cover crop users discovered that corn yields suffered. Research eventually showed farmers needed to kill the cover crop at planting and provide an early boost of nitrogen to deal with the yield issue.
Carlson said farmers today need to read the fine print of any carbon contract. Some contracts may be for 10 years or may not pay the farmer unless certain goals are met.
And she said that while the practices farmers are looking to get paid for are certainly environmentally friendly, there is an ongoing discussion about how much carbon is being stored. She describes the carbon put in the soil by annual crops as a sort of a checking account. By reducing tillage and using other conservation practices, farmers are putting more carbon into the soil, but it is often temporary. Planting trees and using more perennial crops puts carbon in a deeper and more permanent sink, building a sort of savings account of carbon, she said.
There is some risk that the failure of a carbon market could hurt conservation efforts or that companies buying carbon credits may want to eventually only invest in those savings account type of practices.
"I'm hoping that doesn't ruin the whole movement," she said.
But Carlson said that if today's markets encourage farmers to deal with conservation and agronomy while getting a new revenue stream, that could clearly be a good thing.
She also said it is possible some carbon programs may eventually extend beyond soil fertility to items such as manure storage. Stored manure gives off methane. If it could be applied to land in a more timely manner, that could be useful.