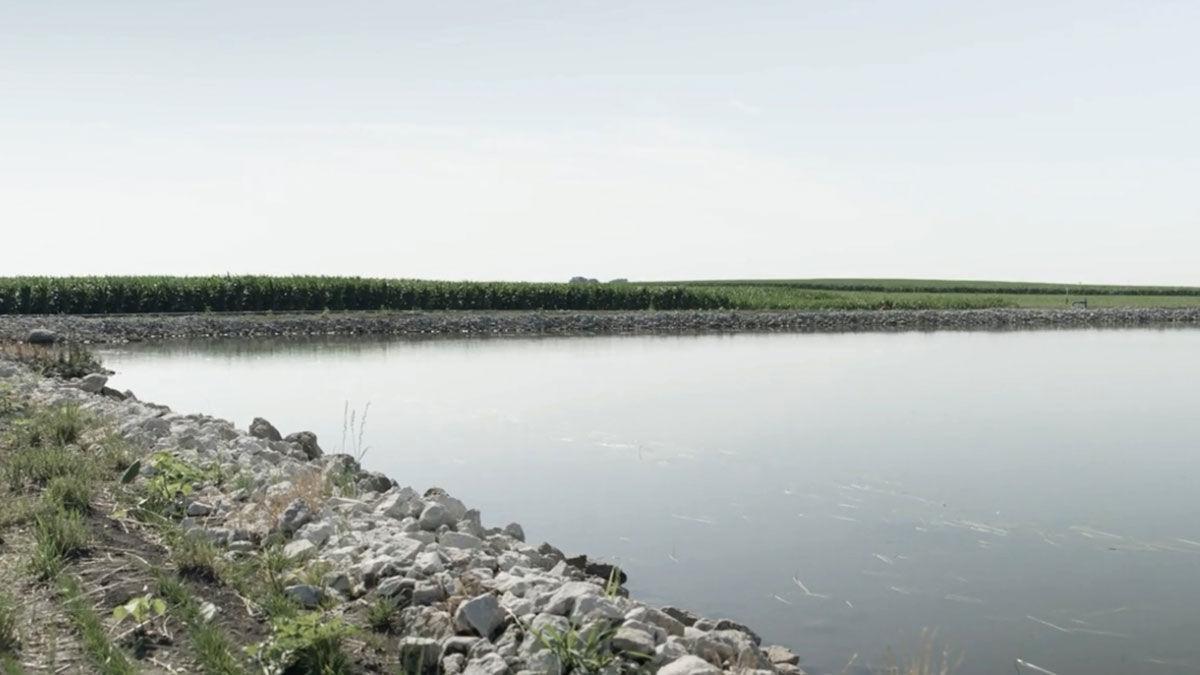 Taking advantage of any rainfall that comes throughout a growing season is key for maximizing yields, but effectively managing the water can take time.
Jason Webster, commercial agronomist with Precision Planting in Pontiac, Illinois, said reservoir ponds have the ability to make low-elevation, water-collecting ground more effective. Crop ground that would typically see water standing after big rains could be a recycling ground for excess moisture.
"We took the lowest part of the farm and made it a little lower," Webster said. "We tiled (the ground) and outlet into this reservoir and just hold it. It seems every summer Mother Nature wants to be hot and dry, but now I can go from a farmer who never irrigated and send it back out to the field."
To irrigate the fields, Precision Planting used drip tape to pump water back.
Webster said most farmers could utilize this practice in their low-lying ground or "prairie potholes." He credited the process' sustainability — with a farmer having the option of irrigating and recycling the water and also being able to have proper drainage in the soil to not flood the rest of the crops in the field.
One added possible benefit to utilizing the reservoir is limiting nutrient loss. The excess water is being funneled to the retention pond and staying there, without being pumped to the river. Any nutrients that run off in heavy rains in theory would stick around in the water being used for irrigation.
However, not every field is built for reservoirs. Irrigation practices are limited when it comes to certain parts of the Midwest, such as Iowa.
"I don't think we see a lot of that because it's a scale question," said Tom Sauer, acting director for the USDA National Lab of Ag and Environment in Ames, Iowa. "If you think of the amount of water that comes off a section of land in an event, it's a lot of water. Those engineering practices are really expensive."
Sauer said drainage management options are still available to farmers who can't put in ponds or irrigation. He said cover crops and adopting no-till practices are still the best way to keep moisture in the soil.
"It starts with tillage," Sauer said. "I've seen farmers this planting season doing second or third passes, and there are giant clouds of dust behind them. Every pass costs you water. Limiting those passes would have been a better strategy."
Sauer also said tillage will cause losses in carbon and residue for next year's crop. He said residue might be one of the most readily available options to hold moisture.
"You have to think about gardeners. They mulch their gardens, right?" Sauer said. "They do that for weed control and to conserve moisture, especially when you have young plants with shallow roots. Residue is extremely important as you go further west."
Changing practices will take time, Sauer said. While putting in a pond on its own might be difficult and expensive, adding it as a package with other practices might make it a more attractive option.
"If you are looking for a suite of solutions, you might have some opportunities there," he said. "Maybe cover crops, more crop residue and maybe some retention ponds or controlled drainage. They can work together in a strategy to control some water excess or shortage issues. That might be a more approachable strategy."