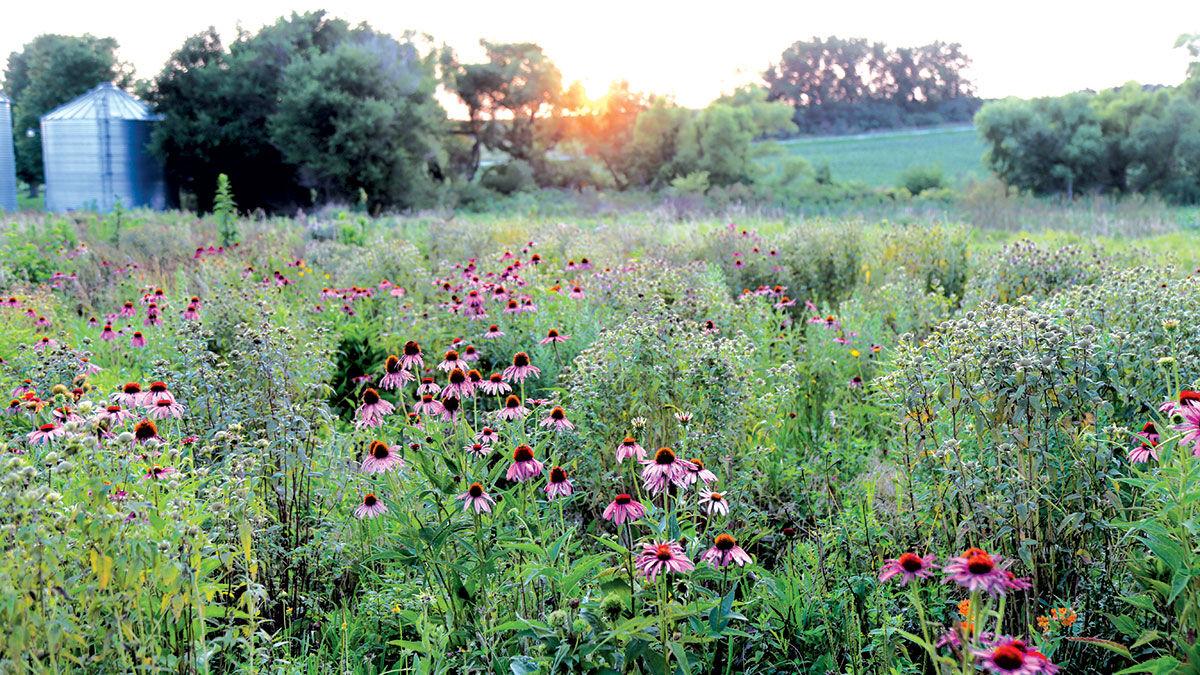 Establishing prairies may be a popular conservation practice, but there is some prep work that needs to be done before you welcome those pollinators.
"It's really a 12-month process. You can't just do it overnight," says Neil Diboll with Prairie Nursery in Westfield, Wisconsin.
Diboll has spent much of the last 40 years researching and implementing prairies and other projects. He has watched as demand for native prairie grasses and wildflowers has increased.
"I couldn't give this stuff away 4 years ago," he says. "We tell people there are three products involved with prairies — plants, seeds and education. We spend a lot of time educating people about the process."
The first step, Diboll says, is to establish the purpose for the prairie. He says some may be looking to have an area for pollinators and other wildlife habitat. Farmers may be seeking something to better control erosion.
Once the goals are established, the surface area must be prepared for seeding. Diboll says existing plants must be terminated to lessen the competition for the seeds.
"This isn't something like a garden, something that you are going to take care of," he says. "It's going to take some time for that prairie to get started."
Diboll says prairie areas require at least a half-day of full sun, with full sun being the best for wet or heavy clay soils. He says air movement should be good since prairie plants thrive best in open air environments, adding poor circulation could result in fungal disease issues.
"Sunshine and no weeds is a very good environment to establish a prairie," Diboll says.
Areas more prone to erosion can make site preparation more challenging, especially when dealing with highly erodible ground. Diboll says a slope of 6 to 12 degrees and higher can be difficult for prairie establishment.
"If it's covered with brome, for example, you have got to eliminate that to help the prairie establish itself," he says. "You may need multiple applications of glyphosate to do that."
Timing is also important when establishing a prairie. Diboll suggests planting during spring thaw through June 30, as well as the period from Sept. 1 through soil freeze. Seeding in July and August is more challenging due to hot weather and the lack of rain.
He says planting in the spring and early summer is good for warm-season grasses, adding many flowers will germinate after spring seeding, while others remain dormant until the following spring. Watering the area will help with germination.
Seeds stay dormant when planted in the fall, he says. Dormant seedings "typically result in higher germination of prairie flowers and lower germination of warm-season grasses."
Diboll says watering is not necessary for prairies seeded in the fall.
He cautions that landowners must carefully manage new prairies, keeping an eye on weed pressure and other issues. Diboll says the seedlings will only grow a few inches during the first year, and that weeds should be mowed to 6 inches tall.
"Do not wait until weeds are taller than one foot tall, as the mowed material can smother the small prairie seedlings," he says.
A flail-type mower is best since it won't clump like a rotary mower. Something like a weed trimmer can be used in smaller areas.
Diboll says to take care when pulling weeds since young seedlings are easily disturbed and could be pulled up along with the weed. He says annual weeds rarely present a problem to prairie seedlings when they are kept under control the first year.
Establishing prairie areas in the Midwest should occur naturally in most areas, says Tim Youngquist, farmer liaison for Iowa State University's Science-based Trials of Rowcrops Integrated with Prairie Strips (STRIPS) program. Information on the STRIPS program can be found online at bit.ly/3ghlSF4.
For example, he says 80-85% of Iowa was once covered in prairie, meaning all soil types should work for establishment. Young-quist says most virgin prairies will host over 100 plant species, while newly established prairies will have 35-plus species.
He frequently works with farmers who are creating some sort of buffer in their corn and soybean fields.
"For those, you want a lot of diversity — the more diversity, the better," Youngquist says. "It's going to hold down weeds, and provide good habitat for pollinators and wildlife. A 50-50 mixture of grasses and flowers is ideal."
He says over 300 different plant species can be found for prairie establishment.
"It just depends on what you are wanting," Youngquist says. "Some people use prairies as part of an outdoor classroom, since you have something going on most of the year."